September 22, 2013
Chef Matt Murphy and The Irish House in New Orleans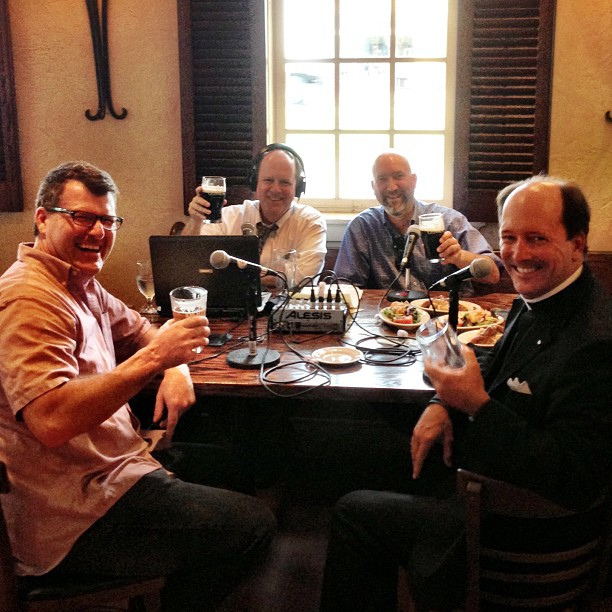 Matt Murphy – Chef and Man of Faith – at The Irish House in New Orleans
Miraculously healed of a deadly blood disease in 2009, Chef Matt Murphy – originally from Ireland – went on to open The Irish House in New Orleans in 2011. The Irish House is a true Irish gastropub on St. Charles Avenue, right on the outskirts of the historic Irish Channel.
Chef Matt Murphy has quite the resume when it comes to the kitchen. Born in Dublin, he found himself working with food by the age of 14. He grandfather owned a restaurant and his father owned a pastry shop. Chef Matt inherited a love for cooking, and he is really, really good at it as is evidenced by the fact that he won on Food Network's Chopped in July 2012.
Matt Murphy knows all about fatherhood. The Dublin-born chef has five kids (including quadruplets) and it's tempting to think maybe some of this multitasking dad perspective found its way into his Irish House. This place has the feel of a pub, but it remains both family-friendly and food-focused. You can take dad by for a pint and some oysters at the bar or for a gourmet meal. And if you're getting an early start on the day, remember that Irish House serves one of the city's great morning feasts, a traditional and hearty Irish breakfast heaped with meats and eggs. – WWL's Unknown Food Critic
The Irish House Isn't just for St. Patrick's Day
The Irish House is a true Irish gastropub. On their website, "gastropub" is defined as "An Irish public house that specializes in serving high-quality food." And, indeed, The Irish House does serve high-quality food. During our conversation with Chef Matt, he brought to the table a sampling of dishes from his menu: Shepherd's Pie topped with melted cheddar cheese, Bangers & Mash with brown onion gravy, Beer Battered Fish & Chips served with housemade tartar sauce and malt vinegar, and Grilled Ginger and Whiskey Glazed Shrimp over mixed greens with local organic vegetables, brown sugar roasted Roma tomatoes and Marie Rose sauce. Needless to say, every dish was impressive.
And being an Irish gastroPUB, of course we had to have a Guinness Stout… or two. 😉
Here are a few of the dishes that we sampled during the Around The Table Food Show: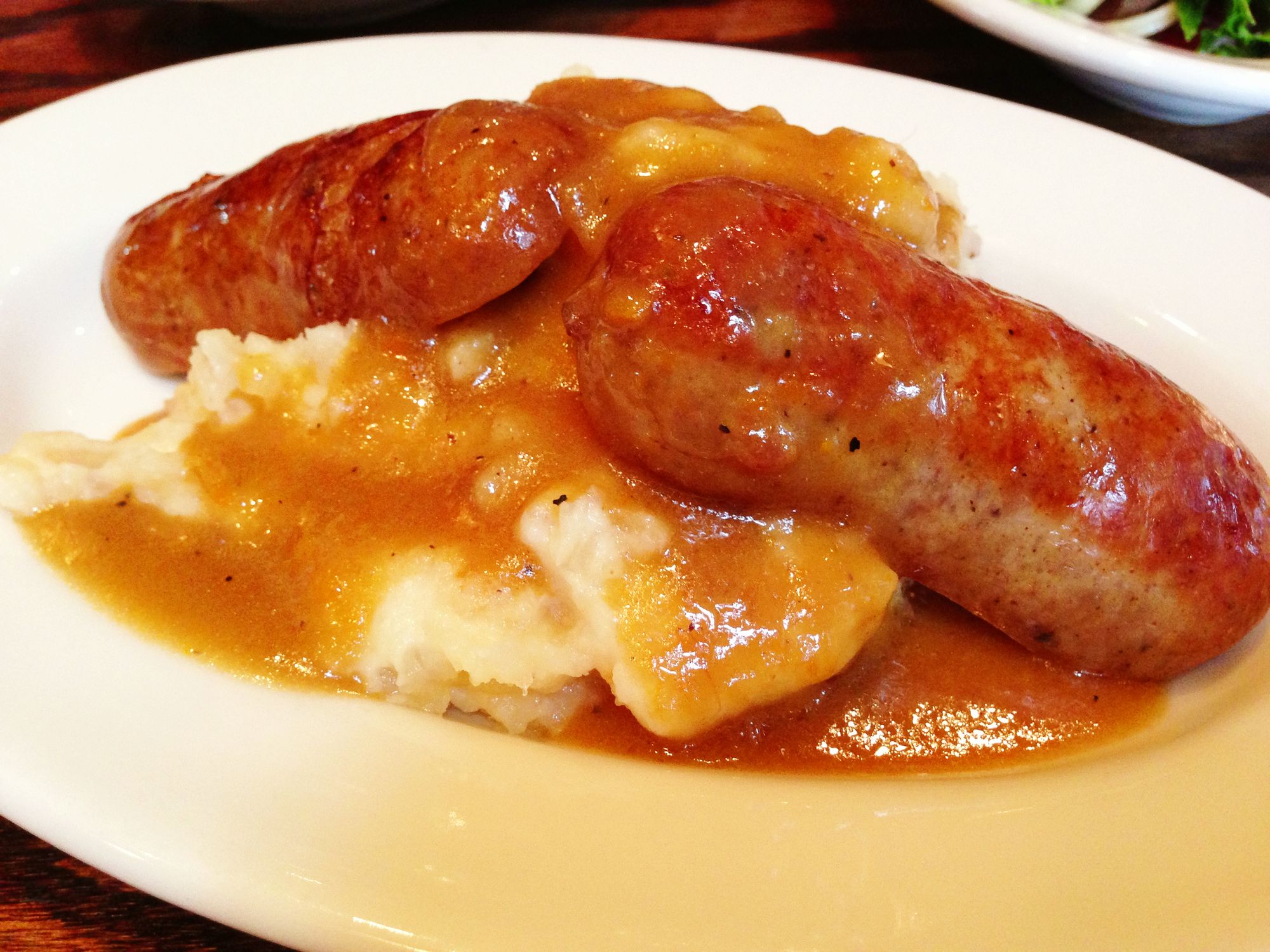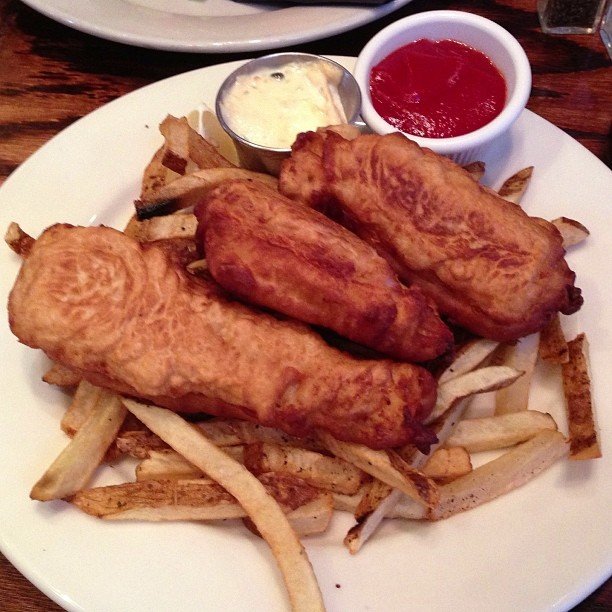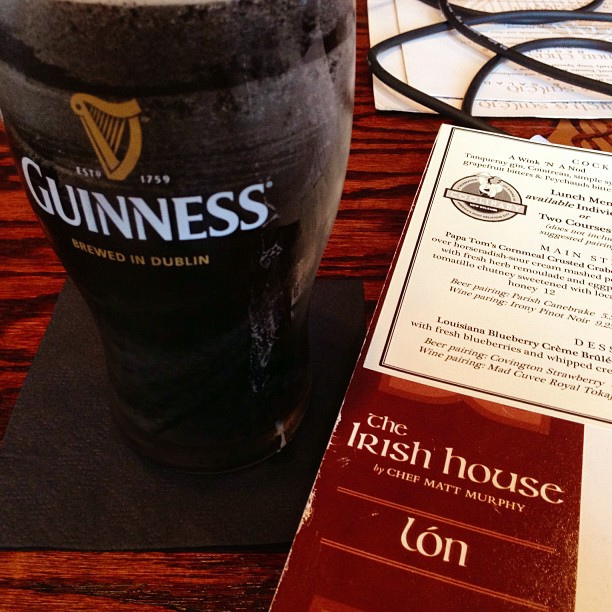 Chef Matt Murphy on the Around the Table Food Show
Listen below as Chef Matt recounts his miraculous healing, the love he has for his faith and his family, and his experience at winning last year on Food Network's Chopped.
"Today, the most important thing to this bona-fide family man and unofficial ambassador of New Orleans, is to live, laugh, cook and always give back." – from Chef Matt Murphy's bio on his website.
A Treat that I Want to Add to My Bucket List: The Chef's Table
One day, I want to have Chef Matt feed me and 3 to 7 of my friends at his table. Check this out from TheIrishHouseNewOrleans.com:
Experience the ultimate Irish hospitality of Chef Matt Murphy! When you are a guest at his "Chef's Table", you can expect to be served the meal of a lifetime. The Chef will select the freshest local ingredients and creatively prepare the meal of a lifetime, catered to the culinary tastes of your party. Over several courses, you will dine at an elegant table, complete with your own personal Guinness and Harp taps, while experiencing all of the excitement that takes place behind the scenes in the kitchen. You will get to eat what no one else gets to eat, see what no one else gets to see, and get the service no one else could begin to expect.

$175 per person
Wine pairing available at an additional charge
Minimum 4 guests, maximum 8 guests
Reservations: 504-595-6755
Sound awesome or what?!
---
Join me in the Holy Land in February 2014!
DEADLINE TO REGISTER IS OCTOBER 25, 2013!
Register between now and October 1st and receive $50.00 off, plus get a free copy of Jeff's collection of Middle Eastern recipes!
Contact Information
Susan Prendergrast
(800) 842-4842
catholicfoodie.com/holyland
Join us as we PRAY and BREAK BREAD together in Israel
Experience food preparation and cooking demonstrations led by "Catholic Foodie" Jeff Young and the "Chefs For Peace."
We will not only WALK WHERE JESUS WALKED, and PRAY WHERE JESUS PRAYED, but EAT WHAT JESUS ATE!
Price of $3,795.00 includes airfare from Atlanta, Philadelphia, or Newark.
3 nights in Nazareth and 5 nights in Jerusalem
Highlights include:
Celebrating Mass at Mount Carmel, the Church of the Nativity, the Mount of the Beatitudes, the Basilica of Agony in the Garden of Gethsemane, and the Church of the Holy Sepulchre
Renewing Marriage Vows in Cana and Baptismal Vows at the River Jordan
Visiting the Churches of the Annunciation, Visitation, and Assumption
Sailing on the Sea of Galilee and Swimming in the Dead Sea
Touring a Franciscan Winery in Bethlehem and a Brewery in Taybeh
Praying the Stations of the Cross on the Via Dolorosa, and visiting the "Wailing Wall," the "Upper Room," the Palace of Caiaphas, the Pools of Bethesda, the Mount of Olives , and Dormition Abbey
And finally a Farewell Supper at Emmaus
Details and registration form are at /holyland