September 3, 2012
Chicken Tortilla Soup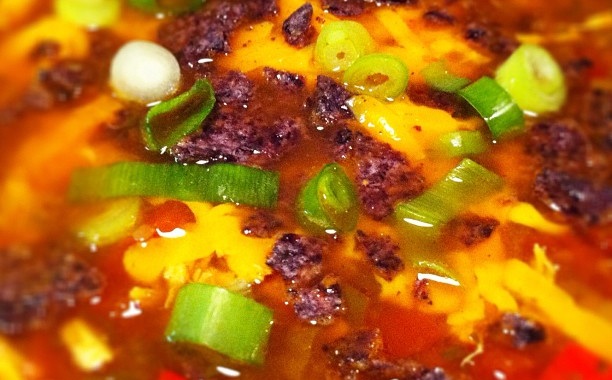 You've heard that soup is good food, right? Well, this Chicken Tortilla Soup is really good food.
The mix of chicken, cheese and tomatoes in this soup is truly a beautiful thing. Throw in the jalapeños, and you're talking about a flavor fiesta in a bowl.
You gotta try it!
This Chicken Tortilla Soup is not hard to make, but there are two stages of preparation: the chicken and the soup. If you want to save time, you could just throw the marinated chicken breasts into the soup and let them cook that way. But, if you do, I think you will be missing out on some of the flavor. I prefer to grill or bake the chicken breasts first, then shred them before adding to the soup. The trick is to cook the chicken breasts just long enough so that they are not pink in the middle. It's tricky, though. You don't want to overcook the chicken.
The marinade is only 5 simple ingredients, but I'm telling you, it packs a serious flavor punch.
Chicken Tortilla Soup is one of our favorites. Consider making this one for your next fiesta!
INGREDIENTS
1/4 cup EVOO
1 tablespoon chili powder
1/2 bunch of cilantro, chopped
4 jalapeños, seeded and chopped
2 large yellow onions, chopped
2 bell peppers, chopped
4 cloves garlic, minced
3 large tomatoes, diced
3 green onions, chopped
4 large chicken breasts, shredded
1 cup of cheddar cheese
12 cups chicken stock
Juice of 2 limes
2 tablespoons of butter (we prefer Kerrygold)
1 teaspoon freshly-cracked black pepper
1/4 teaspoon cayenne
Salt to taste
Additional cilantro and green onions to be added to bowls as garnish
Tortilla chips (we prefer blue corn chips from Garden of Eatin)
INSTRUCTIONS
For the chicken:
In a mixing bowl add the EVOO, the juice of one lime, the chili powder, 2 jalapeño peppers, and 1/4 bunch of cilantro, chopped. Mix well and pour over chicken in a large sealable plastic bag. Mix well and allow to chill in fridge for at least one hour.
Preheat oven to 425. Place the marinated chicken breasts in oven-safe dish and cook for about 15 minutes on each side. The chicken should no longer be pink in the middle, but be careful not to overcook it.
Remove chicken from oven and allow it to cool for 10 to 15 minutes.
Using two forks, shred the chicken by pulling across the grain.
For the soup:
Heat butter in a large stock or soup pot on medium-bigh heat. Add onions and bell peppers. Saute until softened, about 8 minutes. Add the garlic and saute for another 2 minutes.
Add the chicken stock and bring to a boil.
Add the tomatoes, the juice of one lime, the 2 jalapeno peppers, the green onions and return to a boil.
Lower heat, add salt, black pepper, cayenne, and simmer for 45 minutes.
Add shredded chicken and marinade, and allow to cook for another 10 minutes.
Add 1/4 bunch of cilantro to the pot and continue to simmer for 5 minutes.
Serve in bowls, and top with cheese, cilantro, green onions, and blue corn chips.
Optionally, you can top with sour cream.
If you decide to give this Chicken Tortilla Soup a whirl, let me know! I would love to know how it turns out!
As I mentioned above, this is one of our favorite soups. Do you have a favorite soup? Let me know! Comment below!