May 13, 2013
Chopped: Catholic Edition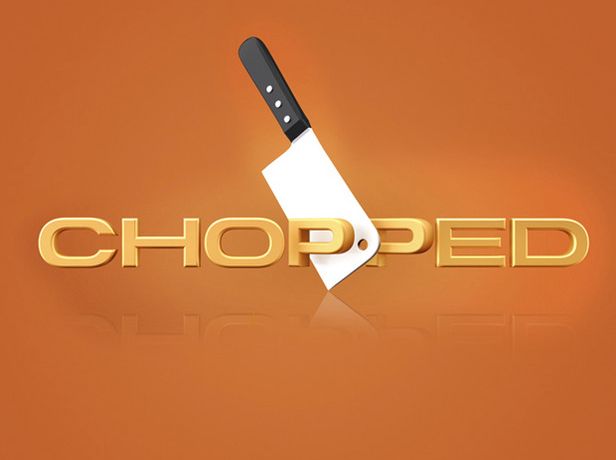 A Guest Post by Ross McKnight
Chopped: Catholic Edition
May 9, 2013
Belmont, NC
Students of Belmont Abbey College, a Benedictine liberal arts institution outside of Charlotte, NC, hosted their own small-scale (and I mean REALLY small) "Chopped" competition, based in an apartment kitchen.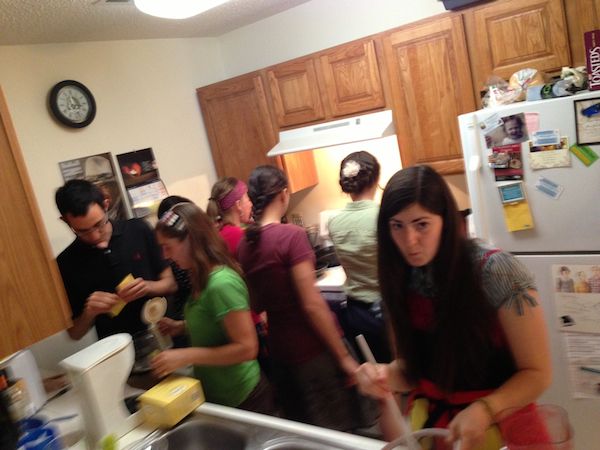 The contestants were required to create one dish involving two secret ingredients, namely, Gorgonzola and Earl Grey tea leaves.
As the 5 competitors – all young ladies – engaged in a culinary flurry involving one oven and a 4-burner range, the judges captured the following images that display some tasty-looking WIPs:
The dishes were judged on a 25-point scale involving 5 categories worth 5 points each: Creativity, Presentation, Use of Secret Ingredients, Taste/Flavor, and "Wow!" Factor.
As one of the judges presiding, I can honestly say that each of the following recipes was absolutely delicious. The scores were very tight, and the ordeal of choosing the winner placed us in transports of agony. However, if you are interested in the queer delight of Gorgonzola paired with Earl Grey tea, then "Jacqui's Salmon Shabang Salad" is the one to try!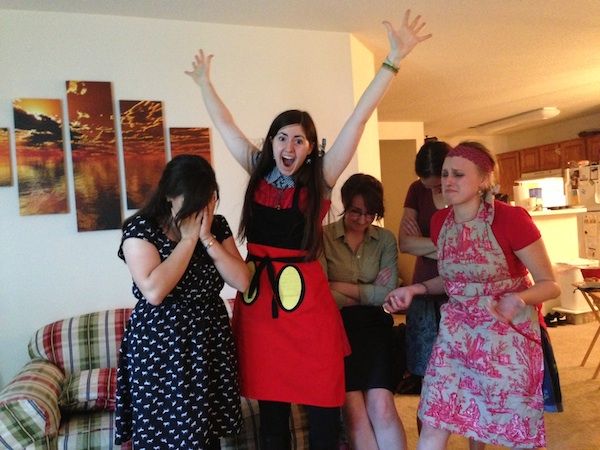 Recipes are listed in the order of presentation, not of score.
THE RECIPES
1. Earl Grey Seared Porkchop w/ Gorgonzola Sauce & Marinated Pear, Gorgonzola Salad, courtesy of Abbey Peoples
INGREDIENTS
For the Pork Chops
2 thick-cut Pork Chops
1 bag loose Earl Grey tea
¼ cup Soy Sauce
1 tbsp. Minced Garlic
1 Shallot, minced
For the Gorgonzola Sauce
4 oz. Gorgonzola crumbles
3 tbsps. Butter
1 tbsp. Flour
1 cup Milk
For the Marinated Pear, Gorgonzola Salad
1 Pear, sliced
Chopped Walnuts
Mixed Spring Greens
DIRECTIONS
In a saucepan, melt butter over medium heat. Add in a cup of milk and about a tablespoon of flour to thicken. Let simmer. Add Gorgonzola and stir continuously over medium-high heat to melt. Add more milk as needed to achieve a smooth texture.
In a small bowl, mix ¼ cup soy sauce, 1 tbsp. minced garlic, and 1 small minced shallot. Reserve some marinade for pears. Spoon mixture generously over pork chops, ensuring thorough coverage. Pour dry tea leaves over both chops, and rub in. Save some tea for brewing. Sear both sides of the chops in a pan w/ olive oil. Cook on medium heat until done.
Slice pear and soak in the bowl of reserved marinade w/ ¼ cup brewed tea. Pour tea marinade and place pears over tossed salad, adding walnuts and crumbled gorgonzola.
Serve pork chops hot w/ cheese sauce drizzled on top.
2. Honey Bacon Bread w/ Gorgonzola and Earl Grey Tea, courtesy of Stephanie Crillo
INGREDIENTS
1 loaf French Bread
8 oz. Gorgonzola Cheese
1/3 cup Olive Oil
1 package Bacon
8 oz. Cranberry Vodka
For the Sauce
½ cup Water
7 Earl Grey teabags
1/3 cup Honey
For the Topping
Contents of 2 Earl Grey teabags
½ cup Honey
DIRECTIONS
Cut French Bread into ½ inch slices. Using a pastry brush, spread olive oil onto each slice. Bake bread for 10 minutes at 400º F.
Lightly cook bacon in a frying pan – bacon must remain pliant. Soak bacon slices in vodka (do this the night prior for better flavor).
Crumble gorgonzola cheese onto bread slices. Wrap each slice of bread with a slice of bacon. Bake again at 400º F for 6-7 minutes.
Steep Earl Grey teabags in ½ cup hot water (not boiling). With a whisk, mix brewed tea with 1/3 cup honey. Using a pastry brush, lightly brush each bread slice with tea/honey sauce.
Slice open 2 of the Earl Grey teabags used in the sauce. Lightly sprinkle the contents of the two teabags over the bread slices. Drizzle honey on top of each bread slice. Enjoy!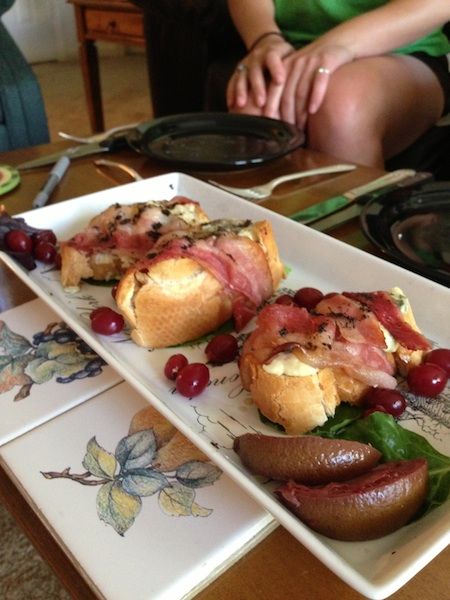 3. Earl Grey-Infused Chocolate Lava Cake w/ Pear & Gorgonzola Topping, courtesy of Katherine Chatelain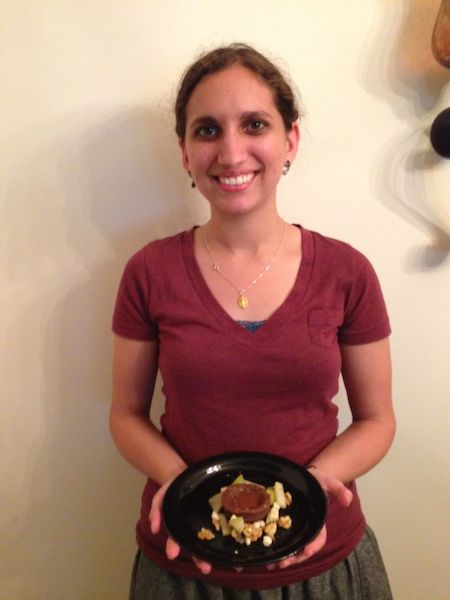 INGREDIENTS
For the Cake
6 oz. preferred Chocolate
6 oz. Butter
3 Eggs
½ cup Sugar
½ cup Flour
Earl Grey Tea, brewed
For the Topping
1 Pear, sliced
Walnuts, chopped
Gorgonzola crumbles
Honey
Earl Grey Tea
DIRECTIONS
Preheat oven to 350º F. Melt chocolate with butter in a double boiler, adding some tea, but maintaining a somewhat thick consistency. Beat together eggs and sugar. Stir in chocolate mixture, then add flour and stir. Incorporate 1 tbsp. of Earl Grey Tea. Pour batter into a cupcake pan. Bake until the outsides are cooked and the center is liquid.
For the topping, mix pear, walnuts, and cheese. Mix together honey and tea, and drizzle over pear mixture.
Serve lava cake warm with topping.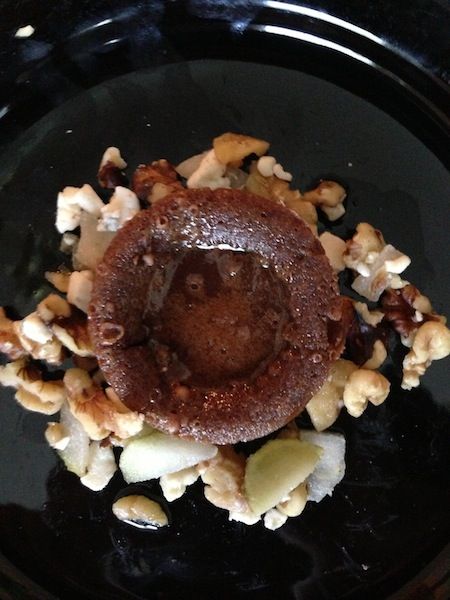 4. The Earl's Apple Cranberry Spice Tart, courtesy of Maria Mueller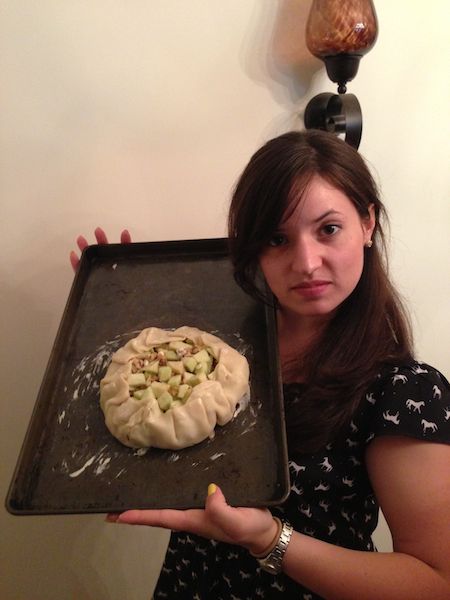 INGREDIENTS
For the Tart
1 Pie Crust
½ cup chopped Walnuts
¼ cup Gorgonzola Cheese
3 tbsp. Maple Syrup
2 large, peeled, chopped Granny Smith Apples
1 tsp. Lemon Juice
For the Cranberry Sauce
1 cup Sugar
3 tsp. Apple Pie Spice
4 Earl Grey teabags
2 14 oz. cans Whole Cranberry Sauce
DIRECTIONS
Toss walnuts, gorgonzola, apples, and maple syrup together in a bowl. Put a bit of lemon juice on apples to prevent browning.
Preheat oven to 350º F. Roll out pie crust onto greased cookie sheet. Scoop walnut/apple/cheese mixture onto center of pie crust. Leave a 2-inch margin from the edge of the dough. Neatly fold dough up to cover the edge of the mixture.
Bake for 45 minutes until crust is golden brown.
For the sauce, boil 1 cup water with 1 cup sugar, cranberries, and apple pie spice. Steep teabags directly in the sauce to desired taste. Reduce mixture to desired consistency.
Drizzle sauce generously over tart. Serve warm.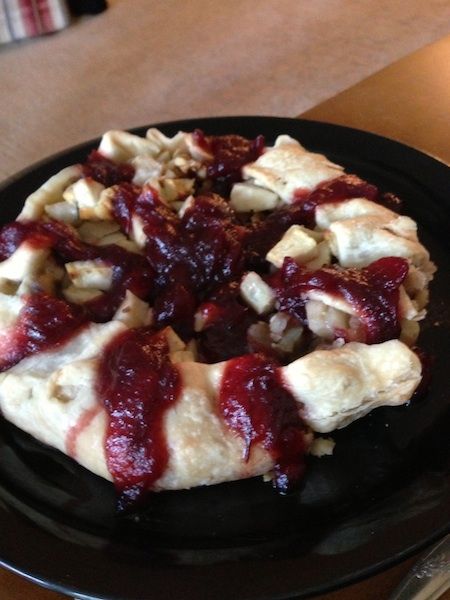 5. Jacqui's Salmon Shabang Salad, courtesy of Jacqueline King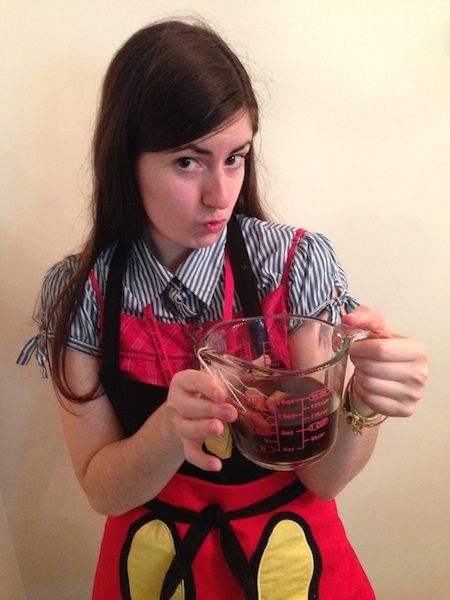 INGREDIENTS
Wild-caught Sockeye Salmon with Walnuts and Shallots (see below for recipe)
Earl Grey and Raspberry Glaze (see below for recipe)
Fresh strawberries
Mixed blend of wild salad greens
Crumbled Gorgonzola Cheese
DIRECTIONS
Remove tops from strawberries and slice the strawberries long ways. Use uniformly shaped slices to form a strawberry edge around the rim of a large round plate or serving platter. The shape should resemble the petals of a sunflower when finished. Fill the rest of the plate with mixed greens, making sure to hide the very tops of the strawberries with some of the greens. Refrigerate until the remaining ingredients are prepared.
After the salmon and glaze are finished, remove the salad from the fridge and place the salmon filets on the bed of lettuce in a manner pleasing to the eye. Crumble cheese on top of the entire salad, making sure it is relatively homogeneous in dispersal.
Spoon glaze into an icing tube and drizzle the glaze across the whole salad.
***A ziploc bag can be used instead if a small hole is cut in one of the corners .***
Wild-caught Sockeye Salmon with Walnuts and Shallots
INGREDIENTS
One large wild-caught sockeye salmon filet
3/4 cup walnuts, broken into small pieces
1 small shallot, finely minced
2-4 Tablespoons Raw Apple cider vinegar
2-3 Tablespoons Olive Oil
Honey, to taste
DIRECTIONS
Cut salmon into about 2″x2″ filets.
Place on broiling pan with skin side facing up. Drizzle with a little oil and honey. Sprinkle salt and pepper. Broil in oven for about 6-8 minutes, or until salmon is mostly cooked.
Mix remaining ingredients together in a small bowl.
Remove filets from oven, remove skins, and flip the filets over. Spoon mixture on top of filets, and broil the filets for another 3-4 minutes, or until the walnuts are gently browned.
Earl Grey and Raspberry Glaze
INGREDIENTS
One small package of fresh raspberries
Honey, to taste
6-8 Tea bags of Earl Grey Tea
3/4 cup boiling water
About 2 Tablespoon cornstarch mixed in cold water
DIRECTIONS
Steep all of the tea bags in boiling water for a generous amount of time. Remove tea bags, making sure to squeeze the dregs from the bags into tea.
Puree raspberries in blender until smooth. Remove and strain seeds out. Place puree in a small bowl and add the tea.
Heat mixture on stove, stirring occasionally. Add cornstarch after the mixture begins to boil, and cook for one more minute.
Remove from heat and allow to cool. Add honey to taste.
Consume in good company and take a long nap following consumption.