November 10, 2013
Chris and Angela Faddis – It Is Well: Life in the Storm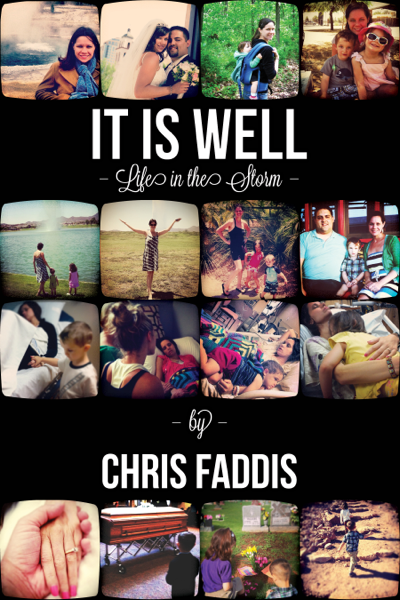 Chris and Angela Faddis Affirm: God Is Faithful!
I'm so excited today to have my friend Chris Faddis on The Catholic Foodie podcast!
Chris just published a book detailing the journey that he and his wife Angela took after discovering – less than 5 years into their marriage – that Angela had Stage IV Colon Cancer. Following the diagnosis, Angela remained with Chris and their two children for only 17 months. But it was 17 months of grace, a period of time marked by faith and trust in God in the midst of suffering.
Angela Christine Faddis of Gilbert, Ariz., died on Friday, September 21, 2012, after a 17-month battle with Stage IV Colon Cancer that began with a surprise diagnosis on Easter Sunday 2011. She was 32 years old when she died. Angela's witness of faith throughout her cancer journey was an inspiration to many. Her words to her husband upon her diagnosis were simply, "Jesus still rose, so we will trust." She lived those words to the very end, knowing that, though she didn't want to die, she would be going home to heaven to be in union with God and would be healed completely body and soul.

Rather than becoming housebound and losing touch with people during their suffering, Chris and Angela used social media to spread their story and teach people how to trust God amidst their earthly struggle.
I highly recommend this book! It is a story of faith and trust in God that will inspire and encourage you to never give up. This book will help you to hold on firmly to the fact that God is faithful!
Today is Day 8 of the It Is Well blog tour. Below you will find a list of the other posts that discuss and review the book It Is Well. Be sure to visit those other blogs for more insights on the book, and don't forget to take advantage of the free shipping being offered during the tour. Chris also has another book purchase deal that he talks about on the show. The book retails for $15, but Chris offers a 3 book bundle for $40… all in an effort to more quickly and effectively get his wife's story in the hands of more people who need to hear this message of hope.
Chris is also available for speaking engagements. People all over the country have been impacted positively by his message.
"Chris, a former youth minister and speaker, had always desired to write a book on trust. During the journey, the couple decided that perhaps they were meant to write a book to tell their story – a story of trust. The book, "It is Well – Life in the Storm," was set to be a memoir of a life of faith lived in the middle of the storm. Before completion, Chris' wife died, but Chris continued writing and plans to publish the book early in 2013.

Prior to Angela's diagnosis Chris was well known speaker and blogger on topics of Catholic spirituality, holiness and trust. As he gets ready to launch his new book, Chris plans to share his family's journey and spread his wife's message of complete trust in God's will. Angela's final wish was that the "world would know that they must trust in Jesus, no matter what."
You can find out more about scheduling Chris to speak to your group or parish by clicking on this link: Chris Faddis – Speaking.
You can purchase IT IS WELL through its website http://itiswellbook.com/. During the blog tour there will free shipping on the book.
Tour Schedule
LISTEN TO THE SHOW TO GET THE FULL STORY:
Click the play button below to listen to the full show. You can also download the MP3 file to your computer or smartphone and listen at your leisure. To download, just click here: CF179 – Chris and Angela Faddis – It Is Well: Life in the Storm.
Food in the News: Super Mega Pizza Producers & Crazy Cocktail Marketing
Food covered in this episode:
A Shift With Motorino's Head Pizza Chef Sergio Pardo
Bug-Inspired Candy Boats Add Science To Your Cocktail
Faith in the News: Pope Francis Models the Love of Jesus
See Pope Francis Clown Around With Newlywed Couple
Pope Francis Welcomes Hundreds With Disabilities In Wheelchairs.. One By One
Around the Table: The Blessing Before Meals
On the show I talk about the importance of saying Grace before meals, of acknowledging God's providence and blessing and blessing him in return. I also mention that for those families that are not accustomed to pray together, or are not accustomed to saying Grace before meals, Thanksgiving is the perfect opportunity to start.
Two years ago, I published a guest post entitled Thanksgiving Blessings in Prayer. It was written by my friend Lisa Jones, one of the "blogging sisters" over at Of Sound Mind and Spirit. Give it read and share with family and friends. You can find it by clicking here: Thanksgiving Blessings in Prayer.
What about You?
There are no recipes on the show today because I wanted to highlight Chris and Angela's story. But there are tons of recipes for you at CatholicFoodie.com.
Every week I want to take call-in questions for the show. Do you have a question about a recipe or a cooking technique? Is there something you want to know about food and faith from a Catholic perspective? Then simply give me a call at 985-635-4974 and leave your question in a voice message. I'll play your question on the show… and try to answer it too!
Bon appetit!