May 25, 2009
CNMC in San Antonio – Register Now!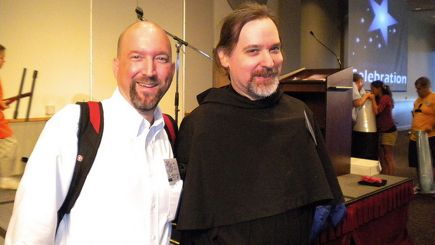 It's almost here! The Catholic New Media Celebration 2009!
I am so excited about the CNMC! I missed the one last year. It was the "first annual" CNMC, and it was held in Atlanta. I felt so bummed when, after the event, I heard so much talk on all my favorite podcasts about how much fun everyone had and how great it was to meet everybody. I was sorry I missed it.
But I will not miss it this year!
The celebration doesn't officially begin until Saturday the 27th. But there will be a meet & greet on Friday night. It is going to be fun to meet all of my favorite bloggers and podcasters: Fr. Roderick, Fr. Seraphim, Lisa Hendy, Danielle Bean, Paul Camarata, the Sweeneys, and many more! There's even a rumor that Mac and Katherine will be there.
Wondering what's going to happen at the CNMC? You can check out the agenda on the official website: sqpn.com
If you are anywhere near San Antonio, please come! If you are further away (like me) it would be awesome for you to travel there anyway! Don't miss this opportunity to learn more about our Faith and new media and to equip yourself for the New Evangelization.
If you haven't done so yet, you should register now! The organizers need to get as accurate of a head count as possible. You can still register on-site, but it is helpful to register early.
Sponsored by SQPN, this fast-paced, informative and exciting event promises to deliver keynotes, breakout sessions, and time for fellowship… all focused on furthering the activity of Catholics in new media.
On episode 651 of The Daily Breakfast, Fr. Roderick spoke (excitedly!) about all the good things that we can expect from the Catholic New Media Celebration. Be sure to listen to that episode.
And, finally, Sean the Ductapeguy prepared an entertaining video for the CNMC. Take a look:

Are you going?
I look forward to seeing you there!