October 21, 2012
Crawfish, Shrimp and Cornbread Pie
Crawfish at the Fair
This Crawfish, Shrimp and Cornbread Pie was inspired by a dish we tried last Friday at the Washington Parish Fair. The Washington Parish Fair is believed to be the largest free (county) parish fair in the USA. It is also the second oldest parish fair in Louisiana.
This was only our third time attending the fair… Our third year in a row. Yeah. It's that good. And that memorable.
The weather has been perfect the last three years. Clear skies. Cool temps. Breezy. No humidity. I'm telling you, it's been almost magical.
Yes, it's a fair. It is also located on an historical authentic Pioneer Settlement called Mile Branch Settlement. So there are lots of historical and cultural elements to the fair. But this fair is in Louisiana, so you know one of the main attractions has to be the food. Like cracklins, for example. If you are unfamiliar with cracklins, they are fried pig fat. Since they have the pioneer motif going on at the fair, the pig fat is fried in large cast iron kettles over a wood fire.
It's like bacon. Only crunchier.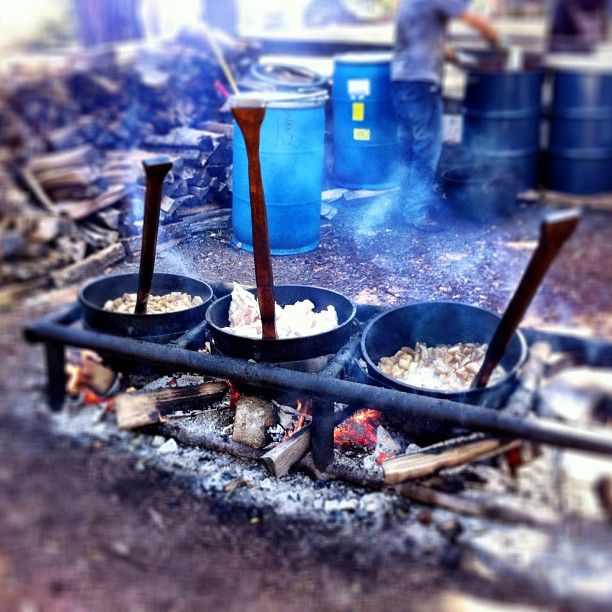 Are There Crawfish in Heaven?
Yes, there are funnel cakes and cotton candy at this fair. But there are crawfish too.
Prejean's Restaurant, out of Lafayette, Louisiana, sets up tent at the fair. [You can see one of their bumper stickers above ("Are there crawfish in heaven?").]
Lafayette is the crawfish capital of the world. So why does Prejean's make the two and a half hour drive to Franklinton, LA to cook for the folks at the fair? I really don't know the answer to that question. I only know that I am glad that they do.
Crawfish Pie
I love Louisiana crawfish just about any way they come. Boiled. Fried. In gumbo. You name it, I'm on it.
But one thing I haven't had in ages is Crawfish Pie. On Friday I remembered that Prejean's normally has Crawfish Pie on their menu, and I had a hankering for it.
But I was in for a surprise. This was not a normal Crawfish Pie. It didn't really seem like much of a pie at all. There was no crust, no pastry. A more accurate description would be call it Crawfish Cornbread topped with Crawfish Étouffée.
But, you know what? After tasting it, I was quite satisfied with the name they had given it: Crawfish and Cornbread Pie.
It was really, REALLY good. The Étouffée was perfect. Probably the best I've had out in a long time. And it was served atop a slice of crawfish cornbread. The cornbread was a little too sweet for me, though.
But that dish got me thinking. And I thought my way to a new combination: Crawfish Cornbread smothered in Shrimp Étouffée.
This is a Unique Dish
And that's what this dish should be called: Crawfish Cornbread smothered in Shrimp Étouffée. But I like the reference to pie. And, though there is no crust or pastry, I think it fits.
Of course, I could have topped it with Crawfish Étouffée. Maybe I will next time. But this time I topped it with Shrimp Étouffée. And I'm telling you… It's a winner.
INGREDIENTS
For the Cornbread
1 cup yellow cornmeal
1 teaspoon baking soda
1 teaspoon salt
2 eggs, beaten
1 sweet yellow onion, chopped
1 green bell pepper, chopped
4 Piquillo peppers (from jar, packed in water), chopped
4 jalapeno peppers, seeded and chopped
1/3 cup of extra-virgin olive oil
1 cup cheddar cheese, shredded
1 can (15 oz) cream-style corn
1 lb peeled crawfish tails
1 teaspoon granulated garlic
1/4 teaspoon cayenne (or to taste)
1/2 teaspoon Cajun seasoning (or to taste)
Butter
For the Shrimp Étouffée
1 1/2 sticks of butter (we prefer Kerrygold Butter)
4 cups chopped onions
2 cup chopped green bell pepper
3 to 4 cloves of garlic, crushed
3 to 4 pounds of shrimp (peeled and deveined… I prefer to buy them with the heads on. That way I can make a shrimp stock with the shells.)
2 tablespoon flour
2 cups water
2 teaspoons salt
Fresh cracked black pepper, to taste
1/2 teaspoon cayenne
2 tablespoons chopped parsley (plus additional for serving)
3 tablespoons chopped green onions (plus additional for serving)
DIRECTIONS
For the Cornbread
Preheat oven to 375 degrees F.
Grease 9 x 13-inch baking dish with butter.
Combine cornmeal, baking soda and salt in a large bowl. Blend together.
In a separate bowl, beat the eggs, then add all the remaining ingredients. Stir together well.
Pour the crawfish mixture into the cornmeal mixture and mix well.
Finally, pour the mixture into the greased baking dish and bake for about 55 minutes (until it is golden brown).
Let the cornbread rest for 10 minutes before cutting in to it.
For the Shrimp Étouffée
Melt the butter in a large skillet over medium-high heat. Add the onions and bell peppers and sauté until soft, 10 to 12 minutes. Stir in the crushed garlic and sauté an additional 2 minutes.
Stir in the shrimp, salt, black pepper and cayenne pepper, and cook for 4 to 5 minutes. The shrimp will begin to turn pink.
In the meantime, dissolve the flour in the water and add it to the pot. Stir to mix well. This simple roux will help to thicken the étouffée. Reduce the heat to medium-low and simmer for about 8 minutes.
Add the parsley and the green onions and cook for an additional 2 minutes. (Don't forget to reserve some parsley and green onions for individual bowls.
When serving, top each bowl or plate with additional parsley and green onions, and provide a choice of Louisiana hot sauces for your guests.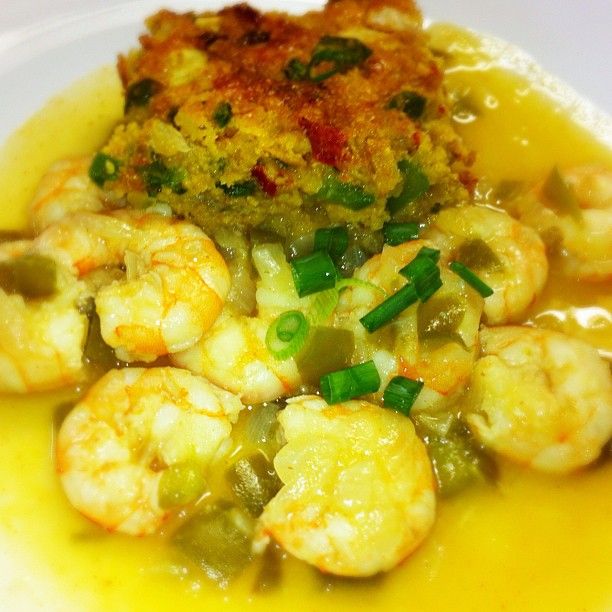 Putting It All Together
Crawfish, Shrimp and Cornbread Pie can be served in a bowl or on a plate. Remember my description above, and think about that as your prepare to serve. This dish should be called Crawfish Cornbread smothered in Shrimp Étouffée. Top each bowl or plate with a pinch of chopped parsley and some chopped green onions. And don't forget the hot sauce!
A Word Of Wisdom for Shrimp Étouffée
When using shrimp, be careful not to overcook them. Shrimp do not take long to cook. Once I start serving, I cut the heat on the pot and move it to another burner. The étouffée should still be hot enough when it's time to serve seconds.
What About You? Are You a Crawfish Lover?
Do you have a favorite crawfish dish? One that you make? Or one that you order out?
I'd love to hear about it!
Tell me about it in the comments below!