August 24, 2013
Cream of Hatch Chile Soup with Corn, Tomatoes, and Sausage
Another Excellent Recipe for Hatch Chiles
Last week I told the story of how I came across a great deal on Hatch chiles. I got 3 pounds for only $0.99! The first thing I cooked up with these Hatch chiles was a Chicken Tortilla Soup. Soup is a big deal at our house, and when I go through the trouble of making a soup, I usually make a big one. Sometimes we eat on it for days, and sometimes I freeze some for another time. Cooking big on the weekend is a great way to make dinner time easier during the week. 😉
There was only one problem with the Hatch Chile Chicken Tortilla Soup: I only used about half the chiles in that soup. Now, I'm not one to let food go to waste, so I began working on another recipe that would allow me to use several more of the Hatch chiles.
As I mentioned last week, Hatch chiles are only available in August and September. Hatch is not a variety of chile pepper. The variety is Anaheim. Hatch chiles are called Hatch chiles because they are grown in Hatch, New Mexico. It's like Vidalia onions. Vidalia onions are just sweet yellow onions. What makes them unique is the area in which they are grown: Vidalia, Georgia. Hatch chiles are plentiful right now because it's August. But in just a few weeks, we will all have to go back to eating Anaheim peppers from… well, wherever.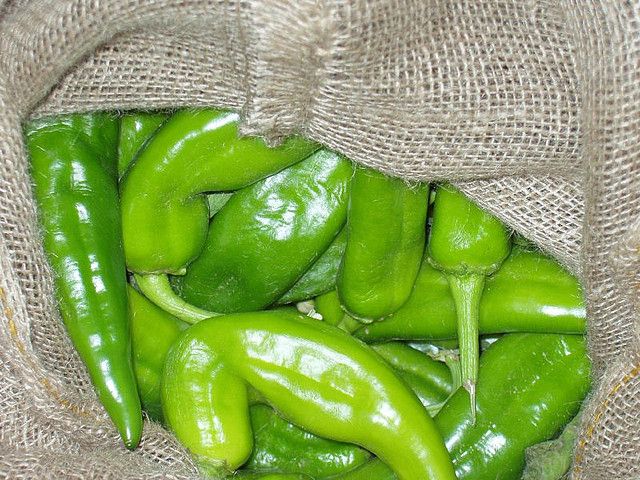 So I was trying to cook up another recipe that would allow me to use the remaining chiles. That's a harder task than it seems on the surface. Though I love spicy food, I don't want to send anyone to hospital with a scorched tongue. So exactly how was I going to use 8 or 9 Hatch chiles in another dish?
I decided on another soup. This time it was a Cream of Hatch Chile Soup. I knew I wanted to make a cream-based soup to help tone down the heat of the peppers. I also wanted to use yellow onions and corn to sweeten the soup. The tomatoes add a little tang that nicely balances the sweetness of the onions and corn, and the tomatoes also pair well with the chiles. Finally, to give the soup a bit more substance, I added sausage. The recipe below calls for green onion sausage, which is readily available around here. However, when I made this the other day, I was able to get my hands on some duck sausage (it was a duck & pork blend) from Marciante's in Kenner, LA. Wow! There is nothing like fresh sausage that is not polluted with chemicals and preservatives. And the duck in this sausage really delighted the taste buds. It was fitting that we watched Duck Dynasty while enjoying this soup.
Enjoy!
Cream of Hatch Chile Soup with Corn, Tomatoes, and Sausage
Cream of Hatch Chile Soup: The cream helps to tone down the heat of the peppers. The yellow onions and the corn sweeten the soup. The tomatoes add a little tang that nicely balances the sweetness of the onions and corn. The tomatoes also pair well with the chiles. Finally, to give the soup a bit more substance, I added sausage.
Author: Jeff Young
Cuisine: Mexican
Recipe type: Soups
Ingredients
2 large sweet yellow onions, diced
8 Hatch chiles, roasted and peeled with the seeds and membranes removed (reserve some of the seeds)
5 cloves of garlic, minced
3 large tomatoes or 6 Roma tomatoes, peeled and diced
8 ears corn, kernels removed from cob
1 to 2 lbs fresh green onion sausage, degreased in oven and sliced into bite-sized rounds
10 cups of chicken stock
1 to 2 cups heavy cream
2 tsp kosher salt, or to taste
Coarse-ground black pepper, to taste
1 tsp cayenne pepper, or to taste
2 to 3 tablespoons of butter (or coconut oil) for sautéing the onions, peppers, and garlic
Chopped green onions, for garnish
Lime wedges, for garnish
Instructions
In a large mixing bowl, add 1 tablespoon of the kosher salt and the cayenne to the onions and mix well.
Over medium-high heat, sauté the onions in the butter or coconut oil until softened. About 8 minutes. Add the Hatch chiles and the garlic and sauté for another 2 minutes, stirring frequently to prevent burning the garlic.
Add the chicken stock and bring to a boil.
Reduce heat to medium and simmer for about 20 minutes.
Using an immersion blender (emulsifier), blend the soup while slowing adding in the cream.
Return pot to stove and add the tomatoes, the corn and the sausage.
Simmer for 30 to 45 minutes (reduce heat as necessary).
Taste for seasoning and add the additional salt, if needed.
Add the coarse-ground black pepper to taste.
Serve in bowls and garnish with chopped green onions and lime wedges.
How to Roast Hatch Chiles
I mentioned last week that the process for roasting Hatch chiles is very simple. I prefer to use my Baking Steel, but you can use any kind of baking tray in your oven. You can also roast them on the grill. Hatch chiles are always roasted before being used in recipes, but it makes peeling them so much easier. You don't want to eat the tough outer skin. Here's what I had to say about roasting Hatch chiles last week:
To roast Hatch chiles in the oven, you first want to rinse them and then dry them thoroughly with a clean towel. If you are using a Baking Steel, place the steel in the oven on the highest or second-to-highest rack and pre-heat it onBake at your oven's highest temperature for at least 45 minutes. Once the Baking Steel is fully heated, place the chiles on the steel and switch the oven from Bake to Broil. Keep a close eye on the chiles. You do want them to blister, but you do not want to burn them. After a couple of minutes, flip the chiles if necessary. Once the chiles are roasted, remove them from the oven and place them in large bowl and cover with plastic wrap. Allow the chiles to cool in the bowl. The cool-down time helps the skins to further separate from the meat of the chiles, making it easier to peel them… Peel the chiles and remove the seeds after they have cooled.
You can also order Hatch chiles year-round from The Hatch Chile Store in Hatch, New Mexico, where they ship frozen, pre-packaged, flame roasted Hatch chiles right to your door. The chiles are flame roasted in the traditional New Mexican style and peeled by hand, so you won't have to worry about roasting them and peeling them yourself. Of course, they will also ship fresh Hatch chiles straight to your door when the chiles are in season.
A Note about Peeling Tomatoes
The main reason you want to peel tomatoes that will be used in soups is to avoid having those tough pesky stringy tomato skins in your soup. When tomatoes are cooked down, the skins tend to separate from the rest of the tomato and become stringy. Peeling the tomatoes will make eating this soup a more delightful experience. You can find a great succinct article on the method of peeling tomatoes here: How to Peel Tomatoes. It's super simple and can be done in just a few minutes.
---
Join me in the Holy Land in February 2014!
DEADLINE TO REGISTER IS OCTOBER 25, 2013!
Register between now and October 1st and receive $50.00 off, plus get a free copy of Jeff's collection of Middle Eastern recipes!
Contact Information
Susan Prendergrast
(800) 842-4842
catholicfoodie.com/holyland
Join us as we PRAY and BREAK BREAD together in Israel
Experience food preparation and cooking demonstrations led by "Catholic Foodie" Jeff Young and the "Chefs For Peace."
We will not only WALK WHERE JESUS WALKED, and PRAY WHERE JESUS PRAYED, but EAT WHAT JESUS ATE!
Price of $3,795.00 includes airfare from Atlanta, Philadelphia, or Newark.
3 nights in Nazareth and 5 nights in Jerusalem
Highlights include:
Celebrating Mass at Mount Carmel, the Church of the Nativity, the Mount of the Beatitudes, the Basilica of Agony in the Garden of Gethsemane, and the Church of the Holy Sepulchre
Renewing Marriage Vows in Cana and Baptismal Vows at the River Jordan
Visiting the Churches of the Annunciation, Visitation, and Assumption
Sailing on the Sea of Galilee and Swimming in the Dead Sea
Touring a Franciscan Winery in Bethlehem and a Brewery in Taybeh
Praying the Stations of the Cross on the Via Dolorosa, and visiting the "Wailing Wall," the "Upper Room," the Palace of Caiaphas, the Pools of Bethesda, the Mount of Olives , and Dormition Abbey
And finally a Farewell Supper at Emmaus
Details and registration form are at /holyland