October 16, 2012
Creative Homemade Pizza Recipes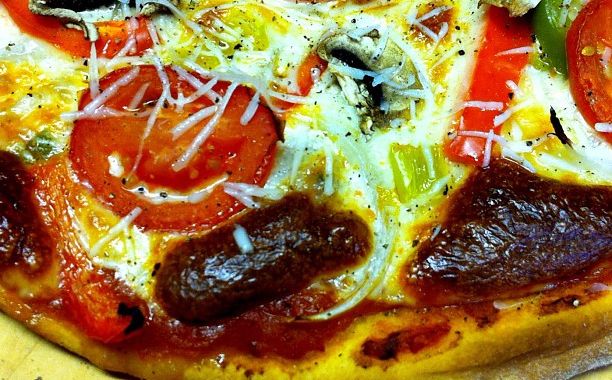 Pizza Perfect
Pizza is the perfect food. At least it is in my book.
I wish I could eat pizza everyday. Of course, if I did I would be as big as a house. Or bigger. I didn't say it wast the healthiest food, just the perfect food. 😉
It's Got That Mysterious "Something"
I can't tell you exactly why I think pizza is the perfect food. I just love it. Always have.
It's the crust. It's the sauce. The cheese. The toppings. It's… EVERYTHING!
Pizza Magic
Pizza is quasi-magical. It must be. Pizza can make friends of enemies. Lovers of friends. And saints of sinners.
Ok. Maybe it's not quite THAT magical. (But it is pretty darn magical!)
The Catholic Connoisseur of Pizza?
Over the years I have become quite the connoisseur of pizza. I know what I like and I know what I don't like. I know the good pizza parlors and those that shouldn't be in business.
And I know the incomparable deliciousness of making my own pizza at home.
There was a time (many moons ago… back when I was a dreaded teenager!) when I could eat pizza from Domino's or Papa John's. Happily, those days are over. If there is one thing I know about cooking, it's that the quality of the ingredients of a dish make all the difference in the world.
Maybe back in the day Papa John cared about how his crust was made. But today it's just a product of "quality control" and automation. I don't want to put that in my body. Nor do I want my kids to put it in their bodies.
One of the reasons I love to make pizza at home is that I get to tweak each pie exactly as I want it. I know what ingredients are in the crust. [And there are NO preservatives in it! And no other unnatural thing either.] I can put as much sauce as I want on it. I can load on the toppings. And I can give myself extra-EXTRA cheese. 😉
The Ingredients Make It Or Break It
Check out some of the ingredients I like to use in the pizzas I make at home:
Chemical-free sausage made by a local company out of LaPlace, LA (can't remember the name, but I will find out and post it soon)
Fresh veggies like Portabella mushrooms, sweet onions, bell peppers, sweet peppers, garlic, tomatoes, spinach, arugula, fresh basil, and the like
Chemical-free bacon and pepperoni by Applegate Farms or Maverick Ranch
Fresh Gulf shrimp or local crawfish
Grass-fed beef
Banana peppers and jalapeno peppers (so delicious they had to have their own bullet point)
My Kitchen Ain't No Pizza Kitchen
My kitchen is not really designed for making pizzas. My oven only goes up to 500 degrees. Maybe. Some REAL pizza ovens can go up to 1000 degrees.
So how do I cope?
I put my MacGyver thinking cap on and pull out my Swiss Army Knife.
Sort of.
So I Get All MacGyver-like In The Kitchen
"Waaaa-waaaaa! My oven doesn't get up to 1000 degrees! Or even 600. I'm stuck with a measly 500. So what can I do with that?"
I'll tell you what you can do with that. You can get all MacGyver with it. There are a few super-simple and highly-effective tricks you can do with YOUR oven to get the burnt cheese and charred crust effects that you see in top-shelf pizza joints. Here's how: pre-bake your crust. The result is super-cool. And it will make you wonder why you hadn't thought of it before.
The "Secret" to Great Homemade Pizza: Pre-bake the Crust
This is how you do it: after the dough has risen, divide it into 4. Roll out one portion on a pizza stone or metal pizza tray. [I switch between using a pizza stone and a professional thin-crust pizza tray (metal). I do not like to put anything cold on a hot stone. Alternating between the two gives the stone a chance to cool down a bit before I put pizza dough #3 on it.] Once it is rolled out, use a dough docker (or a just fork) to poke tiny holes all throughout the dough. This helps the crust to cook through. Pour about a tablespoon or so of extra-virgin olive oil on the dough and rub with your hand to coat the entire dough. I like to sprinkle the dough with salt and pepper at this point. Place the dough in a pre-heated oven set at the highest temperature (mine goes to 500 degrees). You will only need to pre-bake the crust for about 7 minutes. While you're waiting, you can prep the second dough just like you did the first. After the dough is pre-baked, remove it from the oven and begin to assemble the toppings. While you are "dressing" pizza #1, pizza #2 can be pre-baking.
But before I get into the actual recipes here, why don't I share a few possible pizza topping combinations for you to think about….
SUGGESTED PIZZA TOPPING COMBINATIONS:
Pizza #1
Bacon, sliced onions, sliced red bell peppers, sliced baby Portabella mushrooms, roasted garlic, fresh spinach, topped with Mozzarella cheese, grated Parmesan cheese, sliced Roma tomatoes, sliced Banana peppers, sliced Jalapeno peppers, and crushed red pepper flakes
Pizza #2
Sliced spicy Italian sausage, sliced onions, sliced red bell peppers, roasted garlic, fresh spinach, topped with Mozzarella cheese, Applegate Farms pepperoni, grated Parmesan cheese, sliced Roma tomatoes, sliced Banana peppers, sliced Jalapeno peppers, and crushed red pepper flakes
Pizza #3
Fresh Gulf shrimp, fresh basil, fresh arugula, roasted garlic, topped with Mozzarella cheese, grated Parmesan cheese, sliced Roma tomatoes, and crushed red pepper flakes
A Note About The Sauce
For years I made my own sauce. I actually spent lots of time searching for the perfect recipe and experimenting to get it just right. I made that sauce for years. But, eventually, guess what I discovered…. It was difficult to find the ingredients that I required to make the sauce to my specifications. In the end it was cheaper for me to look for a jar sauce that fulfilled all my requirements: no preservatives, no sugar, no artificial crap. Oh, and it had to taste good too. I found one. It's Don Bruno's Sicilian Red Gravy. I love that stuff. So I'm not opposed to using a jar sauce if it's really good.You make the call in your own kitchen.
A Few Notes About Adding Veggies To Homemade Pizzas
I never thought I would say this, but I LOVE veggies on my pizza! And one thing I have learned over the years is that a 500+ degree oven will cause veggies to throw off lots of water. And that results in a soggy crust. I don't know about you, but I'm not a big fan of soggy crusts. So, I have learned to pre-cook my most of my veggies.
I always pre-cook the following: onions, peppers and mushrooms. When I plan on topping a pizza with bacon, I always pre-cooked the bacon, then I cook down the onions and peppers in the bacon grease. Yum!
I don't mind topping my pizzas with Roma tomatoes. If they are on top, some of their water will evaporate, not drain down to the crust. Roma tomatoes on top of pizzas add a delicious juiciness to every bite. I like that. A lot.
If you want roasted garlic, you have to roast the garlic BEFORE adding it to the pizza. The process is super simple. Chop off the top of however many heads of garlic you want to roast. Place those heads in the middle of a big sheet of aluminum foil. Cover the heads with extra virgin olive oil and salt. Wrap the foil up tightly so that the heads remain upright. Place in a pre-heated 350 degree oven and roast for about 45 minutes to an hour. Voila! You have delicious roasted garlic to add to your pizzas!
INGREDIENTS
FOR THE DOUGH (will yield 4 large thin-crust pizzas)
1 1/2 cups of warm water
1/4 cup of extra virgin olive oil
4 cups of all-purpose flour
1 teaspoon of salt
1 teaspoon of sugar (or honey)
3 teaspoons of active dry yeast (rapid rise yeast works just as well)
FOR THE TOPPINGS (all optional, mix and match to top 4 pizzas)
12 oz of bacon
1 lb of fresh spicy Italian sausage, sliced and pan-fried
8 oz of pepperoni (we prefer Applegate Farms)
Fresh shrimp or crawfish (if available)
2 sweet yellow onions, sliced
2 bell peppers (red and / or green), sliced
2 heads of garlic, roasted
8 to 16 oz of baby Portabello mushrooms
Fresh baby spinach
1.5 to 2 lbs whole milk Mozzarella cheese
Your tomato sauce of choice
Sliced banana peppers and sliced jalapeno peppers (from a jar)
Extra-virgin olive oil
salt & fresh-cracked black pepper
Crushed red pepper flakes
DIRECTIONS
FOR THE DOUGH
Prepare the dough any way you can. If you have a mixer with a dough hook, use it. If you have a bread machine, use it (following the manufacturer's directions for the "Dough" setting.) Or you can make it by hand. I made my doughs by hand for years. I love the feel. I love the process. I just love being that close to the food. But nowadays time is often in short supply, so more often than not, I use my bread machine. I set it on the "Dough" setting. 90 minutes later, I'm ready to rock in the kitchen.
FOR THE TOPPINGS
Be creative. I listed above some of the toppings we like to use. You are certainly not restricted to that list. Please note, too, what I mentioned earlier about adding veggies to your pizzas. There is some very helpful advice there to keep your pizzas from getting soggy.
I did not mention anything yet about shrimp or crawfish. Shrimp are delicate. It is very easy to overcook them. I always sauté them first in butter with a little salt and a dash (or two!) of cayenne. If they are jumbo shrimp, I first cut them into smaller (bite-sized) pieces. When assembling the pizza, the shrimp go under the cheese. This will help prevent overcooking them.
ASSEMBLING AND BAKING THE PIZZAS
As I said, be creative with the toppings. Once assembled, place the pizza in the lower-half of the pre-heated oven. I put mine on the second rung, and I usually bake them for 10 to 15 minutes. It really depends. Every oven is different, so you may just need to experiment with yours. I'll pull mine when the cheese starts to brown and the edge of the crust starts to char.
Once the pizza is out of the oven, you can transfer it to a pizza peel or a cooling rack. Let it cool for 5 minutes or so before slicing it. After slicing, top with grated Parmesan cheese and crushed red pepper flakes.
Simple. Delicious. Perfect.
Start making pizzas like this at home, and you better get ready to become popular!
What About You?
Do you make pizza at home? What are your favorite toppings? Do you have a secret "trick" that you use to make delicious pizzas?
Tell me all about it in the comments below!