May 6, 2012
Curry Chicken & Coconut Soup UPDATED #SundaySupper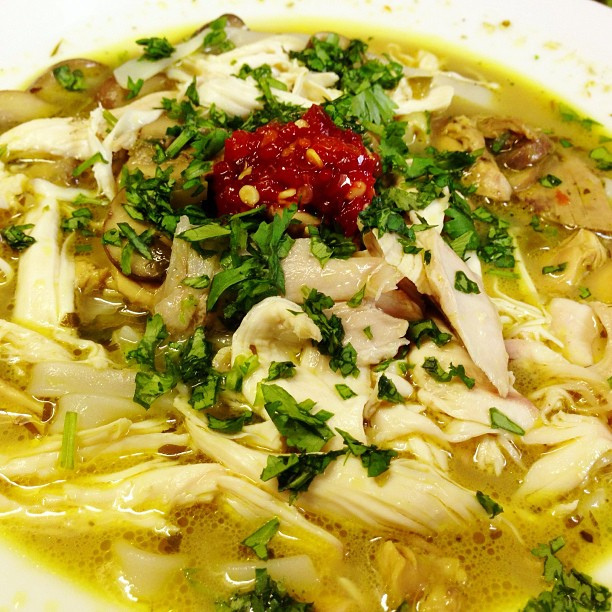 Back in January 2010 I posted our recipe for Curry Chicken & Coconut Soup. But you must understand that, for us, recipes are more like guidelines (to borrow that famous expression from Pirates of the Caribbean). We play with recipes all the time. Change things around. Try different measurements. Swap out ingredients. Sometimes we do this out of necessity since we can only cook what we have on hand. But sometimes we do it just for fun.
The other night we tried a different variation of the Curry Chicken & Coconut Soup and everyone loved it. We always start our soups with our homemade chicken stock. I'm in the habit of buying whole chickens. I'd rather buy them whole and cut them myself, if necessary. And I always save the bones. It seems like I am making stock a couple of times each week. Nothing goes to waste. In this recipe I do list chicken thighs. It's definitely easier that way. But, you could do the soup with a whole chicken too.
It should be noted that we typically serve this soup as a meal, but it could also be served as an appetizer.
If you try it, let me know how it turns out. Leave a comment below or email me at jeff@catholicfoodie.com.
Ingredients
16 cups of chicken stock
3 jalapeño peppers, seeded and finely chopped
6-8 cloves of garlic, finely chopped
3 tablespoons of freshly grated ginger (or more to taste)
2 teaspoons grated lemon zest
2 teaspoons grated lime zest
the juice of one lemon (or one lime)
2 tablespoons spicy yellow curry powder
3 tablespoons of Thai fish sauce
2 cups of sliced Shiitake mushrooms, stems included
2 – 3 cups fresh green beans, cut
8 boneless chicken thighs, cut into chunks
28 ounces of coconut milk (2 14oz cans)
2 – 3 tablespoons cilantro, chopped
Cellophane noodles, cooked to package directions
Sriracha sauce (A.K.A. "Rooster Sauce"), to taste
1 bunch green onions, chopped (to be added to individual bowls when served)
Directions
Combine stock, jalapeño peppers, garlic, ginger, lemon zest, lime zest, lemon juice, curry powder, and 3 tablespoons of fish sauce in a stockpot. Season with salt (but be careful… fish sauce is very salty!).
Prepare cellophane noodles according to package directions.
Bring soup to a simmer and add the green beans, the Shiitake mushrooms and the coconut milk.
Season chicken thighs with salt on both sides and quickly pan fry in bacon grease on medium heat. Remove chicken from pan, and cut into chunks, then add to the soup.
Allow the soup to continue to simmer for an additional 3 to 5 minutes. You want to ensure that the chicken is fully cooked.
Add chopped cilantro.
Add Sriracha sauce, to taste.
Drop a handful (not too much!) of cellophane noodles in each bowl.
Ladle soup into the bowls and topped with green onions. You can also top with additional cilantro, ginger, and / or more Sriracha.
Enjoy!
Joining me for this week's #SundaySupper Movement are these talented Food Bloggers:

Cocktails and Wine Pairings:

Appetizers:

Entrees:

Side Dishes:

Dessert:

#SundaySupper shares recipes, tips and inspiration and love connecting with new friends. Feel free to join us on Sunday by following the hashtag #sundaysupper on twitter or follow along on TweetChat. You can also find us on Pinterest. Check out some of the fabulous recipes from our last Sunday Supper Board.