January 6, 2015
Domenica to Offer King Cakes Daily for Mardi Gras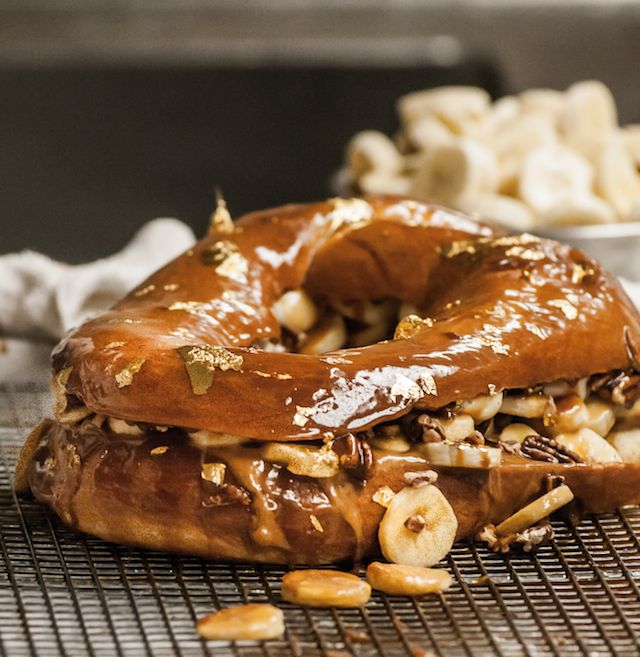 King Cakes prepared by pastry chef Lisa White, available for purchase at domenicarestaurant.com
NEW ORLEANS, LA – Domenica will be offering fresh King Cakes from January 7th until Fat Tuesday (February 17th), available for purchase at www.domenicarestaurant.com.
Made fresh daily by pastry chef Lisa White, these decadent King Cakes are generously filled with salted caramel, fresh bananas, roasted pecans, mascarpone cheese, caramello and covered in a praline glaze touched with real gold. One cake serves approximately 14 people. A fava bean is used in place of the hidden baby, a tradition that dates back to the Roman Empire. Each cake costs $45, and one dollar of each purchase will go to The John Besh Foundation.
A golden ticket will be hidden in one special king cake. The lucky winner that finds the golden ticket will receive 2 tickets to Fêtes des Chefs, the upcoming fundraiser for The John Besh Foundation.
Orders must be placed 24 hours in advance by visiting the website or calling Domenica at 504-­648-­6020. Orders can be placed beginning January 6th. King Cake orders may be picked up at Domenica or uptown at PIZZA domenica.
Domenica
123 Baronne Street
New Orleans, LA 70112
P. 504­648­6020
domenicarestaurant.com
PIZZA domenica
4933 Magazine Street
New Orleans, LA 70115
P. 504­301­4978
pizzadomenica.com
Several years ago on a trip to Spain, Lisa experienced a reawakening of her passion for baking. When she returned to the States, she enrolled in the accelerated Baking and Pastry program at the Culinary Institute of America at Greystone. After graduation, she worked as a pastry cook with Della Fattoria in Petaluma, CA. In April 2009, she decided to move to New Orleans, where she had worked as a Red Cross Volunteer after Hurricane Katrina. Upon arriving in New Orleans, White remembered hearing about a chef who had started kitchens in parking lots to feed the people after Katrina, and she decided that was the kind of chef she wanted to work for. That chef was John Besh. White earned a pastry cook position at his Restaurant August, then helped to open Domenica, where she's expanded into many areas from bread production and pastries to house­made liqueurs and pickling. Lisa now oversees all bread and pastry at Domenica and Pizza Domenica. Lisa also serves as as a mentor for the Chefs Move! scholarship recipients and for at­risk youth seeking a profession in the hospitality industry.
PR CONTACT:
The Door / Kendra Borowski / kendra@thedooronline.com / 646­340­1770
Besh Restaurant Group / Maggie Moore / mmoore@chefjohnbesh.com / 504­345­8392
What About YOU?
Do King Cakes factor into your "Mardi Gras Season" celebration? What's your favorite kind?
Let me know in the comments below! And if you pick up one of Chef Lisa White's King Cakes, save me a piece, please! [Preferably one without the baby!] 😉
***Featured image above courtesy of Pableaux Johnson.***