September 3, 2012
Drago's Charbroiled Oysters and Hurricane Isaac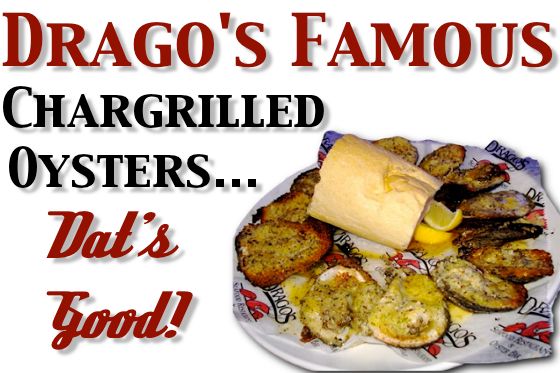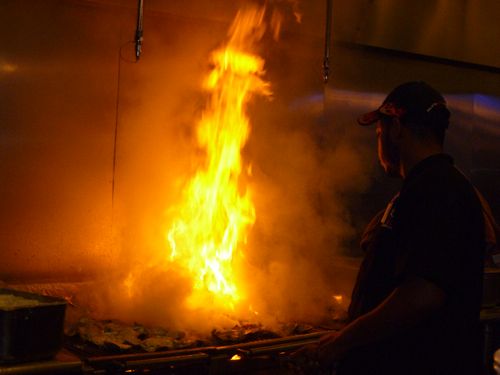 Drago's Seafood Restaurant Is Open For Business
Drago's is open again. At least the downtown location is. It opened just two days after Hurricane Isaac hit New Orleans.
The original location in Metairie hasn't opened yet. They've been waiting for power to be restored, but they plan to re-open tomorrow.
Whew! I am happy to hear that!
Here's why…
Hurricanes Impact Life and Property… and Culture
Hurricanes seriously impact our lives. Hurricane Katrina scattered the residents of New Orleans and the Gulf Coast across the country. It was weeks, even months, before folks were able to start picking up the pieces that Katrina left behind. Some folks still haven't returned. That was seven years ago.
Hurricane Isaac made landfall on the 7th anniversary of Hurricane Katrina. Not a nice anniversary to celebrate. Not quite the kind of "present" we wanted either.
Tension ran high across the greater New Orleans area in the days before Isaac made landfall. That was due partly to the fact that the 7 year anniversary of Katrina approached, and it was due partly to the fact that we had what was potentially another hurricane entering the Gulf of Mexico. Add to that the fact that Isaac seemed to defy all standards; he just kept us guessing.
Meteorologists appeared stumped after every update from the National Hurricane Center. There was no agreement among the tracking models. By all ordinary standards, Isaac should have been a hurricane a day or so before he actually became one. The barometric pressure was low and the winds should have been strengthening, but they were not. [Our Lady of Prompt Succor perhaps?] Isaac just slowly continued on his way to New Orleans. At least it seemed like he was going to New Orleans. Maybe.
The uncertainty surely added to the tension in the air. Nobody knew where this storm was going or whether or not it would become a hurricane.
Isaac took his time developing from a Tropical Storm to a Hurricane, finally making it just hours off the coast of southern Louisiana. In the end, Isaac did just as was predicted a few days before. The one thing we did not see in advance was that he was going to make landfall and then decide to park on top of us. That was unfortunate. It some areas, it is estimated that Isaac did more damage than Katrina.
This has been a week of intense prayer. And I am still praying. All hurricanes make me nervous, so I am happy that I am praying man. I can always cling to God when hurricanes make everything else in life so uncertain.
During every Mass, churches throughout the Archdiocese of New Orleans pray through the intercession of Our Lady of Prompt Succor for "the protection of life and property during the hurricane season". And, despite hurricanes like Katrina and Isaac, God is still with us and God still answers those prayers.
The Comfort of the Ordinary
The fact that Drago's Seafood Restaurant is opening may not seem like such a big deal. I mean, after all, there are thousands of restaurants in the greater New Orleans area, right?
Yes, but some of those restaurants are more like icons. They mean more than what's on the surface. Drago's is one such place. And knowing that it is open (with the Metairie location opening tomorrow) gives me great comfort. It's the comfort of the ordinary, the comfort of the known.
If you have never heard of Drago's, it's famous for its charbroiled oysters. They tell their story at Dragosrestaurant.com:
Mother Nature Made the Oysters (We Just Perfected Them.)

Our Charbroiled Oysters are legendary. It all started back in 1993, when Tommy Cvitanovich, our second generation restaurant manager, decided to experiment with a sauce of garlic, butter and herbs. He brushed it on a fresh batch of oysters, then dusted them with a blend of Parmesan and Romano cheese and cooked them in their shell on a hot grill. The results were incredibly delicious—and a legend was born!

Since then, these special oysters have become a favorite among Drago's patrons and restaurant critics alike. On a busy day, our grills turn out more than 900 dozen Charbroiled Oysters a day. Stop by and try one—you won't be disappointed.

Why Our Oysters Are The Best

Our Charbroiled Oysters have a lot of imitators, but our quality and freshness cannot be duplicated. We pamper our oysters even before they leave the water. They are hand selected by our very own fisherman, which load our own refrigerated trucks right at the dock. Our oysters are escorted directly from the water to the restaurant, where they are opened by hand.

Here at Drago's, oysters aren't just oysters—they're a way of life. We're proud to be part of long legacy of oyster farming in Louisiana, a legacy begun by Croatian immigrants many generations ago. We are all family. We are all friends. We take care of each other. And you can taste the difference.
September Is An R Month – We're In The Clear For Oysters
It just so happens to be September, an R month. Even though the R Month myth has been debunked, it still feels good to be in an R month, and I can't help but think about oysters. And in light of Drago's opening post-Isaac, I find that I can't help thinking, specifically, about Drago's Charbroiled Oysters.
After Katrina chef and cookbook author Marcelle Bienvenu along with Judy Walker (Food Editor for the Times-Picayune newspaper) put together one of my favorite cookbooks: Cooking Up a Storm. They did so in response to so many requests from folks who lost recipe collections and cookbooks in the wake of Hurricane Katrina. Many classic regional recipes had been published by the Times-Picayune over the years. Naturally, south Louisiana folks, for whom food is a way of life and who had been scattered all over the country, started contacting the paper to see if they could reprint some of those favorite recipes. Those requests ended up inspiring a must-have cookbook: Cooking Up A Storm.
The recipe for "Drago's Famous Char-Broiled Oysters" is in it (on page 38).
I am including the bare-bones of the recipe here (paraphrased). Please do pick up a copy of Cooking Up A Storm to see the full recipe and the accompanying story.
INGREDIENTS:
1 pound (4 sticks) butter or margarine
1/2 teaspoon black pepper
2 tablespoons chopped garlic
24 large raw oysters on the half shell
1/4 cup grated Parmesan cheese
1/4 cup grated Romano cheese
1/4 cup chopped fresh parsley
INSTRUCTIONS:
Combine the butter, pepper and garlic in a sauce pan over medium-low heat. Melt the butter and mix well.
Using a charcoal or gas grill, prepare a hot fire. Put the oysters on the grill and spoon the butter mixture over the oysters. Sprinkle each of the cheeses and a pinch of parsley over the oysters and cook for 3 to 5 minutes. The oysters should be smokey and hot. The cheese might even burn a bit. That's ok. It adds to the flavor. Serve immediately, and enjoy!
I have my own version of this recipe, which I posted back in December of 2009. You can find that recipe by clicking here. And in January of this year (2012) I posted another recipe for chargrilled oysters that included instructions for preparing them in the oven. You can find that recipe by clicking here.
Oysters and Hurricanes
It seems that hurricanes hit right about the time the R months roll around. Maybe that's why I feel like I have oyster cravings in the wake of hurricanes. Whatever.
I just know that the feeling of "normalcy" returns when classic New Orleans restaurants like Drago's re-open after a storm.
Thank you, Lord, for the ordinary! Thank you, Lord, for oysters!
What About You?
So I've shared one of my favorite ways to eat oysters. Do you have a favorite oyster dish? I'd love to hear about it! COMMENT BELOW!