April 4, 2013
Easter and Crawfish in New Orleans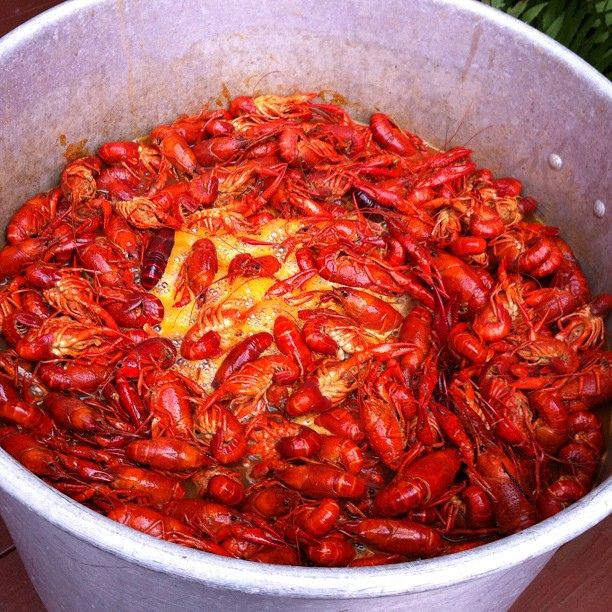 Easter Is a Season
Our secular culture does not think so, but it is true. Easter is a season that spans 50 days and culminates with the celebration of Pentecost.
Life is full of seasons. As it is written in Ecclesiastes 3:1-2, "There is an appointed time for everything, and a time for every affair under the heavens. A time to give birth, and a time to die; a time to plant, and a time to uproot the plant…."
Ecclesiastes reminds us that there is a time to mourn and a time to rejoice. Lent is a somber season that entails mourning our sins. But now Lent is over. It is Easter. And if there were ever a season that demands rejoicing, it is Easter. St. Augustine wrote that "The resurrection of Christ was God's supreme and wholly marvelous work." Not creation. Not stars and planets. Not the creation of man. Not even the Incarnation. But Easter… the Resurrection.
The Church takes the celebration of Easter very seriously. Easter is not just a day. No, the Church celebrates Easter Day for 8 days. It's called the Octave of Easter, and each of those 8 days is liturgically celebrated as if it were Easter Sunday.
The Church is right to do this. The Resurrection of Jesus is the central truth of our faith. And we should celebrate that.
"The Resurrection of Jesus is the crowning truth of our faith in Christ, a faith believed and lived as the central truth by the first Christian community; handed on as fundamental by Tradition; established by the documents of the New Testament; and preached as an essential part of the Paschal Mystery along with the cross…" (The Catechism of the Catholic Church, #638).
Taking Scripture and human nature into account, I can safely say that an appropriate way to celebrate the Resurrection is with food… with a meal!
"God has made everything appropriate to its time, but has put the timeless into their hearts so that they cannot find out, from beginning to end, the work which God has done. I recognize that there is nothing better than to rejoice and to do well during life. Moreover, that all can eat and drink and enjoy the good of all their toil – this is a gift of God." (Ecclesiastes 3:11-13)
Crawfish Season in Louisiana
Crawfish season spans the months of November to July, but crawfish are most prevalent from February to May, which means there are plenty available for Fridays in Lent… including Good Friday. [But we will talk about that in a minute.]
Naturally, the price of crawfish fluctuates according to supply and demand. During the more scarce months, live crawfish might sell for as high as $3.99/lb. or more. During February and March, the price drops for a while, but then it climbs steadily until Easter. "Easter weekend" is one of the biggest crawfish-selling times of the season around here. After Easter, the price drops again, and it continues to drop until the end of the season. Once you get into June the quality of the crawfish tends to go down, meaning that the crawfish are older and their shells are harder. They are just not as fun to peel. As a result you can usually buy live crawfish at a pretty cheap price in June and July. The last couple of years I have been able to find crawfish in June for around $1.69 or so per pound.
This year I paid $2.99/lb. for my crawfish on Easter morning. By the afternoon, the price had dropped to $2.19/lb. There was more supply than demand. This is not typical, but it happened this year.
The very next day, on Easter Monday, one local seafood market found itself with a surplus of crawfish and decided to drop the price to $40 per sack. A sack of live crawfish usually weighs somewhere between 30 and 40 pounds. The sack I bought on Easter Sunday was 33 pounds. With tax, it cost me about $107.00. On Monday, after I saw the price drop posted on Facebook, I bought a 36 pound sack for $40.00. A very good deal. 😉 So we boiled crawfish two days in a row.
If you have never eaten crawfish before, you might be wondering what the appeal is. Why are crawfish such a big deal down here?
Even before the Cajuns migrated to Louisiana from Acadia in Nova Scotia, Native American Indians enjoyed the tasty and abundant mudbugs found in the Atchafalaya Basin and in swampy areas throughout south Louisiana. The Cajuns weren't the first, but I guess you could say that they – with their love of peppers and spices – perfected the art of cooking crawfish.
Since the mid-1900's, there is has been a steady increase in the popularity of crawfish, not only within Louisiana, but also beyond its borders. Some of that popularity surely stems from an increasingly mobile society. Although census studies have shown that native Louisiana residents are the least mobile in the nation, that does not mean that some folks don't move away. As a matter of fact, the oil bust of the 1980's forced tons of Cajuns to move away in search of employment. You can take a Cajun out of Louisiana, but you can't take Louisiana out of the Cajun. Cajuns carry home within their hearts. And if there is one thing that Cajuns are known for, it is their love of good food. Those who left in search of work took that love with them and shared it with everyone they met.
The world is becoming a smaller place. Television shows like Swamp People and Duck Dynasty entertain us, but they also educate and give insight on culture and ways of life. The media certainly plays a role in increasing and spreading the popularity of crawfish, as well as other Cajun and Creole dishes. Popular chefs with cooking shows on TV like Paul Prudhomme and Emeril Lagasse have done much to spread the gospel of Louisiana cooking. It was in 1980 that Paul Prudhomme created a dish that is now considered a Louisiana classic: Blackened Redfish. It did not take long before you could find a variation of Blackened Redfish in restaurants all across the country… in San Francisco, Las Vegas, New York, and even in Ohio.
Another factor that contributes to the growing popularity of crawfish within and beyond the borders of Louisiana is a banal but important one: the dollar. Crawfish is big business. In 1984 the governor of Louisiana approved a law that designated the crawfish as the "state crustacean." He did so because of the commercial importance of crawfish. "Louisiana is the world's largest producer of crawfish. The annual crawfish yield is between 75 million to 105 million pounds and, incredibly, almost 70% of the crawfish produced in Louisiana are consumed within its borders. Nearly 7,000 people across Louisiana's parishes are employed directly or indirectly by the crawfish industry, and the crawfish industry provides $120 million in annual economic impact for the state" (Keep Calm and Don't Eat the Straight Ones: Crawfish 101).
The fact that crawfish are native to a state that is also home to a densely-Catholic population certainly bolsters the economy. And the fact that crawfish season and Lent overlap… Well, that's just perfection, ain't it? Like peanut butter and chocolate. 😉
Easter and Crawfish
Lent and crawfish season do indeed overlap, and on Fridays in Lent are lines of people at seafood markets all across south Louisiana.
I mentioned earlier that I would revisit the question of crawfish and Good Friday. The fact is that Good Friday is the biggest day for crawfish in New Orleans. But I kinda have a problem with that.
To give you an idea of what it is like here in New Orleans on Good Friday, I would like to share an excerpt from a very good book entitled The Joy of Y'at Catholicism:
"In y'at Catholicism, Good Friday is the biggest of the Fridays in Lent. Many businesses are closed, and good y'at Catholics observe the strict prohibition against eating meat on the solemn day by buying, boiling, and eating more crawfish than on any other day of the year. Of course, no seafood markets are closed, and customers line up and wait at the markets for hundreds of pounds of crawfish to be boiled or for trucks to arrive from southwest Louisiana loaded with bags of live crawfish. The demand for crawfish on Good Friday is so great that most seafood markets will not sell to a customer who has not placed an advance order and paid a deposit. Backyard burners are soon roaring with propane fuel under the big pots of water in which the crawfish will be cooked. Washtubs are filled with clean water to purge the live crawfish, that is, to let them gurgle and spit in clean water to get the dirt and debris out before they are thrown live into the boiling cauldrons. It is a fitting dramatic, liturgical pageant: thousands of live crawfish, the sacred totem of the Houma people, are sacrificed through ritual boiling alive on the day that Jesus Christ was put to death to redeem the people of the world."
So what's my problem with this? Well, Good Friday is one of the only two days of the year that Catholics are required to fast in addition to abstaining from meat.
The great thing about a crawfish boil is the exact reason why I believe it should not be a featured event on Good Friday: the act of boiling crawfish constitutes a party. It's a communal event, an event that cannot possibly be accomplished without an ample supply of beer. 😉 Even if you ate nothing else the rest of the day, it is still difficult to image a crawfish boil qualifying as fasting.
But this very quality makes a crawfish boil perfect for Easter Sunday. And for the last several years my family has celebrated Easter with a crawfish boil. Usually, Big D celebrates with us. And, yes, there is an ample supply of beer involved. 😉
I recently came across an article by Brent Rosen about crawfish boils. He compares crawfish boils to barbecues, and I really like what he has to say. I find it very insightful.
"I'd argue the crawfish boil is popular because it's a communal activity at a time when people need a reason to be more communal. A crawfish boil is a like a barbeque, but better. Crawfish boils, like barbeques, are social endeavors: a bunch of folks around the pot, drinking, gossiping, sweating, shooing dogs and fanning flies. Neither crawfish boiling nor barbequing require true recipes; experience trumps instruction when it comes to both. Both are also large format, one can easily scale up or scale down depending on the number expected and the size of one's appetite. Each celebrates simplicity in its own way: crawfish and water, protein and smoke.

"What makes the crawfish boil better than the barbeque is that it requires lingering. Barbeque takes all day to cook but only minutes to eat, and nothing stops a barbeque guest from arriving just before the food is ready, eating, and then leaving. With crawfish, you also cook for long periods of time, but in batches. That means people need to stick around and visit if they are going to leave the party full. A crawfish boil allows you and your guests to savor the greatness of spring: cool afternoons, low humidity, and blooming azaleas. With summer already on the horizon, now is the time to bask in the best the South has to offer" (Keep Calm and Don't Eat the Straight Ones: Crawfish 101).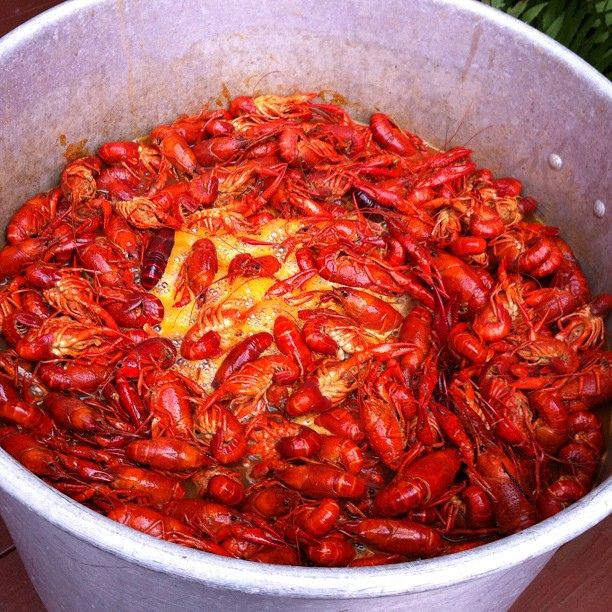 How to Eat Crawfish
If you have never eaten crawfish before, you can feel fairly intimidated. There is an art to it. For those of us who grew up eating crawfish, it just sorta comes naturally. But for visitors, travelers, transplants and tourists, a crawfish boil can lead to social anxiety.
Here is a video that my wife and I put together for you. It takes you step-by-step through the process of eating a crawfish. And there are a couple of more for you too... just for fun!