April 19, 2012
Easter Crawfish and The French Quarter Festival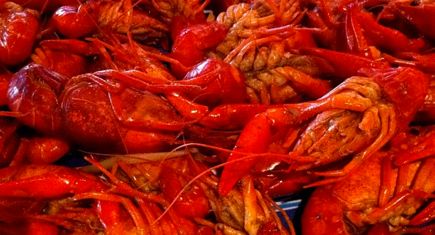 Today we're talking Easter crawfish and the French Quarter Fest.
Easter Crawfish?
What exactly do I mean by "Easter Crawfish?" Well, crawfish season and Easter coincide each year since the high point of crawfish season spans the months of March, April and May. And, by the way, Easter is not over. Nope, not at all! We are now in the Easter Season… Looking forward to the Gift of the Holy Spirit at Pentecost. Anyway, it's no coincidence that there are crawfish boils all across south Louisiana on Easter Sunday… And on Good Friday too. But more on that later in the show.
Why are crawfish are such a big deal down here? I tell you in this episode. I also have some tips for you on boiling your own crawfish and a quick tutorial on how to peel a crawfish.
This past weekend was French Quarter Fest in New Orleans and we spent the day there Friday. I'll tell you more about the history, the music and the food of what has been called the "kickoff to festival season in New Orleans."
All this and more right here, at the Catholic Foodie, where food meets faith!
Today's Sponsor: StudioPress and the Genesis Framework
This episode of The Catholic Foodie is sponsored by StudioPress. There's no getting around it. If you want an attractive and highly functional website or blog, you have to use the right tools. Free themes and free help from your friends will only take you so far, which is why I recommend StudioPress and the Genesis Framework. Mashable calls Genesis the "best of the best" among premium frameworks.
Genesis is search optimized. State-of-the-art code and smart design architecture mean search engines clearly see your content. And with automatic updates, you never have to think about it again.
The Genesis turn-key designs give you an array of beautiful frames for your content. The design settings give you unprecedented control of the framework.
And with Genesis you get unlimited support, unlimited updates, and unlimited websites. There's no "Developer Option" here. One low price entitles you to support, updates, and domains.
To find out more about what StudioPress and the Genesis Framework can do for you, go to CatholicFoodie.com/studiopress.
Special thanks to L'Angelus for the use of two of their songs in this episode: The Back Door and Louisiana Saturday Night.
Download episode 134 here or listen to it below:
Crawfish boils are a delicious Louisiana tradition celebrating Easter
As I mentioned in the opening of this episode, Easter and crawfish season coincide every year. And that, certainly, has lots to do with the abundance of crawfish boils on Easter Weekend. I called four or five days in advance to reserve my sack of crawfish. By the way, there's a reason that I called it "Easter Weekend." Here's where cultural Catholicism can hinder rather than help.
There's a big difference between Good Friday Crawfish & Easter Crawfish, IMHO.
Crawfish boils on Good Friday?
Yep. It happens. A lot.
There are several Good Friday traditions in New Orleans. One of them is what we call the Pilgrimage of the 9 churches. We're not sure why it is 9 churches. It probably has something to do with the Catholic tradition of novenas. And it is also not written in stone which 9 churches you visit on Good Friday. There are so many churches in the New Orleans area that folks have a choice of which route they would like to take. Those of us who are strict observers of the tradition make the pilgrimage on foot. But others, for health or other reasons, drive from church to church.
We started at St. Stephen's uptown around 10:00 on Good Friday morning. We made our way down to Old St. Patrick's on Camp St. in time for the 3:00 service.
We've made the Good Friday pilgrimage several times in our lives. And, I admit, one of those pilgrimages did end with a crawfish boil.
Hmmm… How to explain it?
There are only two days of fasting in the whole year, Ash Wednesday and Good Friday. Even then, fasting (as defined by the Church) is very limited. Here's the way it is stated:
"The law of fasting requires a Catholic from the 18th birthday to the 59th birthday to reduce the amount of food eaten from normal. The Church defines this as one meal a day, and two smaller meals, which, if added together would not exceed the mail meal in quantity. Such fasting is obligatory on Ash Wednesday and Good Friday. The fast is broken by eating between meals and by drinks which could be considered food (milk shakes, but not milk). Alcoholic beverages do not break the fast, however, they seem contrary to the spirit of doing penance." – Quote take from The Holy Season of Lent on EWTN.com.
If boiled crawfish is the only meal that you eat on Good Friday, then, technically, you could make an argument that you are still fasting. However, I usually eat more than normal when I eat crawfish. Not less. And the first stipulation of fasting is to reduce the amount of food normally eaten. Again, I wonder how penitential eating crawfish and drinking beer is, even if it is the only meal eaten that day.
Now, I confess that I have in my lifetime gone to two crawfish boils on Good Friday. Both of them were hosted by very devout families. And all invited were close friends from church parish or ministries. We had a wonderful time. A wonderful celebration. A holy celebration. And I should mention that both of those crawfish boils happened in the late afternoon / early evening hours.
Still, even though it was in the background, there was a tinge of guilt in my conscience.
Am I splitting hairs here?
I don't know. I do know that crawfish on Easter Sunday makes perfect sense and actually fulfills our duty to celebrate the resurrection of Jesus.
And crawfish are a big deal all throughout the Easter Weekend. That's why I ordered my sack 4 or 5 days in advance.
We were heading to Baton Rouge for Mass on Easter Sunday morning. Our youngest niece was being baptized. So, I had to get up and run to the seafood market to pick up the crawfish as soon as the market opened. I was there for a few minutes after 8:00. And, boy, those folks had a system set up. There were three big pickup trucks in the parking lot, each piled high with sacks of crawfish. Each row was layered with ice and all three piles were covered with ice on top. The lady with the book took my name and searched for my order. They pulled a sack for me. 35 lbs. They handed me the ticket so that I could go inside and pay while they put my sack of crawfish in the ice chest I had waiting in the back of the van.
I'm telling you the whole process didn't take 3 minutes. Amazing.
I kept the sack of crawfish in the fridge while we went to Baton Rouge for Mass, the baptism, and for lunch with my parents.
We returned home about 5:00 and started preparing the boil. Big D was coming over to celebrate with us.
The crawfish, by the way, were glorious! The biggest ones we have had so far this year.
If you're not from around here, you might be asking yourself…
Why are crawfish such a big deal in south Louisiana anyway?
Well, I'm here to tell you!
Crawfish are abundant in the swamps and marshes all across south Louisiana, and they were a favorite food of the early settlers of Louisiana. According to the Crawfish Cookbook, "Both market incentives and technological advances have expanded the Louisiana crawfish industry to include farming as well as fishing in the wild. In the 1960's, crawfish farming made its debut with the cultivation of crawfish in man-made ponds, using controlled water levels, forage management and water recirculation techniques to produce a highly marketable product.
During the next 35 years, crawfish farming developed into the largest freshwater crustacean aquaculture industry in the United States. Louisiana leads the nation, producing more than 90% of the domestic crop. More than 1600 farmers produce crawfish in some 111,000 acres of ponds. More than 800 commercial fisherman harvest crawfish from natural wetlands, primarily the Atchafalaya Basin. The combined annual yield ranges from 75 million to 105 million pounds. The total economic impact on the Louisiana economy exceeds $120 million annually, and more than 7000 people depend directly or indirectly on the crawfish industry."
Crawfish season generally runs from December until July, but crawfish are most plentiful in March, April and May. Nowadays, you can get frozen crawfish tails year-round. And we do purchase the frozen tails from time to time to make Crawfish Étouffée. Live crawfish always start out more expensive at the beginning of the season, sometimes well over $3.00 / lb. As the season wears on and the crawfish become more plentiful, the prices drop. Toward the end of the season, the crawfish are older and the shells can get hard. They're still good… just a bit more painful to peel.
The crawfish I bought for Easter ran me $2.39 / lb. Prices are expected to drop as we continue through April and enter into May.
WWL-TV ran a short clip about crawfish over the Easter Weekend. Click on that link to see what they reported.
Tips for boiling crawfish
If you are planning to boil your own crawfish, or if you happen to be invited to your first crawfish boil, you might find the following tips helpful:
First of all, how many crawfish do you need to have a successful boil? Well, generally, you calculate about 5 pounds of live crawfish per adult. Now, my kids can eat. And they love crawfish. And, personally, we don't mind eating leftover crawfish the next day. I've been known to put a dent in a sack of crawfish, and so has Big D. So, I got a 35 lb. sack on Easter Sunday, even though we were only three adults. We did have one tray left over, which we dutifully (and happily) ate the next day.
You need more than just crawfish to have a crawfish boil. You need propane to heat up the pot, and you need the seasonings, lemon juice, garlic, potatoes, corn, mushrooms, onions, asparagus, artichokes, sausage, and anything else you want to throw in there. Not everyone throws all of this stuff in their boils. The standards are corn and potatoes. We also do garlic (LOVE dat garlic! It's like butter!) and mushrooms. Sometimes we do sausage too. My guess is that on average we spend about $120 each time we boil… But that doesn't include the beer. 😉
Everybody has their own favorite seasoning blend. We are partial to the "dump & boil" or "pour & boil" bags made by Louisiana Fish Fry Co. One of the large bags is sufficient for an average sack of crawfish (35 to 40 lbs.). Once the water is brought to a boil and the seasoning is dumped in and stirred, you have to taste the water. Just let it cool first. Sometimes we might need to add some extra cayenne, or maybe some extra salt. It just depends. One of our "secret" ingredients is concentrated lemon juice. We pour in (at certain strategic times) as many as 6 bottles of concentrated lemon juice. It's amazing how much that lemon impacts the flavor of the crawfish. Yummy!
We cut the heads of garlic open horizontally, then place the garlic and potatoes in a lingerie bag and zip it up. This helps to keep it all together so that the potatoes and garlic don't get lost somewhere in the pot. Once the seasoned water is boiling we drop the lingerie bag in and let it boil until it's time to dump the crawfish in.
We are pretty meticulous when it comes to crawfish. Before boiling them, we wash them really well by putting them in a large ice chest and repeatedly filling it up with cool water and then draining it. How many times do we do this? It depends. We do it until the water starts to run clean through the drain.
Another detail we are meticulous about it the amount of water we boil in. You don't want to much water, because that just dilutes the seasoning. You also don't want too little because, in order for the crawfish to cook properly, they actually need to be in the water. The good thing is that after the first time or two that you boil in a new pot, a water line forms so you will always how much water to add the next time.
Before dumping the crawfish into the pot, we remove the potatoes and garlic. The crawfish go in (that's a two-man job!) and the potatoes and garlic are kept on the side for a while. I use a big wooden paddle to stir the crawfish in the pot. After the crawfish are added, they don't have to achieve a rolling boil. I start the timer for 9 or 10 minutes once they go in pot. I stir from time to time, and after 10 minutes I cut the heat. Then it's soak time!
I cannot emphasis the importance of soaking! It is by soaking that the crawfish soak up the heat and the flavor. As a general rule, the longer they soak, the hotter they get. We usually start tasting them after 20 minutes of soaking, but we might not start serving the platters until after 30 minutes of soaking. And we don't just dump the whole pot out on the table either! No, we pull 'em out in batches. By the time it's all said and done, some of those crawfish might soak for an hour. And they are delicious!
Here's one last "tip" I can share with you. A few years ago we started wearing latex disposable gloves to eat crawfish. Why? Because those crawfish are soaking in cayenne! That cayenne will soak into your skin and it does burn. In addition to the general burn, I highly recommend that you do not touch your eyes (or any other sensitive parts) for several hours after eating crawfish barehanded. I don't care how many times you wash your hands. The spice gets in the skin and doesn't come out easily. I think it was when our kids were small and we had to do things like change diapers that first tried wearing the latex gloves. And, honestly, it was a relief to be able to eat crawfish and not have to worry about the general burn or about burning your eyes out. It's just a tip.
How to peel a crawfish
So what about peeling crawfish? It might seem like a lot of work, but you get used to it. You get into a rhythm. I made a video last year of Char peeling a crawfish. I'm going to play the audio of that clip for you here. If you want to see the video, I'll put a link in the show notes at CatholicFoodie.com. I just have to say that when I was growing up I did suck the heads. I didn't start sucking the heads until I met Char. But here's the deal… you're not really sucking the heads. You're just trying to get the fat out of the head-part of the body. And, technically, I don't suck 'em. I stick my pinky finger in there and pull the fat out and eat if off my finger. OK. Is that too much information? I hope not. If you eat crawfish, please don't waste the fat. It's the best and most flavorful part! I start twitching when I'm at a crawfish boil and I look over and see people throwing away the fat. It's only my strong sense of social propriety that keeps me from grabbing those heads and digging the fat out. There. I said it. Eat crawfish and cherish the fat. You gotta respect the fat. 'Nuff said.
The History
Tourism officials call French Quarter Festival 'the kickoff to festival season in New Orleans,' and what started as a neighborhood festival and a 'locals event' has grown into one of the largest music festivals in the United States. 'Locals' Lagniappe Day' was launched in 2011 and French Quarter Festival officially became a four-day event. In 2012, there is even more festival to enjoy, with extended hours on opening day, Thursday, April 12. And, next year brings the 30th anniversary of this exciting and beloved festival.
The Music
On twenty-one (of its twenty-two) music stages, only Louisiana artists are featured (the festival hosts one 'International Stage' where traditional jazz bands from all over the world perform.) Part of the great appeal of French Quarter Festival is that attendees get a true and authentic New Orleans experience – locals and visitors can hear a broad range of artists and a diverse variety of musical styles and genres. French Quarter Festival is committed to keeping Traditional Jazz alive, and features New Orleans' finest artists throughout the four days of festival, on stages all over the French Quarter. A new music stage has been added in 2012, bringing the total to twenty-two.
The Food – "World's Largest Jazz Brunch"
In a city known for its delicious and diverse cuisine, even festivals are known for serving world-class food. During the 29th annual French Quarter Festival (Thursday, April 12 – Sunday, April 15, 2012) festival-goers will enjoy signature offerings at the "World's Largest Jazz Brunch." The 2012 festival welcomes nine new restaurants including Galatoire's, K-Paul's Louisiana Kitchen, Blue Dot Donuts, Three Muses, Maximo's Italian Grill, Grand Isle, Deanies, Lasyone's Meat Pie Restaurant, and PJ's Coffee and Tea of New Orleans. Food and beverage booths, located in Jackson Square, Woldenberg Riverfront Park and the Louisiana State Museum's Old U.S. Mint, make up the "World's Largest Jazz Brunch."

French Quarter Festival annually features authentic local cuisine from the area's finest restaurants, including festival favorites such as crawfish and goat cheese crepes, cochon de lait po-boys, crawfish bisque, Oysters Bonne Femme, hot boiled crawfish, grilled chicken livers with pepper jelly, sweet potato pie, bourbon bbq shrimp, prime debris po-boys, Abita beer, snoballs, and more. Foodies will also enjoy lamb sliders, Crawfish Diavolo, baked alaska, and boudin balls. In addition to the food offerings, the festival offers an array of refreshing beverages including Abita Beer, Absoult Vodka, Malibu Rum and Jameson cocktails and daiquiris, Pepsi products including Aquafina and Gatorade, Pat O'Brien's hurricanes, Tropical Isle Hand Grenades (and Skinny Hand Grenades), WWOZ's Mango Freeze, and Plum Street Sno-Balls – now with an additional fourth location in Jackson Square. Most menu items range in price from $4 – $8 to keep the festival not only fun, but affordable.

In order to maintain the authenticity and quality of the cuisine, the Jazz Brunch Committee follows specific criteria for participating in the "World's Largest Jazz Brunch". In order to qualify, vendors must be dine-in restaurants and New Orleans restaurants are given first preference. French Quarter Festival features neighborhood favorites – including Antoine's, Desire Oyster Bar, Galatoire's, G W Fins, Muriel's, Court of Two Sisters, The Bombay Club, Bennachin, Praline Connection, and Tujague's – many of whom participated in the first-ever French Quarter Festival in 1984.
"Brunch is New Orleans' way of celebrating the week past and toasting the one ahead. Good times in the Big Easy happen just about any day of the week, and we make every occasion special. Especially the World's Largest Jazz Brunch during the annual spring French Quarter Festival.

More than fifty recipes and additional eye-openers from the city's legendary and quirky restaurants and chefs, such as Brennan's, Commander's Palace, Dooky Chase's, Arnaud's, Antoine's, and Mr. B's Bistro are dynamically photographed along with recipes both traditional and unconventional. Be it café au lait and beignets, Eggs Benedict, Creole cream cheese, or calas, the meal is a close-up of magical customs.

The chefs comprise an honor roll of New Orleans' best. From highfalutin to down home, they create the greatest neighborhood food in America. We know this to be true–that's a promise.

Tips, techniques, culinary escapades, and inspirations from these masters accompany the recipes. Of course, there's a difference between what a professional makes and what you create in your own kitchen. However, these recipes aren't written for the professional–although theymightmake you look like one. Each recipe has been home-kitchen tested. We want you to be happy, look good, and easily duplicate a spectacular recipe from a famous restaurant or chef.

If you know what it means to miss New Orleans, this cookbook is for you. If you've never been here, plan a visit soon, and prepare a meal you've only dreamed about.

Or remembered." – From the book description.
Bon Appetit!
You can check out some of my crawfish pics and photos of the food we had at the French Quarter Festival on my Flickr account at http://www.flickr.com/photos/catholicfoodie/.
We've come to the end of another show, folks. I just have one more thing I want to tell you about before we close down the kitchen for the night.
I want to remind you that SQPN – The Star Quest Production Network – is in the middle of its annual giving campaign. Are you a Friend of SQPN? If not, become one! Go to SQPN.com and click on the donate button on the right side of the screen. It is so important for us to support good Catholic content online, and SQPN is committed to producing excellent Catholic content. Please do become a Friend of SQPN today.
Well, I think that pretty much wraps things up for us today, folks. Don't forget to check out the show notes at CatholicFoodie.com. You can also find me on Facebook at Facebook.com/catholicfoodie and on Twitter at Twitter.com/catholicfoodie. If you are on Google+, you can find me at CatholicFoodie.com/plus.
Thank you for joining me today. It's been fun. And until next time… Bon appetit!