November 2, 2013
Eat St. Comes to LOLA Deux in Covington!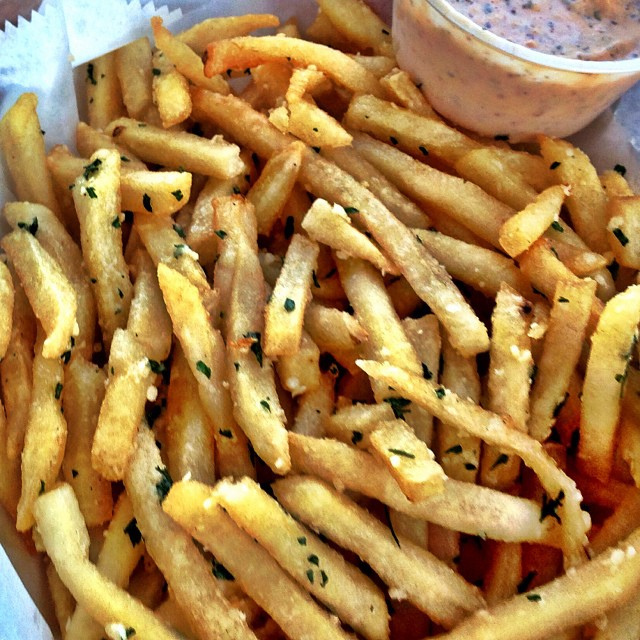 The Cooking Channel / Food Network's Eat St. in Covington!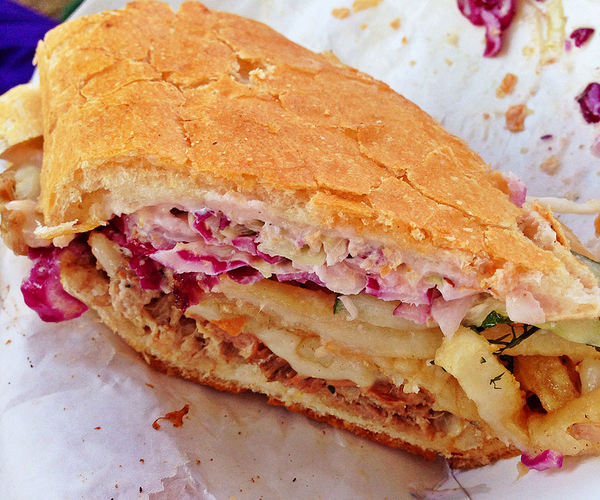 Eat St. is a TV series on The Cooking Channel and Food Network that explores street food.
Eat Street is a lip-smacking celebration of North America's tastiest, messiest and most irresistible street food. From Tijuana-style tacos served out of an Airstream trailer and pizzas baked in a brick oven on wheels to classic dogs with all the fixins and sirloin burgers slathered in bacon jam — food cart fare is the hottest trend going. The stars of the show are the vendors — food mavericks with creative takes on mobile meals and inspiring stories to tell. Seeking out the very best curbside eats all over North America, Eat Street is your grease-stained roadmap to the ultimate street food experience. – from Eat St. on The Cooking Channel
I noted back in November 2011 that the food truck craze is hitting the nation. As a matter of fact, I heard Alton Brown say that New Orleans doesn't need food trucks, but that they are going to do very well down here because we like to eat AND we like to eat good food. He's right.
I live in Covington, on what is referred to as the "Northshore" of New Orleans. On the Northshore there is only one food truck, LOLA Deux, which is an extension of the LOLA Restaurant in Covington, and I have been frequenting LOLA for years. I was first introduced to LOLA by Bro. Ken Boesch, FSC, one of the Christian Brothers founded by St. Jean Baptiste de La Salle. When I was teaching religion at St. Paul's in Covington, Bro. Ken was the Theology department chair, and we would frequently have our quarterly department meetings at LOLA. Bro. Ken is always so cool. He used to have the meetings there because 1) the food was excellent, and 2) Keith Frentz (the owner and chef of LOLA) is a graduate of St. Paul's.
LOLA is unique in many ways. They are located within the old train depot building right on the old railroad tracks. Amazingly enough, their kitchen is actually housed within an real caboose! How cool is that?!
Another unique thing about LOLA: it is run by two chefs that are married… to each other. Nealy and Keith Frentz both graduated from the prestigious Johnson & Wales University with degrees in culinary arts. They then both worked at the iconic Brennan's in New Orleans. Hurricane Katrina was instrumental in the birth of LOLA. Forced to relocate to the Northshore by Hurricane Katrina, Keith and Nealy were able to make their dream a reality. They opened the doors of LOLA in Covington in January of 2006.
In May of 2012, Keith and Nealy Frentz were crowned as the King and Queen of Louisiana Seafood by the Louisiana Seafood Promotion & Marketing Board. That was the first time that crown from the Louisiana Seafood Cookoff went to a married couple. Prior to 2012, there was only a king OR a queen. Keith and Nealy changed that. Such trendsetters. 😉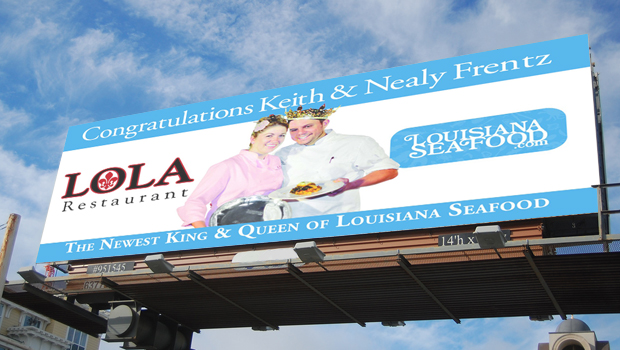 LOLA Deux on Eat St.
As you can see, Keith and Nealy are no strangers to the spotlight. Producing the high-quality food – both in their restaurant and in the food truck – has garnered them local and national attention. As a matter of fact, earlier this year, Nealy competed on Food Network's Chopped. And she almost won too. She made it to the final round. We had Nealy on the one of our very first broadcasts of the Around the Table Food Show. You can still listen to her story of what it was like to compete on Chopped. Click here to listen.
So, it really should be no surprise that Eat St. is coming to LOLA Deux on Tuesday. It's not a surprise, but it is very exciting!
Here's what Nealy posted on the LOLA Deux Facebook page the other day:
"We are super excited to let everyone know that the Lola Deux truck will be featured on the tv show Eat St. !!!!!! We will be filming all day Tuesday, Nov 5 and we are asking all of our Lola Deux fans to come out and support the truck!! We will let everyone know what time to show up and the more people we can gather the better!!! Please spread the word!!!!!"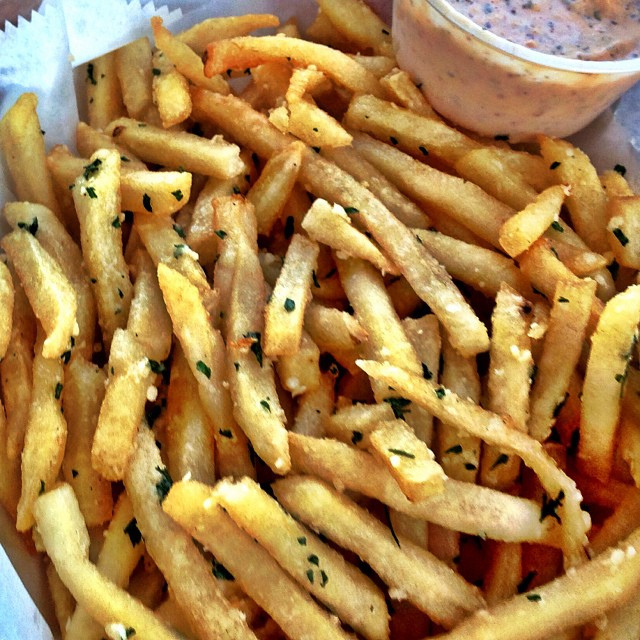 The Catholic Foodie on The Cooking Channel / Food Network?
Eat St. contacted me this past week. They want to interview local food writers about LOLA and LOLA Deux. I'll be filming for Eat St. at 1:15 PM on Tuesday, November 5th at LOLA in Covington. They are looking for extras too – in case you are in the area. 😉 Come out and join in the fun!
LOLA is located at 517 N. New Hampshire Street, Covington, 70433. Keep an eye on LOLA's Facebook page for details, but I think the party's getting started at noon.
See you there!
---
UPDATE – November 5, 2013
It was such a joy to be with my friends today for the filming of Eat St. at Lola deux! Keith Frentz and Nealy Frentz rocked da house as usual! So good to see my friends Susan Ford and Nina Camacho too! And thanks to all the local folks who came out to support LOLA and the Covington Food Bank: Robert MrIncredible Simpson and Anne Koerner Simpson and family, Tricia Cooper and kids, Cashel Rodriguez and kids, and Christi Miranda Burns and kids… and so many others that it is too hard to name! Incidentally, I loved the "bacon marmalade singing lady!" I need to get her to do some singing for the radio show!