November 4, 2009
EEEE ZITI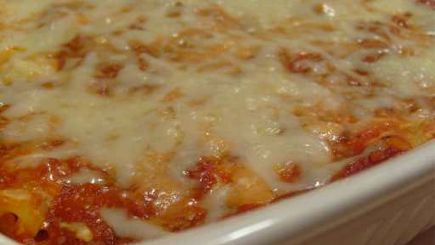 Recipe submitted by Mark Angus
Boil 1 lb of your favorite ziti, small shells, rigatoni in 6 quarts of H2O. in a separate sauce pan empty the contents of 3 cans of tomato sauce plus 3 cans of tomato paste (I sometimes sub 2 cans of tomato puree, depending on what is the best price at Sam's Club) over medium heat. Now, according to your taste, gently fold into the heated sauce about 1/3 to 1/2 cup of any variety of Ricotta Cheese and mix well.
Drain pasta.
In a 9 x 13 baking pan (I buy the bulk foil ones at Sam's) sprinkle a good handful of Mozzarella cheese on the bottom and a few good shakes of Parmesan cheese, spoon or ladle some sauce on the cheese then add a layer of pasta, then more cheese & sauce and continue until the pan is as full as you want layering in the sauce pasta and cheese. As you finish the top layer be sure to reserve a little sauce to drizzle over the top layer of cheese. Bake in a 400 degree oven for 15 to 20 minutes and turn the broiler on for the last few minutes if you like your top layer nice & crispy. Serve with some nice crusty bread or baguettes.
Some possible add ins could be pepperoni, mild or hot sausage, mini meatballs, mushrooms, onions. For the strong of stomach add sliced jalepenos.
***Photo by robot-girl***