December 30, 2012
Emeril's Columbia Street Grinder Kicked-Up a Notch New Orleans Style for #SundaySupper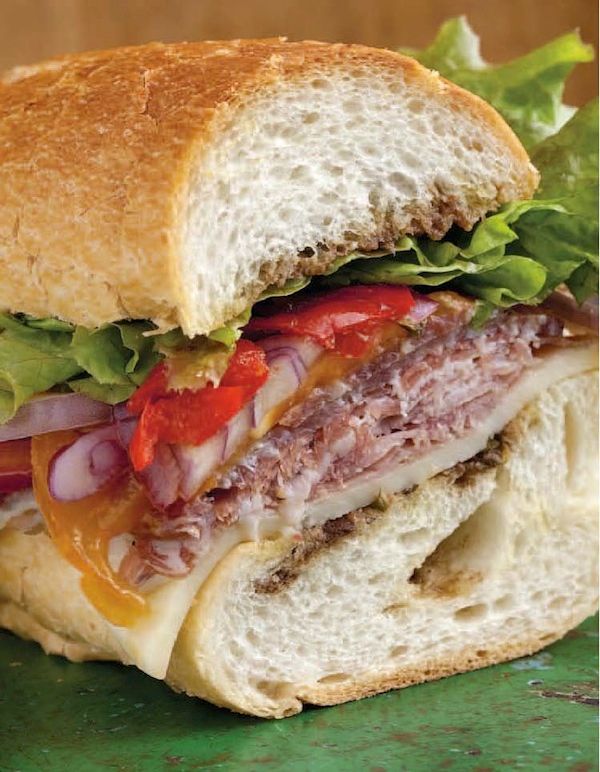 Kicked-Up Sandwiches
There's nothing like a good sandwich. And, lucky for me, New Orleans is the birthplace of a couple of legendary and world-famous sandwiches: the Po-Boy and the Muffuletta.
But today we're talking kicked-up sandwiches by Emeril Lagasse as we get ready for a New Year's Eve #SundaySupper chat on Twitter.
Believe it or not, the inspiration behind this Columbia Street Grinder sandwich is not New Orleans… but a prominent foodie street in a heavily Portuguese influenced area of Fall River, Massachusetts.
The Sandwich Mystique: It's All About Local
Sub, Hoagie, Hero, Grinder, Po-Boy. They're all sandwiches, and they all share certain things in common. Yet, they are all unique. And it really depends on where you are. Sandwiches are the food of the locals, so their uniqueness depends on, well, your location. 😉
Here in New Orleans, the Po-Boy reigns supreme. A derivation of the term "Poor Boy," the po-boy is not only a staple of local cuisine, it is also recognized the world over as a signature dish of Cajun and Creole cuisine. As a matter of fact, a shrimp po-boy is usually second (after Seafood Gumbo!) on a first-time tourist's "must eat" list when they come to New Orleans.
Our very own Lauren Thom (of @FleurtyGirl fame) briefly explains the origin of the term "po-boy" in this short video clip:
Emeril Lagasse and New Orleans
Emeril Lagasse is one of my earliest culinary inspirations. One of my all-time favorite cookbooks was written by Chef Emeril Lagasse and Marcelle Bienvenu. It's called Louisiana Real & Rustic, and the pages are tattered and splattered from all the hard-core kitchen use I have put it through over the years. It's autographed by both authors, which I take to be some kind of culinary blessing from these master chefs! 😉
Emeril got his start at Commander's Palace in New Orleans. In 1982 he succeeded Chef Paul Prudhomme as Commander Palace's executive chef. Marcelle worked there while around the same time and she helped him to write and publish a few of his earlier cookbooks. In 1990, Emeril left Commander's Palace and opened his own restaurant, Emeril's, just outside the French Quarter. Today Emeril is the executive chef and proprietor of thirteen restaurants.
In addition to being an executive chef and an author, Emeril has also starred in his own television shows over the years. The Essence of Emeril and Emeril Live were two of his biggest TV successes. They are also where he made famous a few of his regular sayings like "Bam!" and "Kick it up a notch!"
Here is a short clip of Emeril talking about his favorite po-boy:
New Orleans' Second Most Famous Sandwich: The Muffuletta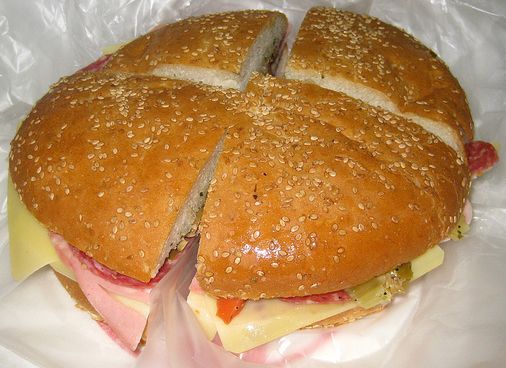 As I mentioned earlier, the Po-Boy is the reigning sandwich in New Orleans. However, there is another very famous and much-loved sandwich that comes to us from the French Quarter… even though the sandwich is of Italian origin. I'm talking about the Muffuletta.
Made on a round Italian loaf, this massive sandwich could feed 2 to 4 people. It is stacked with provolone, mortadella, ham, and salami, a specially made olive salad, and all bathed in a generous amount of extra-virgin olive oil. Not only is the Muffuletta a sandwich to behold, it is one that you must taste before moving on to the next life. It is like a little slice of heaven.
The Muffuletta originated at Central Grocery in the French Quarter. Central Grocery is an Italian deli and grocery store, and you smell it before you see it… as you are walking down Decatur Street.
I bring up the Muffuletta today for a very specific reason. When I first saw Emeril's Columbia Street Grinder, two things struck me… First, my curiosity was piqued because we have a Columbia Street right here in Covington, so I thought that Emeril was possibly referring to my Columbia Street. I soon learned that he was not. Rather, he was referring to an area in Fall River, Massachusetts. Secondly, when I first saw the picture of the Columbia Street Grinder and read through the ingredients, I said to myself, "Wow! That's a Muffuletta… Except that it is missing a few ingredients and it is on the wrong bread." Boy, ain't I smart?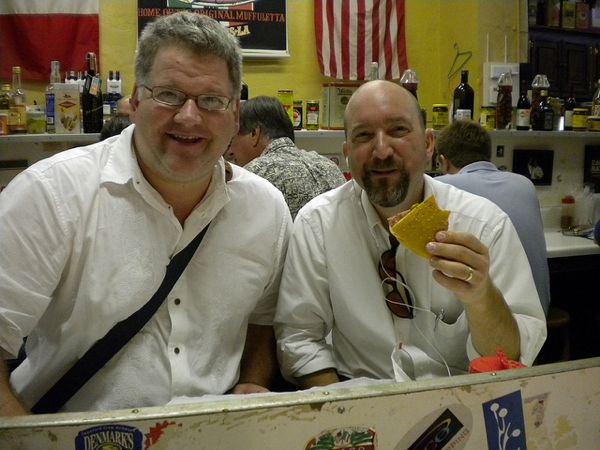 Yes, there are some definite similarities between the Columbia Street Grinder and the Muffuletta, but there are also a number of differences. The meats and the cheese are the same. The bread is similar. Both have a healthy dose of olive oil. But that's where the similarities stop. Although it could be argued that the Balsamic-Herb Vinaigrette is similar to the olive salad, I personally think that would be stretching it.
There's nothing like Central Grocery's olive salad. Nothing. At the same time, I LOVE peppers. Hot and sweet, and just about any other way too. So, I'm torn. Which one is best? I don't know. I guess we'll have to arrange a taste test. 😉
Emeril's Columbia Street Grinder
"I have many fond memories of eating grinders back home, but none that stick out in my mind more than the ones I'd find on Columbia Street in Fall River, Massachusetts. Though Columbia Street can't be matched, I've tried my best to devise a recipe that comes close, and I think this one hits the mark." – Emeril Lagasse
Emeril's Recipe – Columbia Street Grinder (from page 117)
INGREDIENTS
Four 6-inch loaves Portuguese stick bread, or Italian or French loaves
Balsamic-Herb Vinaigrette (page 329 in the cookbook… see below)
8 ounces sliced provolone cheese
8 ounces sliced mortadella
8 ounces sliced spicy ham, such as capicola
8 ounces sliced salami
1 large ripe tomato, cut into eight 1/4-inch-thick slices
12 thin onion slices
12 jarred hot or sweet cherry peppers, drained and roughly chopped
2 cups torn green-leaf lettuce
DIRECTIONS
Cut the loaves of bread in half lengthwise, and arrange them in a single layer, cut sides up. Liberally brush the bread with the vinaigrette. On the bottom half of each loaf, evenly layer one-quarter of the provolone, followed by one-quarter of the mortadella, one-quarter of the spicy ham, and one-quarter of the salami. Top with 2 slices of tomato and 3 slices of onion. Divide the cherry peppers among the sandwiches. Stir the vinaigrette and generously drizzle it over the onion and tomato.
In a small bowl, toss the torn lettuce with some of the remaining vinaigrette. Divide the lettuce among the 4 sandwich, top with the other halves of the bread, and serve.
Balsamic Herb Vinaigrette
INGREDIENTS
1/4 cup balsamic vinegar
1 tablespoon chopped fresh basil leaves
1 tablespoon chopped fresh oregano leaves
1 teaspoon minced garlic
1/2 cup extra-virgin olive oil
1/2 teaspoon salt
1/4 teaspoon freshly ground black pepper
DIRECTIONS
In a small mixing bowl, combine the balsamic vinegar, basil, oregano, and garlic; whisk well to mix. Continue whisking while slowly drizzling in the olive oil in a slow, steady stream. Add the salt and pepper, and whisk to combine.
The vinaigrette may be stored in an airtight container in the refrigerator for up to 1 week.
**Recipes courtesy Emeril Lagasse, Emeril's Kicked-Up Sandwiches, William Morrow Publishers, New York, 2012.**
The Catholic Foodie Variation of the Columbia Street Grinder
Often, folks refer to po-boy bread as French bread. That's not quite accurate though. The bread used to make po-boys is a bit lighter than what you will traditionally find labelled as "French bread." Here at CatholicFoodie.com, I have recipes for both the traditional French baguette and for po-boy bread. And I thank my friend Craig Poirier for both recipes.
Here are a few of the variations I have made to Emeril's Columbia Street Grinder:
Gumbo is Louisiana's official cuisine, and gumbo is a melting pot of sorts. Gumbo is a mixture of different cultures whose flavors have mingled together for over 300 years. I already admitted that I can't help but think of the Muffuletta when I think of Emeril's Columbia Street Grinder. So this is what I did for my variation:
I used po-boy bread, instead of the Portuguese stick bread.
I used the meats and provolone cheese listed in the recipe.
I used hot cherry peppers, instead of the sweet peppers (but I did add a few banana peppers into the mix).
That's it. Nothing too fancy. This is an excellent sandwich that I highly recommend!
You can download CF150 here, or press Play below to listen now:
I have one copy of Emeril's Kicked-Up Sandwiches to give away! Here's how you can win:
Join us on Twitter Sunday evening at 7:00 PM Eastern time (see details below) to participate in our #SundaySupper chat.
Leave a comment below telling me what you think about Emeril's Columbia Street Grinder.
The winner will be randomly chosen (from among those who meet the two requirements above) on Monday!
[UPDATE: The winner has been chosen. The lucky winner is Jennie from @messybakerblog. Congratulations!]
#SundaySupper – It's a Party with Emeril Lagasse!
We're having a #SundaySupper New Year's Eve Party and you are all invited!  The Sunday Supper Team has been inspired by two of Emeril's Cookbooks and we want to share some of our favorite recipes that are perfect to throw together a New Year's Eve Potluck Party Emeril Style!
If anyone knows how to throw a party, it's Emeril… and Kicked-Up Sandwiches and Emeril's Potluck have the perfect recipes for a fun, casual and delicious New Year's Eve Celebration!  Join us this Sunday at 7 PM Eastern Time on Twitter for our New Year's Eve #SundaySupper Potluck Party.
25 Bloggers will be giving away 25 copies of Emeril's Cookbooks!* You don't want to miss this special Celebration!
Sunday Supper NYE Potluck Drinks:
Sunday Supper NYE Potluck Starters:
Sunday Supper NYE Potluck Dishes and Sandwiches:
Sunday Supper NYE Desserts:
Please join on us on Twitter throughout the day during #SundaySupper on December 30th.  In the evening we will meet at 7pm EST for our #SundaySupper New Year's Eve Potluck Party Emeril Style!  We are so excited to have you join us.  All you have to do is follow the #SundaySupper hashtag or you can follow us through TweetChat.
Please feel free to share with us and our followers your favorite New Year's Eve recipe on our #SundaySupper Pinterest Board.  We are excited to have you Around the Family Table for this special Party!
*The bloggers with *** next to their posts will be giving away a copy of one of either Serious Sandwich Cookbook or Potluck Cookbook during the Chat.