April 23, 2014
Emeril's Natchitoches Meat Pies for Jazz Fest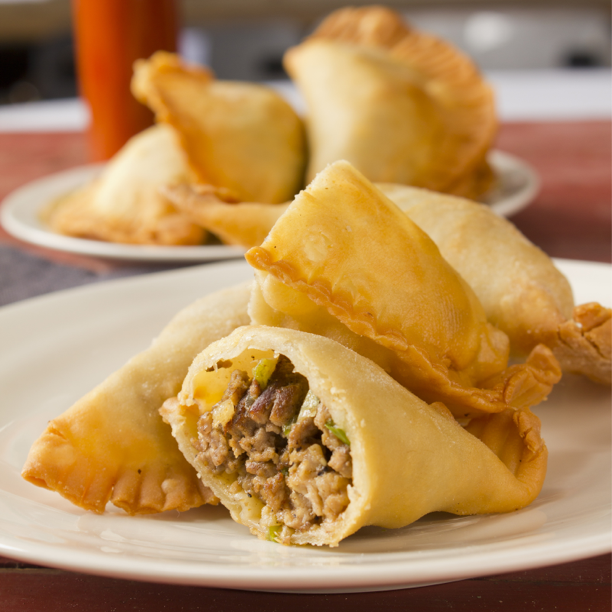 Must-Have Foods at Jazz Fest: Natchitoches Meat Pies
I mentioned yesterday that Chef Emeril Lagasse is sharing his recipes for some of his favorite Jazz Fest fare. You can also find his list of Jazz Fest Survival Tips at Emeril.com. You can also find suggested performers to see and Jazz Fest food and drinks to try, like the Cochon de Lait Po-Boy, Crawfish Monica, Crawfish Bread, the Strawberry Lemonade, Mango Freeze, and the Rosemint Herbal Iced Tea.
The 45th Annual New Orleans Jazz & Heritage Festival kicks off this Friday and runs for two consecutive weekends: April 25-27, and May 1-4. Over 400,000 people are expected to attend over the course of both weekends. The preeminent spring fun-in-the-sun event, Jazz Fest not only brings together amazing music and our southern heritage, it also features some of the best festival food on the planet.
Natchitoches Meat Pies: One of My Favs!
I remember these from my childhood. I don't recall my mother ever making them, but I know we bought them. There is nothing like those piping hot little pies filled with spicy ground meat, onions and peppers. The fact that they are deep fried make them even better.
There is a long tradition of making meat pies in the south. Here's what Ross McKnight had to say about meat pies in an article he wrote for The Catholic Foodie last year:
"Meat pies are undoubtedly a distinct Louisiana tradition, and those made in Natchitoches are famous for the flavor achieved from a centuries-old evolution of the recipe, which usually includes a mixture of beef, pork, onions, bell pepper, and cayenne – with some variations – to achieve the fried delight of a delectable meat pie."
Below is Chef Emeril's recipe for Natchitoches Meat Pies, shared with permission. If you can't make it to Jazz Fest, you can join us in spirit by making these pies and listening to live coverage of Jazz Fest on WWOZ (you can listen online!).
Enjoy!
Emeril's Natchitoches Meat Pies for Jazz Fest Recipe
Natchitoches is a town in Cajun country and is the oldest permanent settlement of the Louisiana Purchase. These meat pies are a regional dish featuring the area's Native American and Spanish heritage that are a favorite come festival season. They are perfectly seasoned and a wonderful savory treat.
INGREDIENTS
MEAT PIE FILLING
1 teaspoon vegetable oil
1 pound ground beef
8 ounces ground pork
1 medium yellow onion, chopped
2 green onions, chopped
½ medium bell pepper, chopped
2 ribs celery, chopped
1½ teaspoons salt
½ teaspoon freshly ground black pepper
¼ teaspoon cayenne pepper
2 tablespoons chopped garlic (4 to 6 cloves)
1 tablespoon all-purpose flour
1 cup beef stock or packaged low-sodium beef broth
1 tablespoon hot sauce

DOUGH
3 cups all-purpose flour, plus more for dusting
1½ teaspoons salt
¾ teaspoon baking powder
6 tablespoons solid vegetable shortening
1 egg
¾ cup whole milk
Vegetable oil, for deep-frying
INSTRUCTIONS
To make the filling, heat a large skillet over medium-high heat and add the 1 teaspoon vegetable oil. When the oil is hot, add the beef and pork and cook until browned, stirring as needed, about 5 minutes. Add the onion, green onion, bell pepper, celery, salt, black pepper, and cayenne and continue to cook, stirring as needed, until the vegetables are soft, about 8 minutes. Add the garlic and cook for 2 minutes. Stir in the flour and stock, bring the mixture to a simmer, and continue cooking until it has thickened slightly, about 1 minute. Remove from the heat, stir in the hot sauce, and allow the filling to cool completely. The filling can be made up to 2 days in advance and kept, covered, in the refrigerator.
To make the dough, sift the flour, salt, and baking powder together into a medium bowl. Using a fork or pastry blender, cut the shortening into the flour mixture until it resembles coarse crumbs. In a small mixing bowl, beat the egg and milk together. Add the egg mixture to the flour mixture and stir until you have a thick but workable dough. Form the dough into a ball and flatten it into a disk. You can use it immediately or wrap it tightly in plastic wrap and refrigerate it for up to 1 day.
Preheat the vegetable oil in a deep fryer to 375°F. Set a wire rack over a paper-towel lined baking sheet.
Cut the dough into 24 equal pieces. On a work surface that's lightly dusted with flour, roll each piece out to form a 5½- to 6-inch round. Place 2 tablespoons of the meat mixture slightly off-center on a round of dough. Fold the dough over to make the edges meet, and crimp the edges with the tines of a fork to seal them.
Working in batches, fry the meat pies until they are golden brown on both sides, about 3 minutes. Transfer the pies to the wire rack to drain. Serve hot.
Photo credit: Colin Lacy