February 22, 2014
Food Meets Faith in the Holy Land: Magdalena Restaurant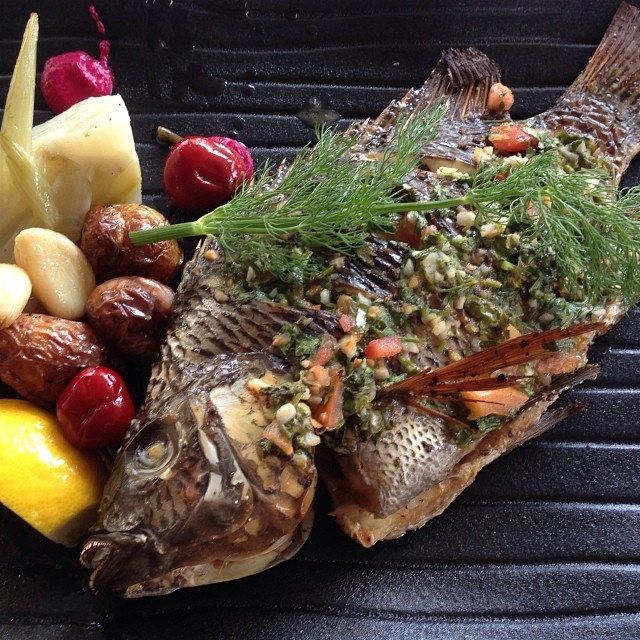 A Pilgrimage Highlight: Magdalena Restaurant in Migdal
As I reflect on my recent trip to the Holy Land, several "highlights" stand out, and Magdalena Restaurant in Migdal is one of them.
Located in Migdal – the hometown of Mary Magdalene – and overlooking the Sea of Galilee, Magdalena Restaurant is one of the few restaurants in the area that is owned by an Arab Christian family.
And that is important.
The number of Arab Christian families (mainly Catholic and Orthodox) in Israel is dwindling, particularly in Palestine where only 3% of the population is Christian. An important part of making a pilgrimage to the Holy Land is to try to support the local Christian families. Without them, there would be no Christian presence in the Holy Land.
I am grateful to Select International and Voice of Faith Tours for their efforts in bringing to our awareness the plight of Christians in the Holy Land and for providing concrete ways for us to help them.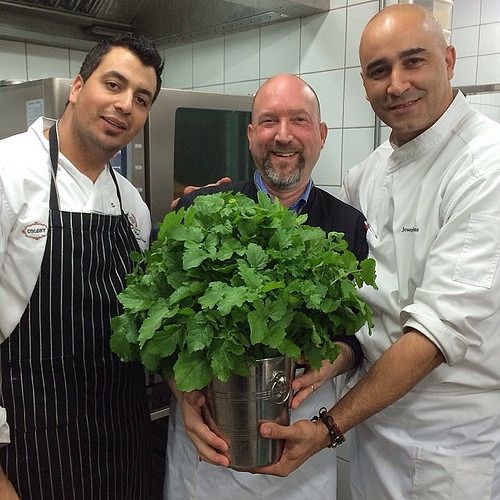 But being a Christian family-owned restaurant is not the only reason that Magdalena stood out to me. No. Both the atmosphere and the food were exquisite. Magdalena serves upscale Arabic cuisine with flavorful influences from Chef Joseph Hanna's Lebanese heritage.
In a recent article in The Scroll, Chef Joseph Hanna stated that "Magdalena has a unique concept… I make Galilee-style Arabic food, and am influenced by Lebanese and Mediterranean cuisine. I took traditional Galilee-style food and upgraded it in order to make it into contemporary gourmet food. I use mostly local ingredients and cook according to season, but with a fine twist." Magdalena Restaurant has been called "the first Arab-gourmet restaurant in the country."
And we got to dine there!
Tilapia: St. Peter's Fish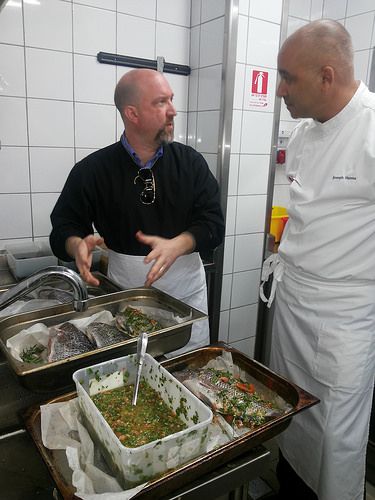 Our lunch at Magdalena followed a mid-morning boat-ride on the Sea of Galilee (which was simply amazing, by the way). As part of the "Food Meets Faith" pilgrimage, our lunch at Magdalena was planned, it was included in the cost of the pilgrimage. Part of that lunch was supposed to be a demonstration of how they traditionally make St. Peter's Fish. However, it was not feasible to have the entire group go back into the kitchen. Instead, Chef Joseph invited me back to the kitchen to see how the whole tilapia is prepared. What happened next was a happy surprise.
As we walked back to the kitchen, I mentioned to Chef Joseph that my wife is of Lebanese descent and that traditional Lebanese dishes frequently appear on our dinner table at home. He nodded his approval. When we got to the work station, there were about 20 whole tilapia – separated 4 to a tray – that had been gutted, scaled, and scored, waiting to be prepped. Chef Joseph's colleague, Chef Muhammad, demonstrated how they prepared the fish, as Chef Joseph called for a chefs apron to be put on me.
The first thing that Chef Muhammad did was to liberally salt the inside and the outside of the fish. He followed the salt with coarse-ground black pepper, and then pulled into view a white container with what looked like tabbouleh inside. I said, "Hey, that's tabbouleh! That looks just like the way we make it at home!" Chef Joseph's face lit up and we started laughing. It was like we were little kids. He was so excited to show me all the different things in his kitchen, the different lettuces and greens, the herbs they use for seasoning… and we tasted everything. I was just eating it all up. Figuratively, I mean. Thankfully, our guide Arlette was there to document it all in photographs. I was having a ball.
Then Chef Muhammad turned to me and said, "OK. Now it's your turn." And he pointed to the remaining 19 fish. I smiled and got to work. I LOVED IT!!!
In the end, I prepared the St. Peter's Fish for everyone in my group, except for myself. Chef Joseph wanted to prepare mine.
There is something sacramental in the sharing of a meal. And in the preparation of that meal. Magdalena Restaurant wasn't a church or a holy spot, but for me, cooking and dining there was definitely a spiritual experience. Making new friends, sharing a meal around the table, enjoying the goodness of God's providence in the form of good food and good wine, was a very real experience of the family of God and of God's presence with us.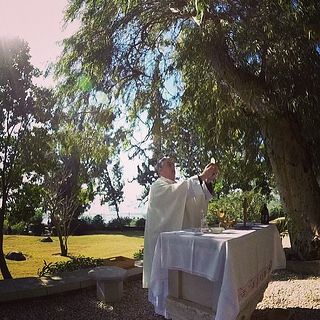 Our lunch at Magdalena was much-needed pause before making our journey to Jerusalem. We had been in Israel for only three days, and only in the northern part: Natanya, Cana, Nazereth, and the area around the Sea of Galilee. After the boat ride on the Sea of Galilee, we celebrated Mass on the Mount of Beatitudes. Our lunch at Magdalena provided the perfect respite before our travels the following day to the Dead Sea and then on to Jerusalem.
I will share more of this Food Meets Faith Pilgrimage to the Holy Land with you over the coming weeks. In the meantime, if you would like to see more photos from the pilgrimage, you will find them on The Catholic Foodie Facebook page and on my Flickr account.
Also, if you wanted to join me on this pilgrimage, but were unable to for whatever reason, I have good news for you. I am going again in November. Due to the fact that these Food Meets Faith pilgrimages really immerse you in the culture (both biblical and current) of Israel and Palestine, we have to limit the number of spots. If the group is too big, than we really will not be able to deliver the same quality of experience as my most recent group just had. In a way, you can look at this as a "boutique" pilgrimage. The number of seats are few to ensure that those who do go, experience it as it is meant to be experienced. We are still working on finalizing the dates, but we know it is well be in early to mid November.
Keep an eye out. That trip will fill up fast.