November 10, 2011
Foodie on a Budget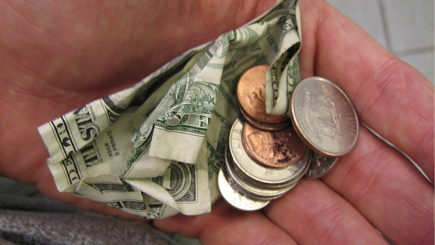 A guest post by Kate Daneluk of Making Music Praying Twice
Like many families, the economic times have taken their toll on our grocery budget.  Of course, our taste buds didn't get the memo and continue to crave the variety of quality ingredients we've become accustomed to.  So how do we keep up our "foodie" status, on a recession budget?
The Club Store.  If you avoid hyped up prepared foods, gadgets, and toys, a club store can be the go-to place to buy quality ingredients in bulk.  At our favorite club store, a large bag of yeast lasts us a year and costs the same as 3 small packages at the grocery store.  Capers, olive oil, and spices are a fraction of the cost pound per pound and foodies can work through the bulk sizes on these items.  Add to this higher quality produce, meats and seafood for the same cost as our grocery store, and you can see why our family of 7 makes a weekly trek to the club store.
Braise it!  No more filet mignon?  That's OK.  It takes more skill and affords more opportunity for flavor if you braise cheaper cuts of meat.  It is time to explore stew recipes from all over the world which turn cheap meat and root veggies into haute cuisine.  Fall is the perfect time to enjoy these slow cooking dishes.
Chop and Drop.  Stir fries, fried rice, and soups can stretch 2 servings of meat into 6.  Chop and drop meats into dishes filled with healthy and affordable veggies, beans, stock and some simple carbs like noodles and rice.
Green Thumb.  Gardeners enjoy the freshest, tastiest produce at a fraction of the financial investment.  Also, gardening can be a deeply spiritual exercise.  The biggest bang for your foodie buck?  A kitchen herb garden lets you go nuts with a bounty of delicious herbs that would normally be too pricey.  If you live in northern climates, start with some indoor herbs until next spring.  Use larger pots and spend a little extra for the larger plants to grow enough for regular use.
Angel Food.  If times are especially hard, look for help from organizations like Angel Food Ministries, who provide affordable food as amazing wholesale prices.  There are no forms or qualifications to benefit from the services of this non-denominational Christian non-profit.
The mother of four young children, Kate Daneluk is the co-developer and creative director of Making Music Praying Twice.  Kate provides engaging workshops on faith-inclusive early childhood music and movement for parents, homeschoolers, teachers, and schools.
***Image courtesy of Todd Huffman on Flickr.com.***