August 31, 2009
Fr. Leo and Bobby Flay Throwdown on Food Network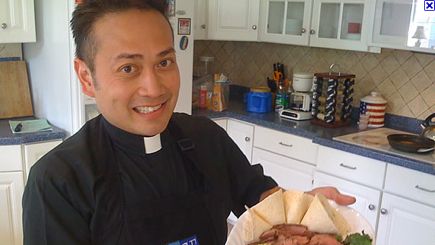 I am so excited!!! Fr. Leo Patalinghug of Grace Before Meals was issued a throwdown by Bobby Flay! There will be a priest cooking on Food Network!!!!
Wow! I can't tell you how awesome this is! If you haven't heard about it yet, please check out the various "reports" on the good news:
This is a very big deal!
Please tune in to Food Network on September 9th at 9PM Eastern to check out a priest on Food Network for the very first time! AWESOME!
You can find out more about Fr. Leo and his ministry at gracebeforemeals.com. While there, you may want to check out his cookbook and the family meal discussion starters. Awesome!