June 4, 2013
Garlic Shrimp with Tomatoes, Peppers and Feta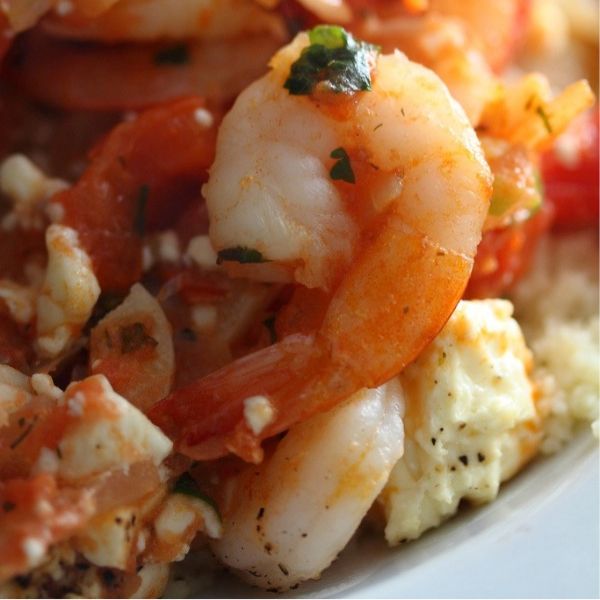 A Greek Fest Inspiration: Garlic Shrimp with Tomatoes, Peppers and Feta
One of our favorite things about the Greek Fest every Memorial Day Weekend is the Greek grocery. Kalamata olives, dried Greek spices, Greek olive oils, handmade Greek pita bread, and handmade Greek cheeses are available for sale in the grocery all weekend. And every year we stock up on our favorite Greek cheese: Feta. When I say "stock up," I mean that we usually buy two, three, or more pounds of Feta cheese to bring home. Unfortunately – no matter how much of it we seem to buy – it never lasts as long as we think it will.
We love to add Feta to the Greek salads we make at home, and to simple snacks like sliced Creole tomatoes with salt, pepper, and a little drizzled extra-virgin olive oil… or even that super simple Tomato, Cucumber and Vidalia Onion salad that we love so much. We even add it to pasta.
Greek Fest is not the only exciting thing that happens in May. The Louisiana spring shrimp season usually starts in April or May, and fresh shrimp are always plentiful in June and July.
Those two events – Greek Fest and the opening of shrimp season – are the inspiration behind this simple and delicious recipe: Garlic Shrimp with Tomatoes, Peppers and Feta.
It could be said that this dish is related to Shrimp Creole, but there is less of a red sauce (or "red gravy" if you are from New Orleans) in this dish. Both, however, are served over rice.
INGREDIENTS
2 pounds large or jumbo shrimp, peeled and deveined
4 tablespoons extra-virgin olive oil
6 cloves of garlic, minced
Zest from 1 lemon
Coarse-ground Kosher salt, to taste
Freshly-ground black pepper, to taste
Cayenne, to taste
1 medium to large Vidalia onion, chopped
1 green bell pepper, seeded and chopped
1 red bell pepper, seeded and chopped
1 teaspoon red pepper flakes
3 to 4 Creole (or homegrown) tomatoes, peeled and chopped (reserve juice)
1/4 cup dry white wine
4 tablespoons chopped fresh parsley
About 8 ounces of Feta cheese, crumbled
3 to 4 tablespoons ouzo (optional)
DIRECTIONS
In a medium-sized glass mixing bowl, add the shrimp, 1-2 tablespoons of olive oil, 1-2 teaspoons of garlic, the lemon zest, 1/2 teaspoon of salt, 1/4 teaspoon of black pepper, and 1/8 teaspoon of cayenne. Mix well. Then set aside.
Heat a large heavy-bottomed skillet over medium to medium-high heat. Add 2 to 3 tablespoons of olive oil. After a minute, when the oil is hot, add the onion and red and green bell peppers. Sprinkle with a dash of salt and give it a good stir. Sauté until the vegetables have softened, about 10 minutes, stirring occasionally.
Add the remaining garlic and the red pepper flakes, and continue to sauté until the garlic softens, about 2 minutes. You will need to stir more frequently at this point.
Add the tomatoes and reserved juice and the white wine. Increase heat to medium-high if you started out at medium, and bring to a simmer. Then reduce the heat to medium and simmer for about 8 to 10 minutes, stirring occasionally. At this point, you really want the flavors to marry and for the sauce to thicken just a bit. Stir in 2 tablespoons of the parsley and season the sauce with salt and pepper to taste.
Reduce the heat to medium-low and add the shrimp and marinade to the sauce. Stir to mix well, making sure that the shrimp level out as best as possible. The goal is to have the shrimp cook evenly. Simmer, stirring occasionally, until the shrimp are cooked through, about 7 to 9 minutes. You might need to extend that time a couple of minutes if you are using jumbo shrimp.
Remove from heat and top with crumbled Feta. Serve immediately over rice. Drizzle with olive oil and garnish with a generous pinch of parsley.
NOTES:
Feta is a sturdy cheese. Some of the crumbled Feta will melt and add a creaminess to the sauce, but most of it will remain intact and add a delightful tanginess to the dish.
Ouzo is optional. Ouzo is the anise-flavored aperitif of Greece. It adds a distinctly Greek flavor to this dish. It's optional, because not everyone like anise. If you do opt use ouzo, you can add 1 tablespoon to the marinade, and 2 to 3 tablespoons to the sauce when you add the tomatoes and wine.
Peeling the tomatoes is not absolutely essential. The main reason you would want to do that is to avoid have those pesky stringy tomato skins in your sauce. When tomatoes are cooked down, the skins tend to separate from the rest of the tomato and become stringy. It doesn't impact the flavor at all, but peeling the tomatoes will make eating this dish a more delightful experience. You can find a great succinct article on the method of peeling tomatoes here: How to Peel Tomatoes.
And Speaking of Shrimp Season…
What are your favorite summer shrimp recipes? I would love to hear about them! Please leave a comment below!
***Photo courtesy of arsheffield on Flickr.com.***