August 19, 2012
Gluten-Free Round Steak Grillades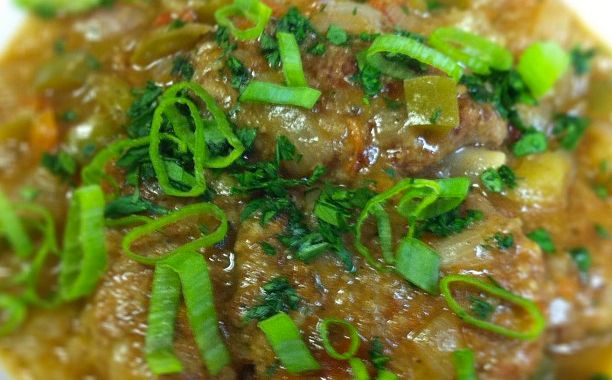 I grew up eating round steak at least once a week. My dad used to buy the whole round steak and cut it up into small cutlets. Then he would dredge the cutlets in flour seasoned with salt and black pepper, fry them up in a pan, and then deglaze the pan and make a rich brown gravy that we would pour over rice. The look and the smell bring back so many memories for me.
It wasn't until I was almost married that I first had grillades (pronounced gree-yahds).
We were invited to a brunch in New Orleans. And the main course? Grillades and grits. It's a New Orleans classic. Of course, all I could think about was the round steak and rice and gravy that my dad used to make. But grillades also have lots of onions, bell peppers, garlic, and if you're lucky, tomatoes. And I like all that stuff.
Tomatoes constitute one of the big differences between Cajun and Creole cuisines. Creole cuisine favors tomatoes. Not so much for the Cajuns. What makes a gumbo Creole versus Cajun? Tomatoes. What makes a jambalaya Creole versus Cajun? Tomatoes.
And what about grillades? If you want 'em Creole, just add some tomatoes.
Many folks will peel and seed their tomatoes before adding them to the grillades. Me? I'm not scared. I like the skins and the seeds and all the delicious wateriness of the tomatoes. I can hang with that.
And for grillades, you're not limited to round steak. You can use veal if you want to.
All I can say is that, for me, this is comfort food at its best. There's nothing like rice and gravy. Or grillades and rice. Or grillades and grits.
If you are into grits, you might want to try the the variation I list below. Cheesy grits. They really are insanely good. They are rich too. But oh so good!
I listed this recipe as gluten-free because I happened to have gluten-free flour on hand when I made it the other day. Of course, you can always substitute flour and make a non-gluten-free dish, if you like.
INGREDIENTS
2 to 3 lbs round steak, about 1/4 inch thick (could also have the butcher "cube" it for you)
1/2 cup gluten-free flour
2 tsp Cajun seasoning of choice (we prefer Konriko)
1/2 teaspoon cracked black pepper
2 large sweet yellow onions, chopped
2 green bell peppers, chopped
2 stalks celery, chopped
2 medium (or large) tomatoes, chopped
4 cloves of garlic, minced
4 tablespoons bacon grease (or goose fat)
1 teaspoon dried oregano
1/4 teaspoon Cayenne pepper
1 teaspoon Kosher salt
3 Bay leaves
1/2 cup dry red wine
4 cups chicken stock
Chopped green onions and chopped parsley for garnish
INSTRUCTIONS
Cut the round steak into 2-inch pieces. Combine the Cajun seasoning, the cracked black pepper and the gluten-free flour in a bowl or a large shallow dish. If the round steak has already been cubed, then simply coat both sides of the round steak with the flour mixture and "rub" it in by gently tapping each side with your fingers. If the round steak has not been cubed, then coat each side of the round steak with the flour mixture and "rub" it in by lightly pounding each side with a meat mallet. Set aside.
In a large cast-iron (or stainless steel) pot or dutch oven, heat the oil over medium-high heat. Bacon grease or goose fat is great for this… You want something with a high smoke point. Add enough of the round steak to coat the bottom of the pot. Brown evenly on both sides for about 5 minutes, then set aside. Repeat this process until all the round steak is browned.
Add the onions, celery, and bell pepper to the pot and stir well, scraping the bottom and sides of the pot to loosen any browned particles. Continuing stirring often. Cook until the the veggies start to soften and become translucent. About 7 minutes. Add the tomatoes and garlic and continue to cook for another 5 or 6 minutes, stirring often. Continue to scrape the bottom of the pot to loosen any browned particles.
Add the oregano, cayenne, salt, bay leaves, red wine and chicken stock. Stir well to combine. Reduce heat to medium and partially cover with lid. If you are using cubed round steak, cook for about 45 minutes, stirring occasionally and scraping the bottom of the pot. If you are using round steak that is not cubed, then you will need to cook longer… between 1 and 1 1/2 hours. You are looking for two things here: you want the meat to be tender, and you want the grillades to thicken up as it cooks.
Serve over rice or grits, garnish with chopped green onions and parsley. And keep a bottle of hot sauce on hand. Just in case. We prefer Crystal or Louisiana Hot Sauce.
VARIATION
If you want to serve the grillades over grits, then you might want to try this variation: cheesy grits.
Prepare 2 cups of (traditional) grits according to package directions, then mix well with 3 beaten eggs, 1/2 lb. grated cheddar cheese, 1 cup of milk and 1/2 cup of butter. Make sure it's all mixed together well, then back for 45 minutes and 350. Serve hot, topped with the grillades.
Listen to the Podcast Version of This Recipe
To leave feedback for the Catholic Foodie, call 985-635-4974 and leave a message. You can also leave feedback for me at jeff@catholicfoodie.com.
Download episode 138 here or listen to it below:
Get new episodes of the Catholic Foodie by subscribing for free via iTunes or in another podcatcher. Find me also at SQPN.com.
You can also find me at:
the Catholic Foodie on Facebook
the Catholic Foodie on Twitter
And over at http://jeffyoung.me