January 10, 2009
Grape Leaves / Cabbage Rolls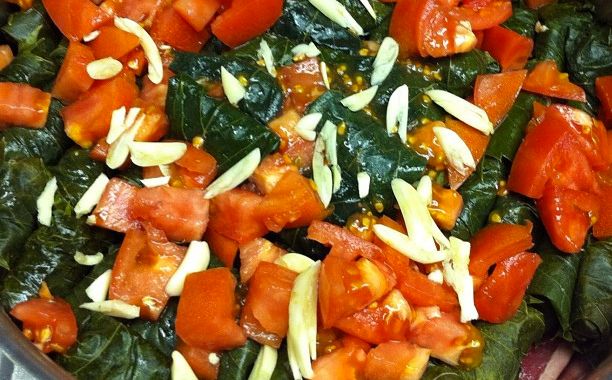 Ingredients:
1 lb. ground lamb
1/2 cup (scant) raw long grain white rice
Granulated garlic or fresh pressed garlic
Salt
Cayenne pepper
Juice of 1/2 a lemon
2 tablespoons butter, melted
2 small cans of petit diced tomatoes
lamb shoulder chops
chicken stock (32 oz)
About 60 or so grape leaves (enough to fill stew pot about 3/4 full)
Directions:
Grape leaves: fresh is best, but jarred is okay. If fresh, you will need to wipe them gently with a damp paper towel on both sides. You will also want to cut the stem off where it meets the leaf. It is best to put the leaves in a freezer bag and stick them in the freezer overnight before use. Leaves need to soften (wilt), and thawing them out does the job nicely. You can roll them without softening them, but it is a more difficult task that way.
The Mihshi (or stuffing): In a large bowl mix the ground lamb, raw rice, and granulated garlic (we use fresh pressed garlic), salt, cayenne pepper (all to taste), melted butter, lemon juice, and about half a can of tomatoes. Mix thoroughly with hands.
Line the bottom of the pot with the lamb shoulder chops. We use an All-Clad soup or stew pot. (If making cabbage rolls, line the pot with large cabbage leaves).
Rolling the leaves: Lay the leaf flat on table or counter. Take about a small finger's worth of mihshi and place it at the base of leaf (you do not want it to hang over the leaf). Fold the sides of the leaf in and then roll the leaf up to the top. Place leaf in pot on top of the lamb shoulder chops. Repeat the process until all mihshi is gone (or until there is no more room in the pot). Remember to alternate direction of leaves for each layer in the pot.
Add the remaining ingredients to the pot: chicken stock, can of tomatoes, lemon juice (we also add 3 cloves of sliced garlic). The liquid should just about cover the grape leaves (could use more tomatoes, if desired).
Place a pottery plate on top of the leaves. This prevents the leaves from unrolling during cooking.
Simmer on low to medium heat for about 45 minutes.
Remove plate (carefully!) and serve.
Notes:
The same process can be used for cabbage rolls. You will need to parboil the cabbage, you will also have to cut the hard stem out of the leaf. You will also want to cut the larger leaves into pizza-slice shapes (about the size of a grape leaf). Discard leaves that are too curly or too difficult to roll.
Lamb can also be substituted with beef.
We slice 2 or 3 cloves of garlic and add to the pot with tomatoes with juice.