June 9, 2012
Greek Salad with Fresh Spinach and Kalamata Olives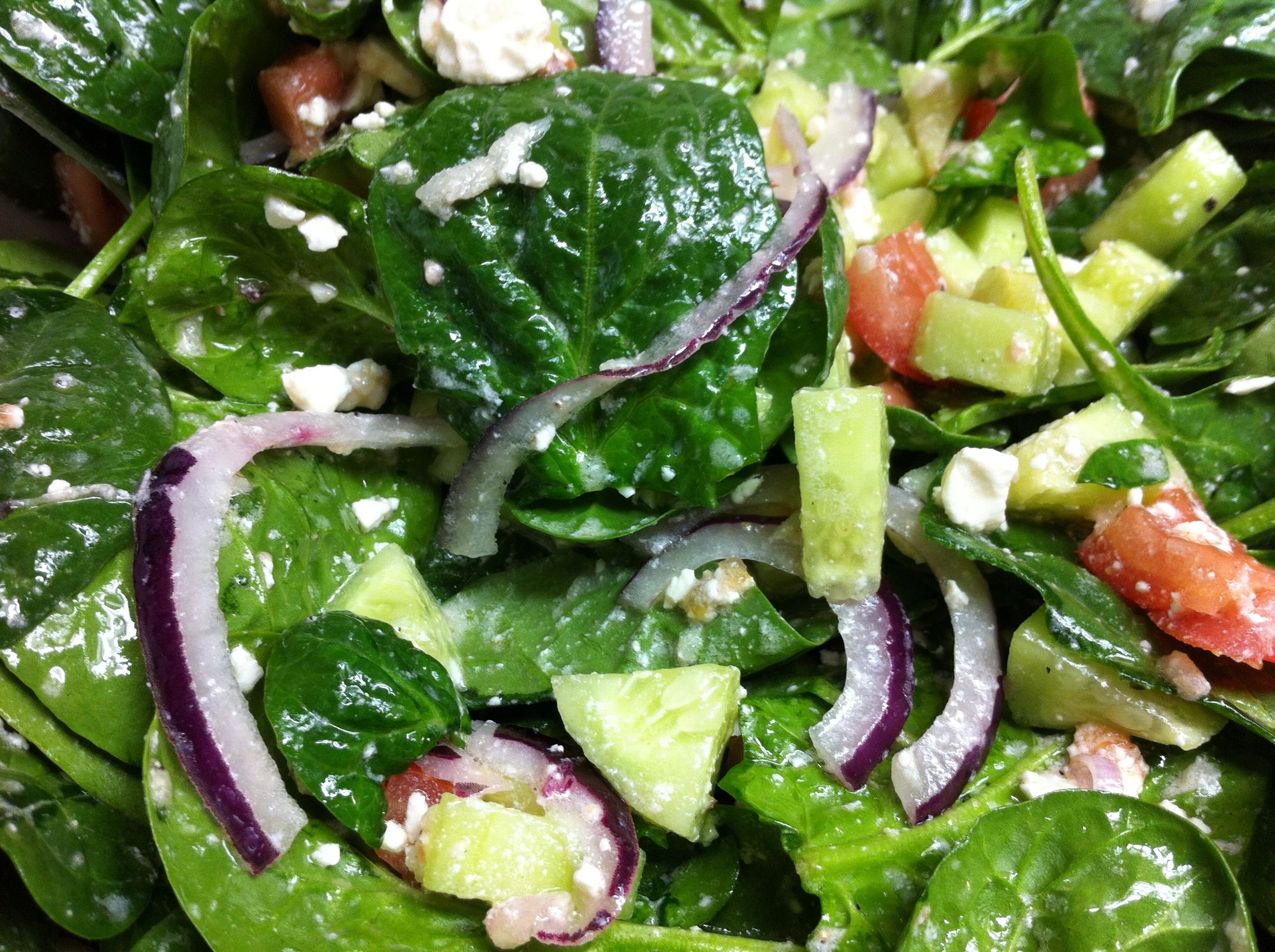 Greek Salad… OPA!
Greek cuisine is very much a part of our diet, and we're not Greek!
Just two weeks ago we were celebrating faith, family, and life Greek-style at the New Orleans Greek Fest. The food, the music, the dancing and, of course, the Greek salad were delightful! Every year the Greek Fest makes me want to shout, "Life is good!" Is there any wonder why we non-Greeks love Greek culture and cuisine so much?
Besides, my wife's Lebanese heritage is very similar to the Greek. So it shouldn't be surprising that one of the most common salads we prepare in the summer is a Greek salad with fresh spinach. Sometimes we throw in Kalamata olives too.
The red onions, thinly sliced, add a mild bite to this tangy and creamy salad. It's the Feta that gives it a distinct "creaminess."
This one is a definite summer hit… especially when made with the homemade Feta that we buy each year at the Greek Fest. OPA, indeed!
INGREDIENTS:
For the Dressing:
6 tablespoons of extra-virgin olive oil
2 tablespoons of fresh lemon juice
1 tablespoon of red wine vinegar
2 cloves of garlic, crushed
1 tablespoon chopped fresh oregano (or 1 teaspoon dried)
1 tablespoon chopped fresh parsley (or 1 teaspoon dried)
Salt, to taste
Freshly ground black pepper, to taste
For the Salad:
1 bunch of fresh baby spinach
2 large tomatoes
1/2 of a red onion, sliced thinly
1 cucumber, peeled and chopped
3/4 cup Kalamata olives
1/2 of a red onion, sliced thinly
Feta cheese, crumbled
DIRECTIONS:
Crush the garlic well. Use a little kosher or sea salt as an abrasive (we use a mortar & pestle to crush garlic).
In a glass bowl, whisk together the olive oil, lemon juice, red wine vinegar, garlic oregano, and parsley until well-blended. Add the salt and pepper to taste.
In a large salad bowl, add the spinach, tomatoes, cucumber, olives and red onions. Add the dressing and toss.
Top with the crumbled Feta cheese.
Want to know more about Greek cuisine?
I have produced a few presentation on Greek cuisine, culture and the Orthodox Church (in both audio and video format). You can find all of them listed on this very Greek page… OPA!
What do YOU think?
Does this Greek Spinach Salad recipe sound appetizing? Have you tried it before? Tell me all about it in the comments below!