December 14, 2009
Grillades and Grits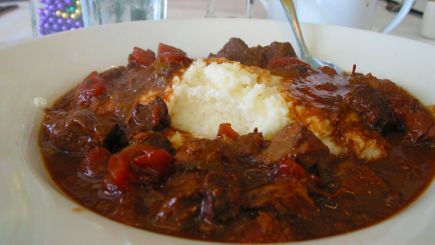 Want a great brunch idea? Grillades and grits are perfect for Christmas or New Year's Day. By the way, it's pronounced "gree-yahds." The accent is on the "gree." You can listen to In Between Sundays, episode 29, to hear how I pronounce it.
Grillades is usually made with beef round steak or veal. It's slow-cooked in a rich tomato-based gravy, and it can be made days in advance.
And what exactly is a grit? Well, grits are a corn derivative. Grits are like the Italian polenta. And they are delicious by themselves, with a bit of butter, salt, and pepper. But they are super-delicious served with grillades!
INGREDIENTS
4 pounds round steak, cut into rounds (can also use veal)
1/2 cup vegetable oil
1/2 cup flour
3 medium yellow onions, chopped
2 cups chopped green onions
2 to 3 stalks celery, chopped
2 medium green bell peppers, chopped
4 cloves garlic — minced
3 cups crushed canned tomatoes (with juice)
2 to 3 cups beef broth
2/3 teaspoon tarragon
2/3 teaspoon thyme
2/3 teaspoon basil
3 tablespoons chopped parsley
1 cup water
1 cup dry red wine
3 teaspoons salt (to taste)
1/2 teaspoon black pepper (to taste)
1/4 to 1/2 teaspoon cayenne pepper (to taste)
2 bay leaves
1/2 to 1 teaspoon Tabasco or Crystal Hot Sauce (to taste)
2 tablespoons Worcestershire sauce
2 cups grits, cooked according to package directions, then baked (see below) – Do not use instant grits!
3 eggs, beaten
1/2 pound cheddar cheese, grated
1 cup milk
1/2 cup butter
DIRECTIONS – For the Grillades
Remove fat from meat. Cut meat into serving-size pieces. Pound to 1/4 inch thick. In a Dutch oven, brown meat well in 4 tablespoons bacon grease. Remove to warm plate.
Add 1/2 cup oil and 1/2 cup flour to Dutch oven. Stir and cook to make a dark brown roux.
Add onions, green onions, celery, green pepper, garlic, and saute until limp.
Add tomatoes, tarragon, thyme, and cook 3 minutes. Add water and wine.
Stir well for several minutes; return meat; add salt, pepper, bay leaves, Tabasco, and Worcestershire.
Lower heat, stir, and continue cooking. If veal rounds are used, simmer covered approximately 1 hour. If beef rounds are used, simmer covered approximately 2 hours.
Remove bay leaves. Stir in parsley. Cool and let the Grillades sit several hours or overnight in the refrigerator. More liquid may be added.
DIRECTIONS – For the Grits
Follow the package instructions to prepare 2 cups grits.
Once cooked, add eggs, cheese, butter, and milk. Stir well to blend. Make sure that the cheese and butter are fully melted.
Pour grits into a 2-quart baking pan. Bake for about 45 minutes at 350 degrees.
Serve hot, topped with the grillades.
***Photo by http://www.flickr.com/photos/jimray/***