September 8, 2013
Grilled Lamb Kabobs – Kafta, Kofta or Kufta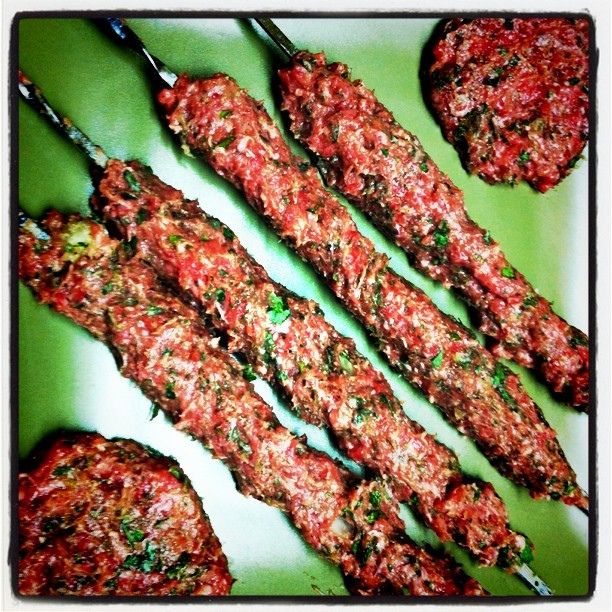 Is it Kafta, Kofta or Kufta?
Well, it depends. I've seen it – and heard it referred to – as all three. But those three words all point to the same delicious thing: lamb kabobs.
Lamb is a favorite in our house, and not just because of the obvious scriptural references to Jesus as the Lamb of God. My wife is of Lebanese descent, and at large family gatherings the tables are usually covered with stuffed grape leaves, kousa mahshi (stuffed squash), hummus, pita (which used to be called Arabic bread or Syrian bread), tabbouleh, baba ganoush, labneh, different types of kibbeh, and sometimes even lamb chops.
The difference in spelling and pronunciation of the name of this dish may have something to with its Middle Eastern origins or the fact that it's an English derivation of an Arabic word. Lamb and goat are plentiful in Lebanon, Syria, Israel and all across the Middle East, and many lamb dishes are prepared virtually the same way in these different countries, yet they may go by different names. In fact, most of the foods in the region are basically the same. It's just that each country may have a different name for them. This is simply the result of cultural and language differences.
And when you bring this arabic dish over to the States, then you add an entirely new culture (and language!) into the mix. Consider the bread that we refer to as Pita bread. Originally, here in the States, it was referred to as Arabic bread or Syrian bread. It wasn't until the 1970s that it began to be referred to as Pita bread. Pita is a Greek word. I believe is was back in the 1970s that Syria fell out of favor with the US. I recall reading somewhere that prior to the 1970s, arabic flat bread used to be called Syrian bread, and it was only available at local Middle Eastern markets. To keep things positive, the same arabic flat bread started to be called pita bread even though the traditional Greek pita bread was much thicker than the arabic bread.
Whatever the etymology of Pita bread or Syrian bread, the fact is that the traditional arabic flat bread is really good, and it is the perfect accompaniment to these lamb kabobs.
If you want to make a Lebanese feast, with kafta as the centerpiece, then you might want to make a menu with hummus, tabbouleh, and pita.

Grilled Lamb Kabobs – Kafta, Kofta or Kufta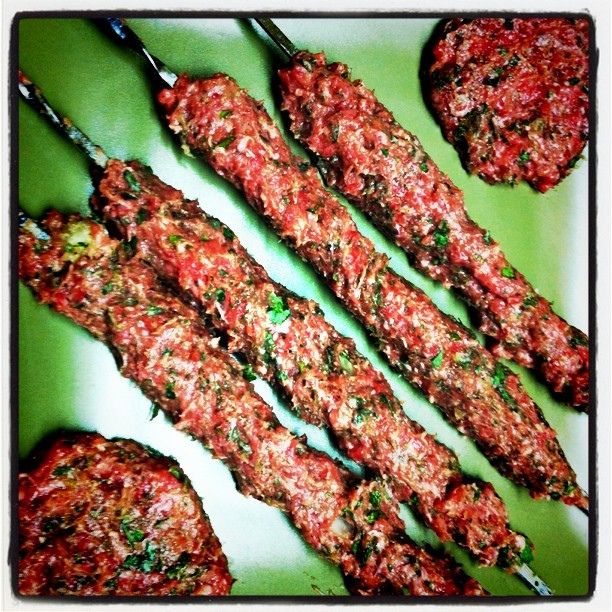 Author: Jeff Young
Cuisine: Middle Eastern
Recipe type: Main
Ingredients
2 lbs ground lamb (beef ground round can be substituted)
1 large sweet yellow onion, finely chopped
4 cloves of garlic, well crushed with a mortar & pestle (or just minced)
6 tablespoons of fresh parsley, chopped
2 tablespoons of fresh mint, chopped
1 teaspoon freshly cracked black pepper
2 teaspoons of kosher salt
½ to 1 teaspoon cayenne pepper, or to taste
Instructions
Preheat grill or oven to medium-high heat. If you are cooking them in the oven, then set it to Broil.
Mix all ingredients together. Wrap mixture around metal skewers.
Cook on the the grill or broil in the oven, turning at least once for even cooking.
Notes
Cook time depends on heat of the grill or oven and the thickness of the kabobs.
Labneh: Lebanese Yogurt Sauce
Tart and creamy, Laban, or labneh, goes really well with this dish. Laban is a very thick Lebanese yogurt. We mix it in a bowl with some lemon juice and add a dash of salt… all to taste, of course. It's a perfect "dipping sauce" for kafta. You can also add it to a "pita sandwich."
The Perfect Sandwich with Hummus and Tabbouleh
If you enjoy the traditional Greek gyros, then you will love this Lebanese version, with kafta, labneh and hummus. You can even throw a bit of tabbouleh (or even Sensation Salad) into the pita bread. Good eats!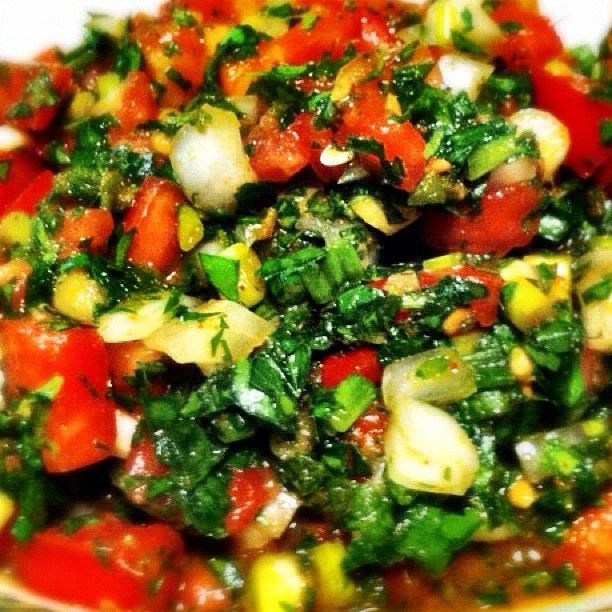 And for the Daring… Make Your Own Pita Bread
If you have some extra time on your hands and you like an adventure, try making your own pita bread. I would recommend making it on a Baking Steel. It comes out perfectly. I bet you will be mightily impressed with the results.
---
Join me in the Holy Land in February 2014! DEADLINE TO REGISTER IS OCTOBER 25, 2013!
Details and registration form are at /holyland