January 20, 2013
Grown-Up Grilled Cheese with Tomato Soup for #SundaySupper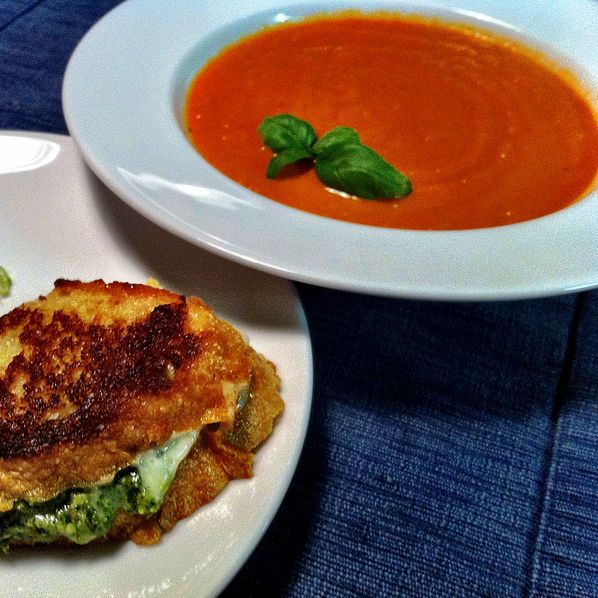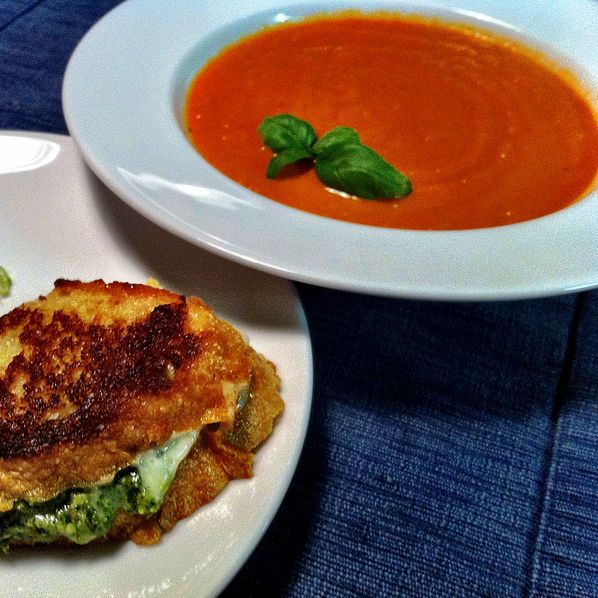 Grilled Cheese: The Classic Retro Food
I grew up in the 70s.
Yes, I wore bell bottoms. Yes, I listened to the Bee Gees. Yes, I had a bowl haircut.
I was cool. 😉
Several things come to mind when I think of the food of my childhood. Here are just a few:  Spam, Deviled Ham, Deviled Eggs, Vienna Sausages, Pimento Cheese Sandwiches on white bread, Charlie's Chips, Orange Julius… and, of course, the capo di tutti capi of all 70s foods for me: the grilled cheese sandwich. White bread, butter, and American cheese. Wow.
The Grilled Cheese Sandwich: quick, easy, buttery, warm, filling. And coupled with a hot bowl of Campbell's Tomato Soup sprinkled with black pepper… Oh my goodness! I loved that!
Just thinking about it, I'm in 70s heaven! Wait! Is that the Bee Gees I hear? 😉
Grown-Up Grilled Cheese
I have to be honest. I'm not much for American cheese anymore. As a matter of fact, I'm really not much into processed foods anymore. Unfortunately, it seems like most of the foods I ate growing were processed. Must have been a trend in the 70s.
For this week's #SundaySupper, I decided to go retro, but in a more natural (and less processed) way.
For the grilled cheese sandwich, I am using artisan bread, mozzarella, and a spinach pesto. The tomato soup is made will all natural ingredients. I am "cheating" a little bit, though. I am using Pomi chopped tomatoes, instead of crushing the tomatoes myself. But, Pomi tomatoes are all natural, so I'm cool with that.
Check out these hip recipes and get into the retro groove!
For the Spinach Pesto
INGREDIENTS
1 1/2 cups baby spinach (packed)
2 tablespoons fresh mint
1 tablespoon fresh basil
1 clove garlic
2 tablespoons pecans (toasted)
4 oz feta cheeese
3 tablespoons extra virgin olive oil
juice of 1/2 lemon
salt and pepper to taste
DIRECTIONS
Combine everything in a food processor and blend.
For the Grilled Cheese Sandwich
INGREDIENTS
1 tablespoon butter (we prefer KerryGold!)
2 slices bread (we used an artisan Italian loaf)
1/2 cup fresh Mozzerella, grated
3 tablespoons of the spinach pesto
DIRECTIONS
Heat a cast iron skillet over medium heat.
Butter the outside of each slice of bread, sprinkle half of the cheeses on the inside of one slice of bread, top with the spinach pesto, the remaining cheese and finally the other slice of bread… You're trying to keep the pesto "sandwiched" in the middle.
Place the sandwich in the skillet and cook until golden brown and the cheese has melted… about 3 minutes on each side.
And We Can't Forget the Tomato Soup…
What's a grilled cheese sandwich without tomato soup?
Exactly.
So I made this tomato soup to go with the grilled cheese:
INGREDIENTS
2 boxes (26 oz each) of Pomi chopped tomatoes
2 cups chicken stock
1 large onion, chopped
2 medium carrots, grated
3 to 4 cloves of garlic, minced
3 tablespoons Extra virgin olive oil
2 tablespoons butter (we prefer Kerrygold!)
1/4 cup fresh basil
2 bay leaves
1/2 cup to 1 cup of Half & Half (or 1/2 cup of heavy cream)
Salt & pepper, to taste
Crushed red pepper flakes, to taste
DIRECTIONS
Heat olive oil in a soup pot over medium heat.
Add the onion, carrots, and garlic. Saute until softened (about 10 minutes).
Add the tomatoes, the chicken stock, bay leaves and butter.
Simmer until the veggies are tender, about 30 minutes.
Remove the bay leaves, and add the basil and the cream or Half & Half.
Puree with a handheld immersion blender until smooth.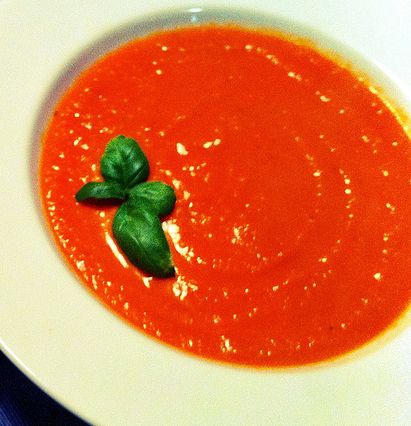 You can download CF153 here, or press Play below to listen now:
It's a #Retro Food Party for #SundaySupper This Week!
Here's what Isabel at FamilyFoodie.com has to say about this Retro food party:
Does Sunday Supper bring you back to your childhood? Does it bring back memories of a favorite dish? Time Around the Family Table has a way of creating the most memorable moments. It is amazing how we can smell or just think of a favorite food and immediately be transported back to the moment we enjoyed it.

This Week's Sunday Supper is all about "Retro Recipes." Those food memories that immediately take us back in time. Some of us enjoyed them so much that we will never change the mom or grandma's recipe. Other's were ready to reinvent and update their favorite Retro Recipe.

Join us Around the Family Table this Sunday at 7pm Eastern Time and share your favorite Retro Food Memory with us!
Sunday Supper Retro Appetizers:
Sunday Supper Retro Salads:
Sunday Supper Retro Breads and Sandwiches:
SundaySupper Main Dishes:
Sunday Supper Retro Sides and Veggies:
Sunday Supper Retro Desserts and Cocktails:
Join the #SundaySupper conversation on twitter each Sunday. We tweet throughout the day and share recipes from all over the world. Our weekly chat starts at 7:00 pm ET and you do not want to miss out on the fun. Follow the#SundaySupper hashtag and remember to include it in your tweets to join in the chat. Check out our #SundaySupper Pinterest board for more fabulous recipes and food photos.
Would you like to join the Sunday Supper Movement? It's easy. You can sign up by clicking here → Sunday Supper Movement.
#Retro food: What's YOUR fav?
Tell me in the comments below!