March 24, 2014
Hatch Green Chile Rellenos Recipe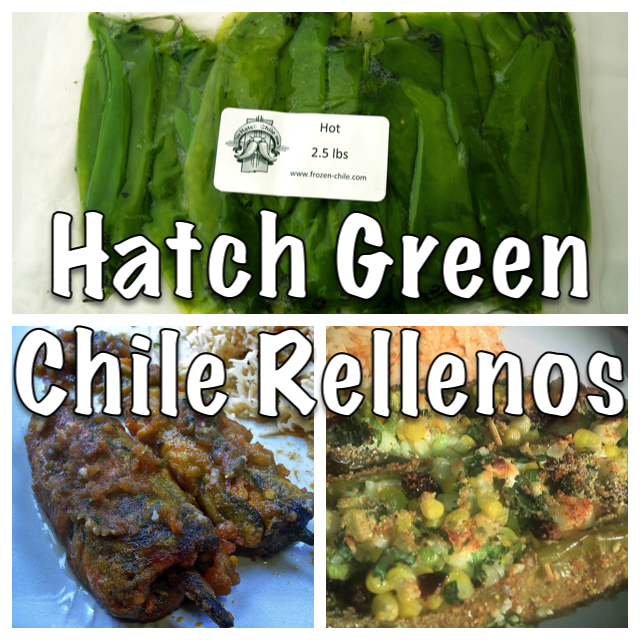 Chile Rellenos: Quick and Easy Comfort Food for the Whole Family
Comfort food.
There's something amazingly wonderful about comfort food… even when you are abstaining from meat on a Friday in Lent. 😉
Life is busy. Really busy, in case you haven't noticed. And sometimes you need a little comfort food when you sit down at the table with your family for dinner.
Comfort food is an interesting topic. I had the pleasure of speaking with Chef Matt Murphy a few times around the Mardi Gras holidays. In one of our conversations, we were talking about the best-selling dishes in restaurants. And not just his restaurant, but in restaurants all over. If you survey chefs, you'll find that the best-selling dishes are most often those that are considered comfort food by the locals. So down here it would be Red Beans & Rice, Chicken & Andouille Gumbo, and Jambalaya, of course!
But it varies family to family… and by location.
I lived in Mexico for two glorious years, so I have a deep appreciation for Mexican food… and Mexican-like food. I say "Mexican-like" because I rarely come across authentically Mexican food in the United States. Even in Texas you will usually find "Tex-Mex." It's just not the same.
So not only do I get to claim Louisiana as my roots when it comes to comfort food, I also get to claim Mexico. At least that's what my stomach and my taste buds tell me. 😉
Made with Chiles from Hatch, New Mexico
I am "in love" with Hatch chiles. I don't know why, exactly. Maybe it's the mystique. But probably it's because they are just so good. And I happen to have a stash of Hatch green chiles in my freezer too.
You know, Hatch chiles are harvested every year in August and September. That's the only time you can get them fresh. Luckily, there are places that prepare them and freeze them so that we can enjoy Hatch chiles the rest of the year too. The Hatch Chile Store is one such place, and the chiles that they ship are of the best quality.
The Hatch Chile Rellenos recipe below is meatless, filled only with hot melted cheese. But you can make a "non-meatless" variety too, if you would like. I would recommend seasoning some ground beef to taste, then adding some grated cheddar, Monterey Jack, Colby, or Asadero cheese to the hot beef before stuffing the peppers, if you want to go that route.
But whether you go for meatless or non-meatless, I recommend that you top the Chile Rellenos with some fresh salsa when serving. Why? Because it is oh-so-good!
Hatch Green Chile Rellenos Recipe
INGREDIENTS
8 to 10 roasted Hatch green chiles
8 to 10 ounces Monterey Jack cheese, grated (you can also use Colby, Cheddar or Asadero, or a mix of cheeses)
1 cup of corn flour (try blue corn flour to be adventurous!)
1 tablespoon all-purpose flour
½ to 1 teaspoon kosher salt
1 teaspoon of granulated garlic
½ teaspoon of freshly cracked black pepper
Vegetable oil to coat skillet
INSTRUCTIONS
Stuff the chiles with the cheese.
Mix all the flours together, along with the salt, granulated garlic, and black pepper. Make sure to mix it all together well.
Heat a skillet over medium-high heat, then coat with vegetable oil.
Roll the stuffed chiles in the flour mixture, and saute in the skillet for 1 to 2 minutes per side, or until the cheese melts.
Remove the chiles from the skillet and place directly on a serving plate. Top with fresh salsa and serve. Each person will want 2 to 3 chiles.
What about YOU?
What's YOUR comfort food? Tell me about it in the comments below! Or connect with me on Facebook or Twitter!