January 7, 2014
Healthy Fish or Shrimp Ceviche #Recipe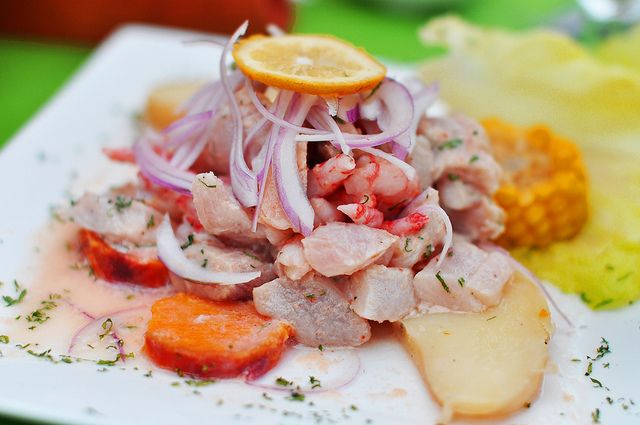 What Is Ceviche?
Originally hailing from South America, ceviche is now widely popular throughout Central and North America. Ceviche is essentially a marinated seafood salad made with fresh raw fish or shellfish. It's considered something of a delicacy because the seafood is not cooked, only marinated in citrus juices (lemon and/or lime). The citrus juice "cooks" the seafood to some degree, but not as completely as heat does. For that reason, it is very important to use only the freshest seafood to make ceviche.
What Types of Seafood Can Be Used to Make Ceviche?
Sea Bass and Flounder are popular fish to use to make ceviche. However, any firm fresh fish or shellfish can be used. Fresh shrimp make excellent ceviche.
The Health Benefits of Seafood
Seafood is one of the most nutritionally balanced foods. It's a great source of protein, rich in vitamins and minerals, yet low in saturated fats. Seafood is the source of most of the omega-3 fatty acids, EPA and DHA, found in the American diet. And, besides that, it tastes great!
The heart-healthy benefits of seafood are so pronounced that the American Heart Association recommends at least two servings per week. Studies show that people who eat seafood may be less likely to suffer from bipolar disorder and it can also help an individual's battle with depression. – Louisiana Seafood Promotion & Marketing Board
Healthy Fish or Shrimp Ceviche
INGREDIENTS
3 to 4 lbs of fresh firm fish filets (cut into bite-sized chunks) or fresh peeled shrimp
Juice of 10 limes
¼ cup fresh lemon juice
¾ cup extra-virgin olive oil
1 bunch of green onions, chopped
1 bunch of Italian flat-leaf parsley, chopped
½ red onion, finely diced
2 jalapeño peppers, seeded and diced
1 cup stewed tomatoes (or fresh tomatoes, seeded), chopped
½ teaspoon dried oregano
½ teaspoon cayenne
Kosher salt and freshly cracked black pepper, to taste
INSTRUCTIONS
In a large glass or ceramic mixing bowl combine the fish (or shrimp) with the seasonings and the green onions, parsley, red onion, and jalapeños. Mix well.
Pour in the lemon and lime juices and the olive oil, along with the tomatoes. Stir well to mix.
Cover with plastic wrap and marinate in the refrigerator for at least 6 hours, stirring occasionally to insure that the fish or shrimp marinate evenly. Alternatively, you can transfer the contents of the mixing bowl to a large plastic bag that zips closed. Doing so makes is so easy to "stir." Just mix the bag around with your hand. 😉
***Image courtesy of powerplantop on Flickr.com***