December 7, 2012
How To Make Beef Stock From Bones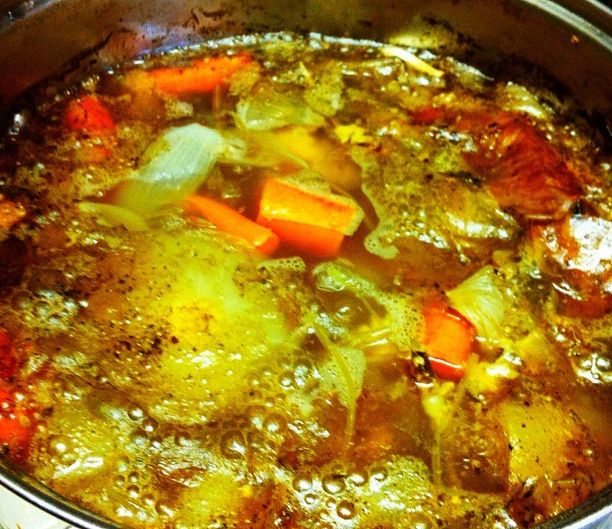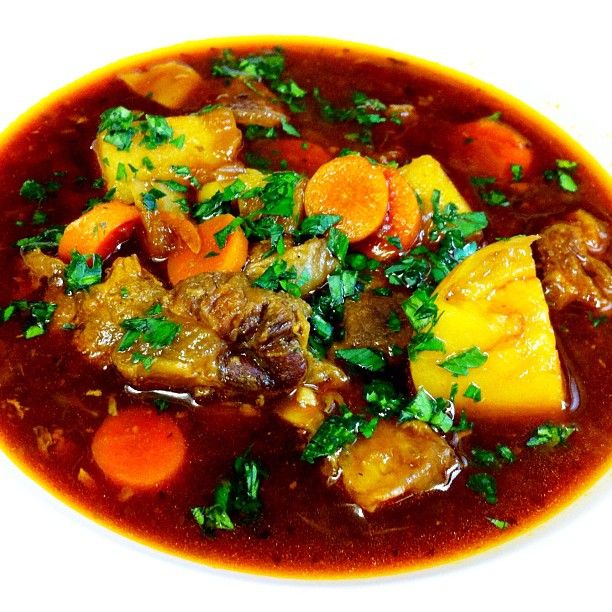 Beef Stock: Aways a Treat
Beef stock is always a treat. This stock comes out deep, rich and dark, almost like coffee. It is nutrient-dense, and it is so good and delicious.
My stock pots regularly bubble with chicken stock from chicken bones, but when I have a chance to make a beef stock I just can't pass it up! It doesn't happen often. Luckily, I've been able to "stock" up on beef bones once or twice a year for the last few years. I make big batches of this beef stock, then store it in plastic re-sealable bags in the freezer. It doesn't take long to thaw out a gallon of stock to use in one of many delicious recipes.
The Uses of Beef Stock
As I mentioned, I regularly make chicken stock. And I use it in lots of dishes that we prepare regularly. Dishes like Chicken & Andouille Gumbo, Pumpkin Coconut Soup, Curry Chicken & Coconut Soup, and even Shrimp & Okra Gumbo (if I am out of shrimp stock).
There are many soups, stews, and other dishes that you can use beef stock in. Here are some of our favorite dishes to use beef stock in:
How Do You Get The Bones?
I'm going to let you in on a little secret. We're lucky. Or it might be better to say that we are blessed. We have a friend who is a farmer, and he raises grass-fed cattle. Not only are the cows grass-fed, but they are finished on grass. That means that when they come close to the end of their life, they are not put on a grain diet to fatten them up. These cows have received no steroids by injection, nor via their food. I'm talking drug-free, healthy cows. "Organic" is the buzz word that would apply here.
Once or twice a year we go in with friends on a cow. We always request that the butcher save the bones for us. In recent memory, I have come home with as much as 60 pounds of frozen cow bones. That will make a lot of stock! You just have to make sure you have enough room in your freezer!
INGREDIENTS
Several pounds of beef bones (6 or 7 pounds of bones… up to 10 if you have a big enough pot)
3 Yellow onions, quartered
4 carrots, well-scrubbed, unpeeled, and cut in 2 inch chunks
2 celery stalks, cut in 2 inch chunks
1 head of garlic, cut in half horizontally
Leftover vegetable scraps (onion trimmings, garlic skins, parsley or cilantro stalks, celery leaves… see Notes below)
2 Bay leaves
2 Tablespoon of Apple Cider Vinegar (we prefer the Bragg brand)
Filtered water
INSTRUCTIONS
In a large stainless steel stock pot, add the beef bones and the Apple Cider Vinegar, then cover with filtered water.
Allow to sit for at least an hour. This gives the vinegar a chance to work on the bones. The vinegar softens the bones and allows more of the nutrients to escape into the stock.
Place the pot on the stove and bring it to a boil over high heat. Allow it to come to a full rolling boil.
Partially cover the to pot with the lid and reduce heat to low.
Cook on low for 24 hours or longer, adding water as needed.
Strain the stock well and cool.
If you store it in the fridge the stock my gel nicely, but gelling is not necessary. You now have a nutrient-rich stock. You can use it right away, or you can store it in mason jars in the fridge, or in re-sealable plastic bags if you want to store the stock in the freezer.
NOTES:
I recommend stainless steel when making stocks or soups. In my experience, aluminum gives off a funny metallic taste.
Whenever I cook, I save the scrapes from the vegetables I chop, and I store them in the freezer in a re-sealable plastic bag. This would include onion trimmings, garlic skins, lemon peels, celery leaves and partial stalks, the stalks of parsley and cilantro, leeks and leftover green onions, and any other non-cruciferous vegetables. When making the stock, I pull from the bag only what I need for that particular stock.
What About You?
Do you make beef stock from bones? What is your favorite soup made with beef stock? I would love to hear about it! Tell me your experience in the comments below!
You can download CF147 here, or press Play below to listen now: