July 2, 2012
How to Make Shrimp Étouffée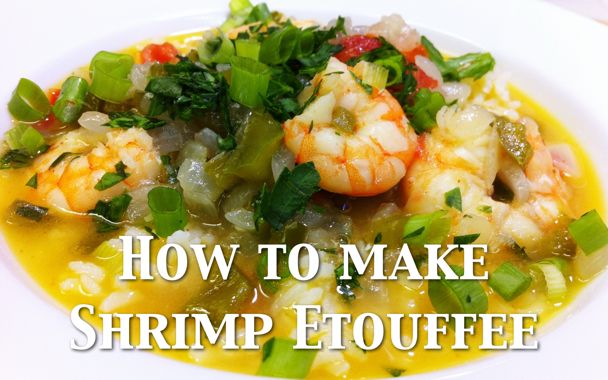 Shrimp Étouffée: Quick, easy, and oh so delicious!
Étouffée means "smothered." "Smothered in what?" you may ask. Well, typically, smothered in onions, bell peppers and celery. But I'm not too keen on celery, so I tend to leave it out… even though those three do form the "holy trinity" of south Louisiana cooking. I propose we ditch the celery and replace it with garlic. But that's just my humble opinion. 😉
As long as you practice that wonderful French culinary concept of mis en place (everything in its place), then this recipe will not demand much time. The key is to be prepared. [You can read more about mis en place in a article I wrote for CatholicMom.com.]
Here's my first real foray into producing video in the kitchen. How did I do? Please do let me know! Is it helpful? Is it entertaining? How can it be better? Please do leave me a comment below!
And don't forget to make a pot of rice! You'll need it to complete this dish.
Ingredients
1 1/2 sticks of butter (we prefer Kerrygold Butter)
4 cups chopped onions
2 cup chopped green bell pepper
3 to 4 cloves of garlic, crushed
2 to 3 pounds of shrimp (peeled and deveined… I prefer to buy them with the heads on. That way I can make a shrimp stock with the shells.)
2 tablespoon flour
2 cups water
2 teaspoons salt
Fresh cracked black pepper, to taste
1/2 teaspoon cayenne
2 tablespoons chopped parsley (plus additional for serving)
3 tablespoons chopped green onions (plus additional for serving)
Directions
Melt the butter in a large skillet over medium-high heat. Add the onions and bell peppers and sauté until soft, 10 to 12 minutes. Stir in the crushed garlic and sauté an additional 2 minutes.
Stir in the shrimp, salt, black pepper and cayenne pepper, and cook for 4 to 5 minutes. The shrimp will begin to turn pink.
In the meantime, dissolve the flour in the water and add it to the pot. Stir to mix well. This simple roux will help to thicken the étouffée. Reduce the heat to medium-low and simmer for about 8 minutes.
Add the parsley and the green onions and cook for an additional 2 minutes. (Don't forget to reserve some parsley and green onions for individual bowls.
Serve over hot rice. Sprinkle additional parsley and green onions on top, and provide a choice of Louisiana hot sauces for your guests.
Variations
Although there is a separate Creole dish called Shrimp Creole (with a tomato base), we sometimes like to add a few Creole tomatoes to our Shrimp Étouffée. The summer is the perfect time for this too. Creole tomatoes are plentiful and Gulf shrimp are in season. Summer is definitely a good time in south Louisiana. When I do add Creole tomatoes, I usually chop two of them and add them at the same time I add the roux.
A Word Of Wisdom for Shrimp Étouffée
When using shrimp, be careful not to overcook them. Shrimp do not take long to cook. Once I start serving, I cut the heat on the pot and move it to another burner. The étouffée should still be hot enough when it's time to serve seconds. 😉
What about YOU?
Does this sound delicious? Have you ever tried Shrimp Étouffée? Got a story? Leave us a comment below!