June 22, 2014
I'm Still Here and I'm Still Cooking!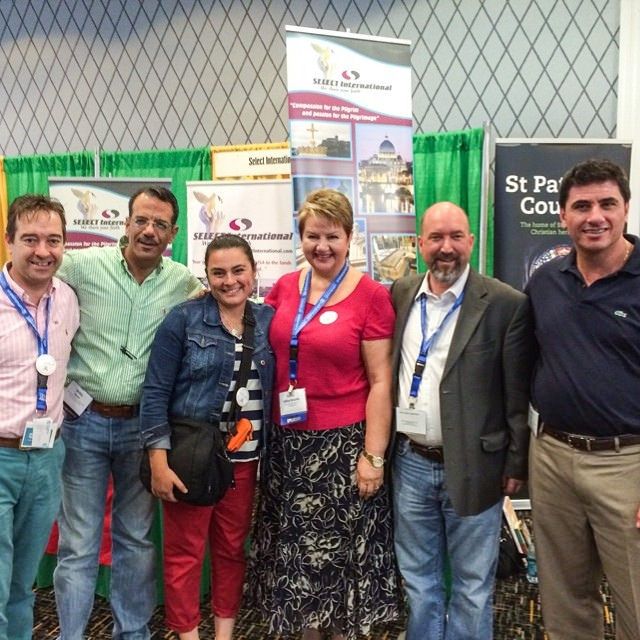 It's been quiet around here lately, I know. But I do have a good reason for my absence here at CatholicFoodie.com. You see, I've been cooking up something new for you that I know that you will enjoy.
Long Time, No Post… For a Good Reason.
I have felt strange not posting here the last few weeks. That's really not the norm. But I want to check in with you today because 1) today is Corpus Christi (the Solemnity of the Body and Blood of Jesus) and  because 2) I'm almost finished with what I've been cooking up for you and I want to give you a little taste.
Corpus Christi is a major celebration for catholics around the world, and it is frequently marked by Eucharistic processions and hours of Eucharistic adoration. Every year my parish, St. Peter Catholic Church in Covington, LA, organizes an elaborate procession to honor our Lord in the Blessed Sacrament with much pomp and circumstance. And well we should, because it's all about Jesus. Everything is about Jesus. The man Jesus Christ is both Lord and Savior. When he ascended into heaven he did not leave us orphans. No. He sent us the Holy Spirit and he left us his very self – his body, blood, soul and divinity – perpetually present to us sacramentally in the Holy Eucharist.
It is important to remember to give thanks for this great gift of Jesus in the Eucharist, and Corpus Christi provides an excellent opportunity to do just that.
The Book Is Almost Done!
I now see an end in sight for the reason I haven't been posting here in the last few weeks. You probably know by now that I am writing a book. After returning from the Holy Land in February, I spent a couple of months testing recipes, writing them down, and photographing the finished dishes. Then I moved on to actually writing the book manuscript. That's what I have been up to, and why I haven't been posting here at CatholicFoodie.com.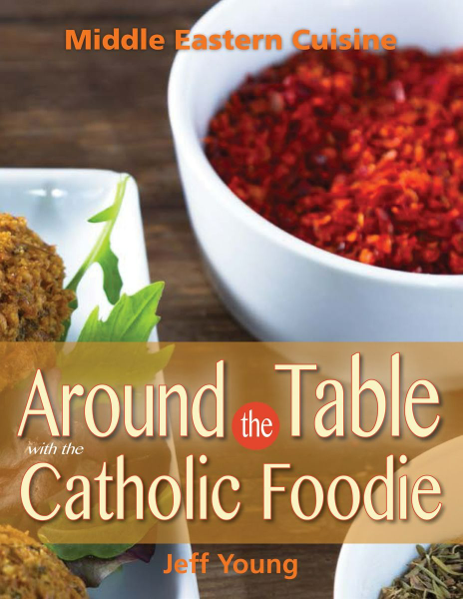 But the book is almost finished! The manuscript will be submitted to my publisher (Liguori Publications) this week, so things should soon return to normal. That means that you can expect new recipes, new articles, and new podcast episodes here at CatholicFoodie.com!
And speaking of the book, the title is Around the Table with The Catholic Foodie: Middle Eastern Cuisine. You can learn more about it (and even pre-order it!) by clicking on this link: Around the Table with The Catholic Foodie. It is scheduled to be released November 1, 2014.
New Pilgrimage to the Holy Land Announced
More exciting news! I am taking another group on a "Food Meets Faith" pilgrimage to the Holy Land! Do you want to be part of that number? You can! I would love for you to join me and Fr. Kyle Sanders as we travel to the Holy Land February 26 to March 8, 2015!
In addition to experiencing (and celebrating Mass at) all of the traditional pilgrimage sites, you will also be treated to a deliciously "foodie" buffet of events that will include:
Sailing on the Sea of Galilee before touring Kibbuz Kinnert, the famous shop with little dates (and date honey!) harvested on the kibbutz
Renewing your marriage vows in Cana of Galilee, the site of Jesus' first miracle where he turned water into wine
Visiting and touring a winery in Bethlehem
Learning about biblical food and discovering what the biblical way of dining can teach us about our meals today
Visiting a local family restaurant in Bethlehem where you will join in the preparation of the day's meal with The Catholic Foodie and local chefs
Sharing a celebratory meal in Bethlehem prepared by the Chefs for Peace and Jeff Young, The Catholic Foodie, in an open kitchen
Shopping with local chefs in the most famous open air market in Israel
Attending cooking classes that will highlight Middle Eastern cooking styles
Dining at a restaurant that reportedly has the best hummus in Israel (and you get a copy of the recipe!)
Traveling to Nazareth to visit Mary's Well and the Church of the Annunciation
Traveling to the ancient city of Jericho and going for a swim in the Dead Sea (more like "float" in the Dead Sea!)
Visiting Jerusalem and praying the Stations of the Cross on the original Via Dolorosa
Visiting the Mount of Olives, Mt. Zion, and the Empty Tomb of the Virgin at the Church of the Assumption
Journeying to Ein Kerem and Emmaus, where Jesus met the disciples on the road after his Resurrection, and enjoying a delicious farewell dinner with your fellow travelers
And much more!
You can find all the details – and register – by clicking on this link: Travel with The Catholic Foodie on a Food Meets Faith Pilgrimage to the Holy Land.
More Pilgrimages to Come… Starting in Fall 2015
I have even more good news to share! It's not actually scheduled yet, and all the details aren't final, but I want to give you a heads-up that the "Food Meets Faith" pilgrimage destinations are expanding! We are looking at going to Italy in the fall of 2015. Keep your eyes open for more on that pilgrimage in the near future!
The Catholic Media Conference (#CMC14)
Finally, I just returned from the Catholic Media Conference in Charlotte, NC. It was such a blessing to meet "old friends" (people I have known and worked with online, but had never meet in person) and make new friends! I was such a joy to finally meet in person Edita Krunic and Susan Predergast of Select International Tours, the company that organizes and arranges my Food Meets Faith pilgrimages states-side, and Shibly Kando and Saliba Danho of Voice of Faith Tours that handles all of the land arrangements for my pilgrimages in the Holy Land.
Finally meeting The Faithful Traveler, Diana von Glahn, was such a delight! We have worked together online and talked on the phone several times, but the CMC was the first time that we actually met in person. God is so good!
I was also happy to see old friends that I have met before in person: Capt. Jeff Nielsen and Pat Padley of SQPN, Peter Finney of The Clarion Herald in New Orleans, and Tim Walter of the Catholic Press Association.
Now… Back to Writing!
OK. That just about covers what I've been up to. I hope your summer is going well. I need to get back to writing my cookbook, but I would love to know what's going on in your kitchen. You can also comment below, or call the voice feedback line with questions or comments that I can include on the podcast. The voice feedback number is 985-635-4974.
Bon appetit!