July 4, 2010
Is Yelp helping or hurting restaurants?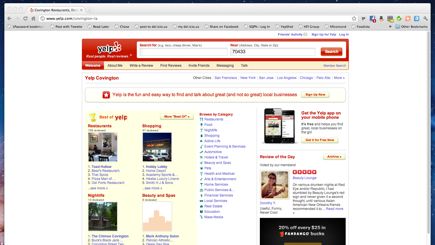 Just the other day I was reading through my favorite foodie magazine, Bon Appetit. I came across an article that jumped out at me. Why? Because it not only dealt with food, but also social media.
Cool.
I read it and it made me think.
Now, I would love to know what you think.
One of the regular columns in the magazine is by a guy named Andrew Knowlton, also known as the BA Foodist. As a matter fact, that is the name of the column. He answers questions that people send him.
Well, in the July issue of Bon Appetit, a restaurant owner sent him a question about all these new social media sites that allow "the common folk" to review restaurants. Basically, the restaurant owner doesn't like these sites. She feels like she now has to deal with online gripes and complaints in addition to all her other responsibilities. She wanted to know, "Do you think that Yelp and other online restaurant review sites are the future of restaurant criticism?"
Well, I'd like to take a shot at that question too.
First, the BA Foodist's response:
Don't get into arguing with critics online. It only makes things worse, and it could make you look like an idiot.
Traditional restaurant criticism will not go away.
Blogs, message boards, and other sites (and apps like Yelp) are influencing consumers' dining decisions more than ever before.
Now my response:
If I want a restaurant recommendation (or just about any other recommendation – movie, doctor, lawyer, car salesman…), the first place I turn is to friends.
Many friends are part of my online social networks. Over time, I also come to know the authenticity of online acquaintances. I come to know who to trust.
Social media and social networks are here to stay. Goodness, "google" is now a verb. It's also one of the first places many people turn to find information (and recommendations) about restaurants.
Instead of worrying about what someone says about your restaurant online, why not focus on providing excellent food and customer service?
Monitor what people do say about you online, but always respond in a positive way.
This is what I think about this restaurant owner's question. Now, I want to hear from you.
Am I off? Is there something I missed?
What do you think? Comment below!