November 9, 2014
Israeli Chopped Salad Recipe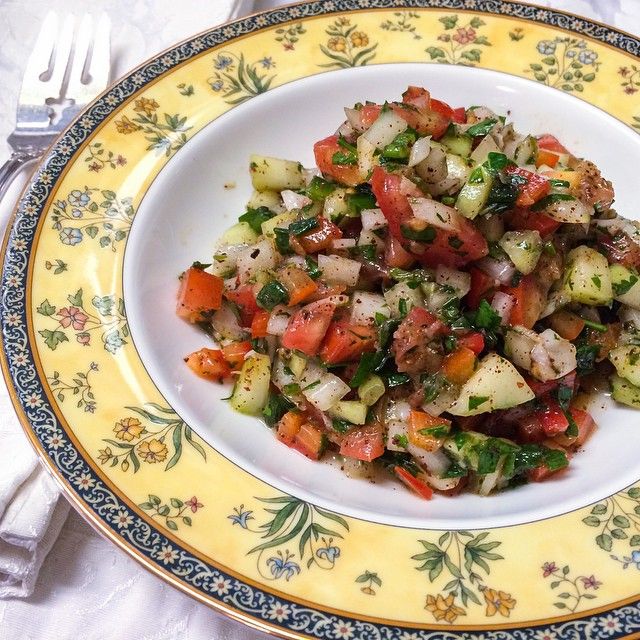 Travel to the United States or the Holy Land and you will find that the Israeli Chopped Salad is as varied as the places you visit. Traditionally a chopped salad of tomatoes, cucumbers and onions, some establishments (and homes!) transform this simple salad into a very impressive work of art. All of the chopping may sound like a lot of work, but it is totally worth it.
I like to make the dressing of olive oil and lemon juice separately in a jar, then toss it in with the salad. But you can certainly add the olive oil and lemon juice when you add the rest of the ingredients to the bowl, and toss.
If you prefer a salad with extra dressing, then refrain from seeding the tomatoes. I personally enjoy the juice from fresh tomatoes, and I find that it makes a great addition to this salad, even though it will make the dressing more "watery." In the Holy Land you will find this salad served as part of a mezze (like an extended, leisurely appetizer course), as a side dish, and even as a topping for falafel or shawarma sandwiches.
Israeli Chopped Salad
INGREDIENTS
3 medium cucumbers, seeded and chopped
4 medium ripe tomatoes, cored, seeded, and chopped
1 red bell pepper, seeded and chopped
1 large sweet yellow onion, finely chopped
3 cloves of garlic, minced
5 scallions, finely chopped
2 jalapeño peppers, seeded and minced
¼ cup cilantro, finely chopped
¼ cup parsley, finely chopped
¼ cup mint, finely chopped
½ cup extra virgin olive oil
The juice and zest of 3 lemons
2 teaspoons sumac
1 teaspoon cinnamon
Kosher salt and freshly cracked black pepper, to taste
INSTRUCTIONS
Mix all the ingredients in a large glass bowl. Cover with plastic wrap and allow to chill in refrigerator for at least 30 minutes before serving.
My Inspiration Behind this Israeli Salad
Here in south Louisiana, a chopped tomato, cucumber and onion salad is a common dish served in the summer months when tomatoes and cucumbers are in season. Toss in a little extra-virgin olive oil, fresh lemon juice or red wine vinegar, kosher salt and black pepper and you have a very refreshing salad that you can chill and serve on hot summer evenings.
But this Israeli Chopped Salad was inspired by my most recent pilgrimage to the Holy Land (in February 2014). The pilgrimage was the first-ever "Food Meets Faith" pilgrimage, and it was organized by Select International Tours. Incidentally, that pilgrimage was also the inspiration behind my new book Around the Table with The Catholic Foodie: Middle Eastern Cuisine, published by Liguori Publications. Like Hummus and fresh Pita Bread, the Israeli Chopped Salad was on the table at just about every meal. There was even a breakfast version of this salad!