April 24, 2015
Jazz Fest Recipes, Thank a Nun Day, and Five Years in Heaven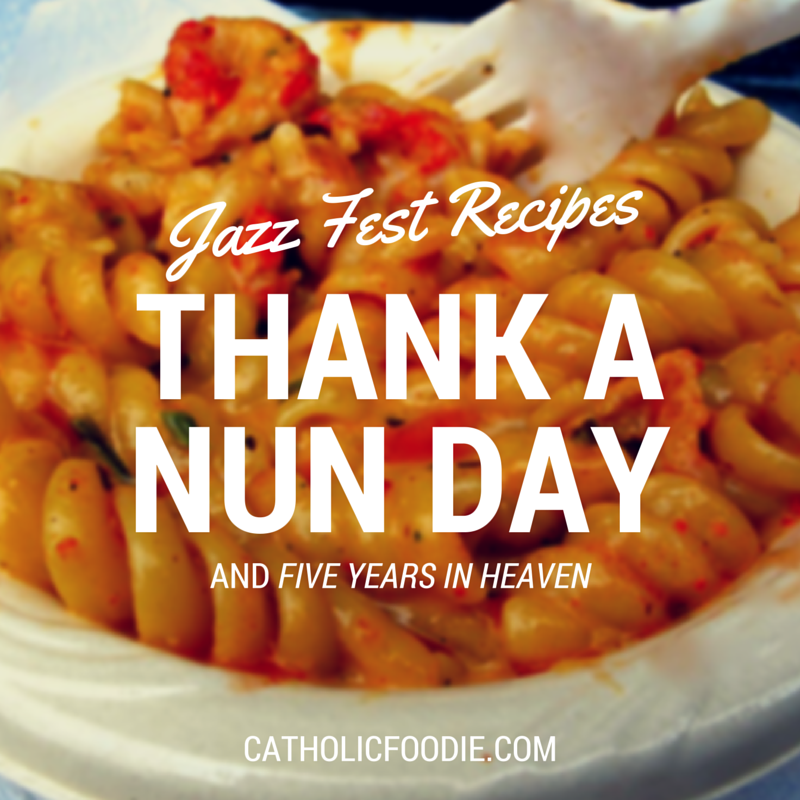 Jazz Fest 2015
Spring has arrived, along with the heat and the rain down here in south Louisiana. But springtime in New Orleans brings more than just humidity, thunderstorms, and bad hair days. It also brings festivals.
Last weekend, the French Quarter Festival kicked off the spring festival season for us, and over the next two weekends the world-famous New Orleans Jazz & Heritage Festival will take centerstage, providing 7 days of fun in the sun (hopefully!) with a range of musical acts… both local and from around the world. Two of the biggest headliners for the two Saturdays this year are The Who and Elton John. Other headliners include: Jimmy Buffett, Lenny Kravitz, and Tony Bennett with Lady Gaga.
But music is only one part of the equation that makes Jazz Fest such a smashing success year after year. The other part is the food. Rightfully believed to serve the best festival food on the planet, Jazz Fest brings back some of its classic dishes this year and adds a few new items to its offerings.
If you are going to fair grounds this year, be sure to try some of these Jazz Fest favorites: Crawfish Bread, Crawfish Monica, Vaucresson Sausage Company's Hot Sausage Po-boy, Alligator on a Stick, WWOZ's Mango Freeze, Shrimp & Grits, Fried Oyster Spinach Salad, and Ya Ka Mein.
I am also partial to the Rosemint Herbal Ice Tea to help me cool down under the hot sun.
Squeal Barbecue makes it's debut appearance at Jazz Fest this year, and will serve up brisket and barbecue chicken sandwiches on Dong Phuong bread. The will also serve smoky bacon green beans.
Vaucresson Sausage Co., has a new item on its menu this year: Italian Chicken Sausage Po-Boy. I love their Hot Sausage Po-boy, so I would have a hard time opting for anything else. But with Vaucresson, that Italian Chicken Sausage Po-boy is guaranteed to be good.
Another new item this year is a Shrimp Remoulade Po-boy by Food for Thought. Just the name makes me swoon…
You can see the full list of foods available at Jazz Fest here: http://www.nojazzfest.com/food/
Jazz Fest Recipes
If you can't make Jazz Fest this year, don't worry. You can listen live online at WWOZ, and here are 5 recipes for classic Jazz Fest favorites that you can make right in your own kitchen:
This past week I interviewed author John Schlimm about his new book Five Years in Heaven. The book hits the shelves on May 5th.
I was privileged to receive an advanced copy of the book for review purposes. I read it and I loved it. I can't wait to share with you my interview with John. It will appear on episode 199 of The Catholic Foodie podcast, which I will publish next week. So keep your eyes (and ears!) open. You don't want to miss this one.
Thank a Nun Day (#ThankANun)
Tuesday, May 5 is going to be an exciting day. In conjunction with the release of John Schlimm's book Five Years in Heaven, Image Catholic Books designated May 5th as Thank a Nun Day.
Image Catholic Books is inviting social media users everywhere to join an unprecedented global movement on Facebook, Twitter, Instagram, and Pinterest called Thank A Nun Day.
Thank a Nun Day is an organized social media effort that invites participants of all ages from around the world to unite under the hashtag #ThankANun to share messages of gratitude to the Catholic nuns—past and present—who have made a difference in their lives.
Thank A Nun Day was inspired by the new spiritual memoir FIVE YEARS IN HEAVEN: THE UNLIKELY FRIENDSHIP THAT ANSWERED LIFE'S GREATEST QUESTIONS (Image, May 5, 2015) by John Schlimm. In his book, John recounts the heartwarming story of his five-year friendship with a Catholic nun, Sister Augustine, who even into her nineties helped him discover the true meaning and purpose of his life.
"For as long as I live, Sister Augustine will be one of the most extraordinary people I'll ever know," John said. "For me, she was a light in the darkness. A mentor. A friend. I know many others feel the same way about the special nuns who have passed through their lives as well."
Participants are encouraged to use the hashtag #ThankANun in sharing written messages and photos all day May 5 on Facebook, Twitter, Instagram, and Pinterest as a way to say "Thank You" to the Catholic Sisters who have dedicated their lives to serving, encouraging and inspiring others.
"It's so exciting to join my neighbors across the U.S. and the globe in this effort to pay tribute to the thousands of nuns who have shared their wisdom, humor and grace with us," John added. "Each one of them is a glimpse of Heaven right here on earth!"
The effort to celebrate the service and contribution of Catholic nuns is being jointly sponsored by Image, the Catholic division of Penguin Random House, and John Schlimm, author of Five Years in Heaven.
There are several ways to participate in Thank A Nun Day:
I can't wait to read what you share on Thank a Nun Day! There are so many nuns that I want to thank… Nuns that have had such a powerful impact on my life… including Blessed Mother Teresa of Calcutta! So stay tuned – and get involved! – on May 5th!
You can even practice right here, right now.
Leave me a comment below telling me briefly about a nun that has made a powerful impact in your life.
Ready? Go!