January 1, 2015
Lamb-Stuffed Cabbage Rolls
Today is New Year's Day… So Happy New Year!
No matter how hard I try each year to cook something different, Lamb-stuffed Cabbage Rolls always seem to end up on our table. It's a good thing we love them.
I used to not be able to say that. I hated cabbage growing up, and I really was not an adventurous eater. Can you believe that? It's true!
As a matter of fact, I was very reluctant to move out of my culinary comfort zone until I met my future wife back in 1992. She encouraged me to try new things, and she has been pushing me to grow ever since.
I first tried stuffed grape leaves at her invitation soon after we first met. I think I tried them simply because I was fascinated with the woman I loved, and she told me they were good. That was enough for me. And I discovered that I loved grape leaves! That one event opened up a whole new culinary world to me.
I do remember running an errand for my mother-in- law in the early 90s. Now this was years before she became my mother-in-law. At that time, she did not have her own grapevine, so she asked me to run and go pick some up from a family friend who did have a grapevine her backyard. It was the mother of a friend of mine, Father Jeff Bayhi. Well, a phone call was made, the leaves were packaged up, I was on my way, and Mama Bayhi was expecting me. The errand was a success.
Years later, my mother-in-law acquired her own grapevine. It was healthy and produced lots and lots of grape leaves for years. Then Hurricane Katrina stuck, and the vine was never the same after that. Eventually, that vine was uprooted and replace by a new vine. Fresh grape leaves are now plentiful in the spring and summer.
But what about the winter? Or whenever you can't get your hands on fresh grape leaves? I think that's why God created cabbage. Which is convenient, don't you think? In the south we have a custom for New Year's Day: cabbage and black-eyed peas. I grew up with this, and since I hated beans growing up (and cabbage), New Year's never really thrilled me. But the custom is this: if you want to be healthy, wealthy, and wise in the New Year, you need to eat cabbage and black-eyed peas. Now that I'm older, that's not a problem. And, thankfully, at our house the cabbage always comes in the form of Lamb-Stuffed Cabbage Rolls.
Lamb-Stuffed Cabbage Rolls #Recipe
INGREDIENTS
1 pound. ground lamb
1⁄2 cup (scant) raw long grain white rice
Granulated garlic or fresh-pressed garlic
Salt, to taste
Cayenne pepper, to taste (I usually use ½ teaspoon, but we love the heat!)
Juice of 1⁄2 a lemon
2 tablespoons butter, melted
2 small cans of petite diced tomatoes
Chicken stock, about 32 oz. (enough to barely cover the cabbage rolls in the pot)
1 large head of cabbage
INSTRUCTIONS
For cabbage rolls, you need a larger head of cabbage. As you get toward the center of the cabbage, the leaves become too curly and are unusable, although you could use them to line the bottom of the pot. Cut the cabbage in half from top to bottom and remove the core. Parboil or steam the cabbage until the leaves are soft and pliable and are easy to separate. Larger leaves can be cut into triangles roughly the same size as a grape leaf. Remove and reserve large or coarse ribs. You will use some of the unusable leaves and ribs to line the bottom of the pot.
The Mahshi (or stuffing): In a large bowl mix the ground lamb, raw rice, and granulated garlic (we use fresh-pressed garlic), salt, cayenne pepper (all to taste), melted butter, lemon juice, and about half a can of tomatoes. Mix thoroughly with your hands.
Line the bottom of the pot with large cabbage leaves.
To roll the cabbage leaves: Cut the leaves uniformly until they are roughly the size of a grape leaf. I cut my into triangle shapes. Lay the leaf flat on table or counter. Take about a small finger's worth of mahshi and place it at the base of leaf (you do not want it to hang over the leaf). Fold the sides of the leaf in and then roll the leaf up to the top. Place leaf in pot on top of the lamb shoulder chops. Repeat the process until all mahshi is gone (or until there is no more room in the pot). Remember to alternate direction of leaves for each layer in the pot.
Add the remaining ingredients to the pot: chicken stock, can of tomatoes, lemon juice (we also add 3 cloves of sliced garlic). The liquid should just about cover the cabbage rolls (you can use more tomatoes, if desired).
Place a pottery plate on top of the rolls. This prevents them from unrolling during cooking.
Simmer on low to medium heat for about 45 minutes.
Remove plate (carefully!) and serve.
AROUND THE TABLE WITH THE CATHOLIC FOODIE: MIDDLE EASTERN CUISINE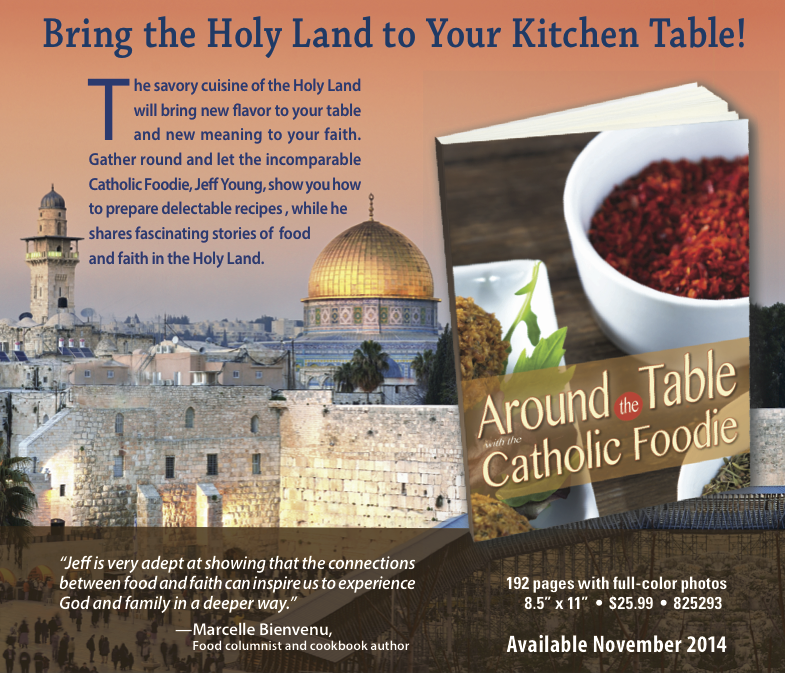 This recipe for Lamb-stuffed Cabbage Rolls – and 77 other recipes – is included in my new book, Around the Table with The Catholic Foodie: Middle Eastern Cuisine, published by Liguori Publications.
Enjoy!