April 27, 2013
Lebanese Chicken with Tomato and Feta Dressing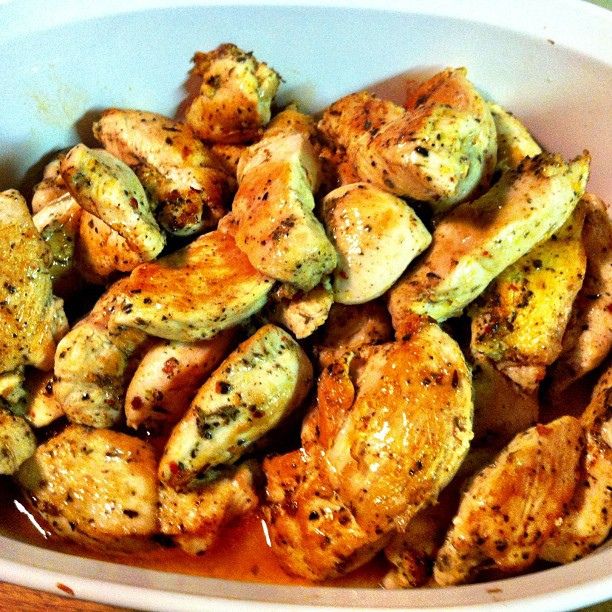 Lebanese Chicken
When it comes to Lebanese chicken, the question really becomes…
To Shawarma or Not to Shawarma?
Yes. That is the question. 😉
Chicken Shawarma is made by alternately stacking strips of fat and pieces of raw seasoned chicken on a spit. In restaurants, and on street carts, a vertical spit is most typical. The chicken is roasted slowly on all sides as the spit rotates in front of a flame for hours. Traditionally, a wood fire was used, but currently a gas flame is most common.
Can you make this at home?
Me neither.
So what is a shawarma lover to do?
Well, the only practical option – if you really want to make something like Chicken Shawarma at home – is to compromise and make something that is Chicken Shawarma-like. And that is exactly what this Lebanese Chicken dish is.
INGREDIENTS
1 pint of grape tomatoes, halved
1/3 cup pitted Kalamata olives
4 ounces feta cheese, coarsely crumbled
1/2 cup fresh mint leaves, minced
Half a bunch of green onions, chopped
3 tablespoons extra virgin olive oil
1 – 2 tablespoons regular olive oil or coconut oil
Coarse kosher salt and freshly ground black pepper, to taste
Cayenne, to taste
2 pounds chicken thighs, sliced in strips
DIRECTIONS
Combine tomatoes, olives, feta, mint, green onions and 2 to 3 tablespoons of extra virgin olive oil in a glass mixing bowl. Season with salt and pepper and set aside.
Heat a heavy-bottomed skillet (cast-iron or stainless) over medium-high heat. Coat with regular olive oil or coconut oil. Season cutlets with salt and pepper and cayenne, to taste. Throw cutlets into the hot skillet and cook until chicken is cooked through, about 1 to 2 minutes per side. Do so in batches, if necessary. Then, transfer chicken to a plate and cover with aluminum foil to keep warm.
Serve the chicken on plates, and top with the tomato mixture.
Once this chicken shawarma-like dish is made, what are you going to serve with it?
I would recommend Hummus with pita and a Tabbouleh salad.
Bon appetit!