September 28, 2014
Lebanese Shish Kebab for Your Football Tailgating Party
Football season is in full swing [Geaux Saints!], which means it's time for that great American pre-game pastime: tailgating. One of our favorite recipes (and most popular with family and friends!) to prepare for a tailgating party is Shish Kebab.
The recipe for Shish Kebab I share with you here is an amalgamation of the recipes used by different family members. Most of the cooks in the family cook like chefs do. There are no real written recipes. Cooking is, after all, a culinary art.
I must confess I have a love-hate relationship with recipes. I launched The Catholic Foodie blog and podcast in October of 2008. At that time, I had no intention of publishing any recipes. I just wanted to talk about food and cooking. I loved using phrases like "a pinch of this" and "toss in a handful of that." For me cooking was fun. It was a creative process, like drawing or painting or sculpting. Except that you could eat the work of art that comes out of the kitchen. Very early on, through the feedback I received on the blog and from the podcast, I began to understand that people really wanted recipes. That was the only reason I started writing them and posting them on CatholicFoodie.com. And the rest, as they say, is history.
One of my early culinary inspirations was Marcelle Bienvenu, a food writer, chef, and former restaurant owner who may be most well-known locally for a little book she published in 1991 called Who's Your Mama, Are You Catholic, and Can You Make a Roux? A sequel to that book followed in 1998. Born and raised in St. Martinville, in southwest Louisiana, Marcelle Bienvenu grew up where she says "good cooking was almost as large an article of faith as the Catholic religion." What many people may not know about Marcelle is that she co-authored many of Chef Emeril Lagasse's early cookbooks, and she was adamant that the recipes in those books be tested in a real home kitchen, not a test kitchen.
In July of 2009, I had the pleasure of interviewing Marcelle for The Catholic Foodie podcast. I had read comments she had made in reference to chefs and recipes in various interviews. This was about the same time I was wrestling with writing recipes for CatholicFoodie.com, so I was anxious to get her professional thoughts on recipes and cooking.
She did not disappoint. We had an excellent conversation about the joy of cooking, about having fun in the kitchen, about how so many people see recipes as "rules to follow" instead of general guidelines that give the cook lots of room to play and create. At the same time, she noted that most home cooks need recipes, at least to start with. Just as I suspected, she also confirmed for me that most chefs can't write a recipe to save their lives. And if they can write it, it would be a recipe for 30 to 60 people, not for 3 or 4. In the end, Marcelle's advice was to simply cook food the way you like it to taste. If you need to deviate from a recipe in order to that, so be it. The recipe police will not come after you.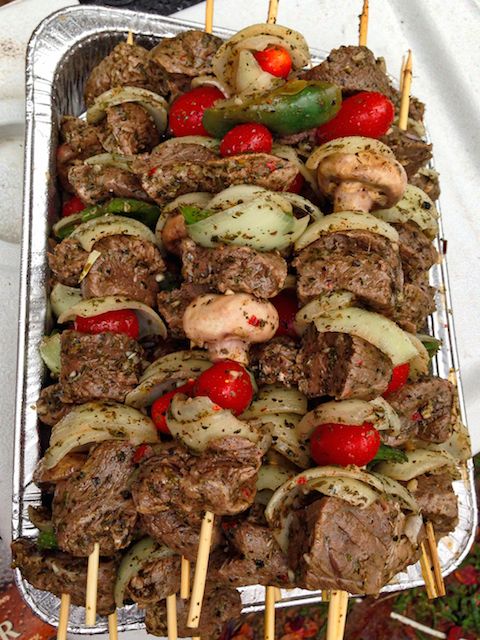 Needless to say, trying to get a Shish Kebab recipe from family members was no easy task. Besides the fact that most chefs like to guard their popular recipes, not one person in the family had a single recipe for Shish Kebab written down. Challenging, indeed! I talked through the recipes with a few family members, then created a blend of their input, keeping what they all had in common, and paring down the quantities.
It takes a bit of planning to do it right, but the effort is so worth it. We like to make the marinade two days in advance, that way we can "marinate" the marinade for a day before adding the meat and vegetables. If you don't have two days, that's okay. This Shish Kebab will still taste great if you make the marinade the day before. The important thing is that the meat and vegetables marinate overnight before grilling.
Shish Kebab is perfect for feeding a crowd, and tailgating certainly draws a crowd. It's not unusual for our family to prepare as much as 15 pounds of beef and 10 pounds of chicken for an LSU football game. The recipe below is for 13 pounds of chicken, but you could certainly substitute (or mix and match) beef sirloin or lamb.
LEBANESE SHISH KEBAB RECIPE
INGREDIENTS
For the Marinade:
2 cups fresh squeeze lemon juice
1 cup extra virgin olive oil
10 teaspoons kosher salt, or to taste
4 teaspoons freshly cracked black pepper, or to taste
4 teaspoons crushed red pepper flakes, or to taste
2 handfuls of dried mint, crushed finely
20 cloves of garlic, minced
1 onion, finely chopped
4 jalapeño peppers, seeded and chopped
12 ounces of Worchestershire Sauce
4 ounces Louisiana Hot Sauce (or comparable hot sauce)
For the Shish Kebab:
8 medium sweet yellow onions
7 bell peppers (red or green)
3 lbs whole mushrooms
4 pints of cherry tomatoes
13 lbs boneless chicken breasts (can substitute beef sirloin or lamb)
INSTRUCTIONS
Make the marinade:
Add the garlic, kosher salt, black pepper, and lemon juice to a food processor and pulse until well blended.
Add the olive oil, crushed red pepper, Worchestershire, chopped onion, chopped jalapeños, hot sauce and mint. Pulse lightly to incorporate.
If possible, refrigerate marinade overnight (two days before grilling). Or, if making the day before grilling, then proceed to step 4.
Cut the meat into 1½ to 2-inch cubes.
Quarter the onions and cut the bell peppers into bite-sized pieces.
Place the meat in a large container or in one or more resealable plastic bags. In a separate container, place the quartered onions, the bell pepper, and the whole mushrooms.
Divide the marinade between the containers, seal them, and refrigerate overnight.
Cooking the Shish Kebab:
Preheat outdoor grill to medium-high heat.
Remove meat and vegetables from the refrigerator to prepare your skewers. Alternate meat and vegetables on the skewer without over crowding it. Some people swear that there is only one way to do this, but I don't think the pattern really matters, except that it is helpful to have a piece of meat go on the skewer first so that it is at the base.
Brush each skewer with a little olive oil to prevent sticking and place them on the grill, being careful not to overcrowd the grilling surface. Cook until done, rotating only once. Cook time will depend on how hot the grill is and how well done you want the meat.
This Lebanese Shish Kebab recipe – and 70+ others – are available in my soon-to-be-released cookbook Around the Table with The Catholic Foodie: Middle Eastern Cuisine… Available for pre-order now!