October 7, 2013
Lebanese Spinach and Lentil Soup
A Traditional Middle Eastern Lentil Soup
Fall is here. It still doesn't really feel like it here in south Louisiana, but fall is here nonetheless. With the advent of fall and football season, our minds and stomachs naturally turn to soup. It just makes sense. As the old Campbell's Soup commercials used to say, "Soup is good food."
And it is! Soup is good food. It is also easy to prepare. And you can make multiple meals in one pot… at the same time.
[Tweet "Soup is good food. Easy to prepare. And you can make multiple meals in one pot at the same time."]
I always make BIG soups. My family of 5 will eat on it for a couple of days. Then, if there is any left, I freeze it for future use.
This particular soup – Lebanese Spinach & Lentil Soup – is perfect for this time of the year. We all know that spinach is good for you. Popeye the Sailor Man taught us that. But lentils are also really good for us too. Lentils are very small beans, but they pack a majorly healthy punch.
Lentils are an excellent source of fiber.
Lentils are heart-healthy. They are known for lowering cholesterol.
Lentils are full of B-vitamins and protein.
Lentils stabilize blood sugar levels.
Lentils are an excellent source of Iron.
Lentils are also quick and super-easy to prepare. Unlike white Navy peas or red beans, lentils do not have to be pre-soaked. They just need to be picked through (for small stones or debris), rinsed and then cooked for about 30 minutes. Like I said, super-easy, right?
Lentils are also popular all throughout the Middle East. As a matter of fact, biblical scholars believe that Esau sold his birthright to his younger brother Jacob for a bowl of lentil soup. Jacob must have been a great cook! 😉
Lentils are a staple in Middle Eastern cuisine. I have already shared a couple of recipes that feature lentils here on CatholicFoodie.com:
Lebanese Spinach and Lentil Soup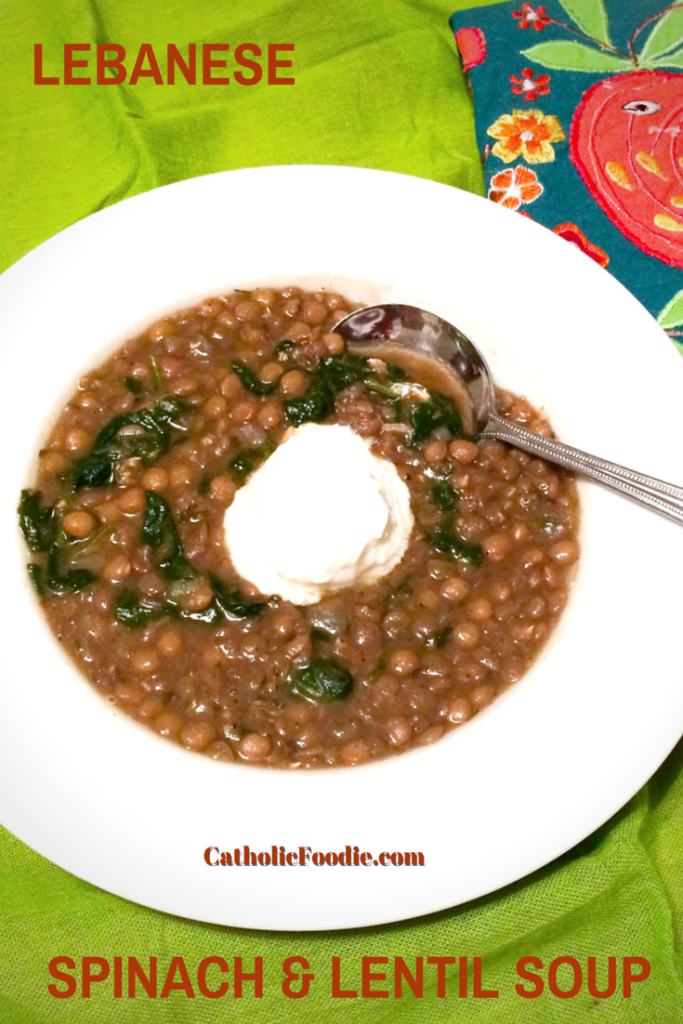 Author: Jeff Young
Cuisine: Middle Eastern
Recipe type: Main
Serves: 10 to 12
Ingredients
3 tablespoons regular olive oil (or coconut oil)
2 large onions, finely chopped
5 cloves garlic, minced
2 teaspoons ground cumin
1 teaspoon cayenne pepper
2 cups red or brown lentils, picked-over and rinsed
10 cups water (see note below)
¼ cup fresh mint, chopped
1 bunch fresh spinach, washed (about 2 cups)
Zest of 1 lemon
Juice of 1 lemon
Kosher salt and freshly-cracked black pepper, to taste
Laban or full-fat Greek-style yogurt (see note below)
Instructions
In large stainless steel pot, sauté the onions in the olive oil (or organic coconut oil) over medium-high heat until they start to soften. About 3 minutes. Turn heat down to medium-low and continue to cook until they start to caramelize, about another 3 to 4 minutes.
Stir in garlic and cook for 2 minutes, stirring frequently to prevent the garlic from burning.
Add the cumin and cayenne, and stir to mix in well.
Add lentils and water. Increase heat to high and bring to a boil.
Once the soups starts to boil, reduce heat to medium or medium-low and allow to simmer until lentils are soft. About 30 minutes.
Add mint, and the add salt and pepper to taste.
If you want a creamier soup, you can mash some of the lentils against the side of the pot with a large stainless steel spoon once they are softened. Stir well.
Once the lentils have attained their desired softness and you are ready to serve, add the spinach. You can chop the spinach, if desired, but it is not necessary. I prefer to add the leaves whole. Spinach shrinks when it is cooked, so chopping isn't really necessary.
Add the lemon zest and juice. Taste and tweak with salt and pepper.
Serve in bowls and garnish with dollop of laban or Greek-style yogurt (see note below)
Notes
Use Water Instead of Stock
Normally, when making soups, I advocate using stocks instead of water (usually chicken stock). However, I am amazed at how much flavor these little lentils pack. I prefer to use plain water when making soups with beans. This goes for White Beans and Rice and Red Beans and Rice too.

Laban or Labneh:
Tart and creamy, Laban, or labneh, goes really well with this dish. Laban is a very thick Lebanese yogurt. We mix it in a bowl with some lemon juice and add a dash of salt… all to taste, of course. It's a perfect for this soup. If you can't find the Lebanese version of the yogurt, then full-fat Greek-style yogurt will suffice.
---

Join Jeff Young, The Catholic Foodie and Fr. Kyle Sanders on a Food Meets Faith Pilgrimage to the Holy Land
Registration for my next pilgrimage to the Holy Land is now open! The pilgrimage will be from February 26 to March 8, 2015. Fr. Kyle Sanders, a priest of the Archdiocese of New Orleans, will travel with me as the Spiritual Director.
I want to invite you to grow in faith together with me around the table of the Eucharist and around the dinner table in the Holy Land.
Register before August 1, 2014 and you will receive a free autographed copy of my soon-to-be-released cookbook: Around the Table with The Catholic Foodie: Middle Eastern Cuisine, published by Liguori Publications.
TO REGISTER: CALL SELECT INTERNATIONAL TOURS AT 1-800-842-4842.
See full itinerary HERE. You can also download it.