July 31, 2012
Lebanese Stuffed Squash (Kousa Mahshi)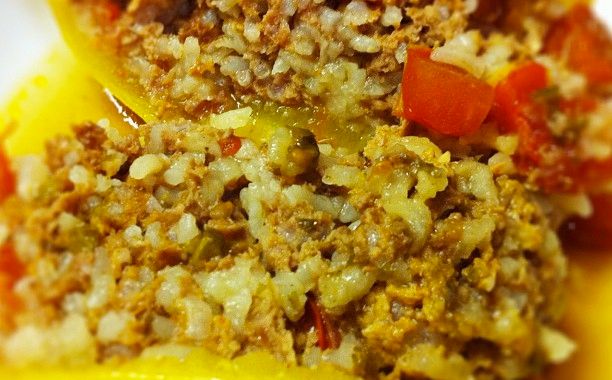 Kousa Mahshi: Stuffed Squash, Lebanese-style
I hated squash as a child. And during the summers we used to get a lot of it. My grandfather grew it in his garden, along with corn, tomatoes, and string beans. I loved the corn and tomatoes, but you could keep the squash and beans.
I am very happy to say that my palate developed quite nicely as I grew up, and I now enjoy both squash and beans. And this dish is one of my favorite ways to prepare squash.
Kousa Mahshi has been handed down by generations of Lebanese families. The recipe here is our version of this classic dish.
The mahshi (or mihshi… or filling) for this recipe is about the same as it is for the Lebanese Grape Leaves, except here we are using beef instead of lamb.
INGREDIENTS
18 to 24 medium yellow squash, cored (necks too)
5 homegrown tomatoes, chopped
4 cloves of garlic, crushed
2 lbs of ground beef
1 cup long-grain white rice
Half a stick of butter, softened
1.5 tablespoons Kosher Salt
1 tsp Cayenne
Juice of one lemon
3 or 4 sprigs of fresh mint, chopped
2 quarts of beef stock or chicken stock (or water… enough to cover the squash)
INSTRUCTIONS
For the filling
Combine the following ingredients in a large mixing bowl: rice, ground beef, 3 tomatoes with juice, butter, 1 tablespoon of salt, and cayenne.
Mix well by hand and set aside.
For the squash
Wash squash well. Slice off the necks and core, leaving about 1/4 inch shell. Core the necks as best as you can (a potato peeler works well for this). Rinse and drain the squash well.
Stuff each squash (necks too!) loosely with the filling. Arrange them in a large pot so that the open ends are facing up. Add the remaining tomatoes to the pot and sprinkle squash with the remaining salt and the chopped mint.
Fill pot with beef (or chicken) stock so that the squash are completely covered.
Bring to a hard boil, and allow to boil for a few minutes. Then reduce heat to medium, add the lemon juice, and cover. Simmer for 45 minutes.
Tips:
Laban, or labneh, goes really well with this dish. Laban is a very thick Lebanese yogurt. We mix it in a bowl with some lemon juice and add a dash of salt… all to taste, of course. You can add a dollop to each squash once it's served.
You can download CF140 here, or press Play below to listen now: