April 12, 2014
Lent: Soup and Stories with The Practicing Catholics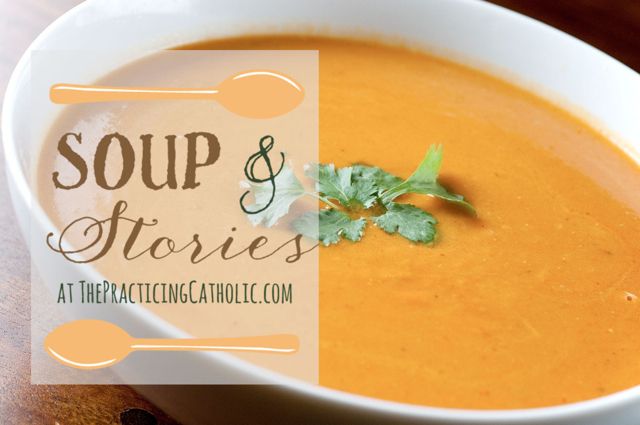 Lisa Schmidt of ThePracticingCatholic.com Joins Us on the Show!
I know this happened a couple of weeks ago, but we are still in Lent, and there is a lot of value in the conversation I am sharing with you today.
A couple of weeks ago, Lisa Schmidt of ThePracticingCatholic.com joined us on the Around the Table Food Show to talk about a new initiative she is taking on this Lent: Soup & Stories. Lisa and Joel Schmidt are the husband and wife blogging team behind ThePracticingCatholic.com.
In addition to the regular roles of husband/wife and father/mother, Joel is currently preparing to be ordained to the permanent diaconate and Lisa is determined to master the art of soup preparation this Lent. 😉 Listen to the show to get the inside scoop!
Soup Recipes from The Practicing Catholic
Here are a few of the delicious soups you will find at ThePracticingCatholic.com:
Soup Recipes from The Catholic Foodie
And here are a few of my own soup recipes. The ones I include here are all meatless. Enjoy!
Enjoy!
Let Me Hear From You!
I would love to hear from you!
Here are a few ways that you can connect with me online and help to spread the word and mission of The Catholic Foodie:
Leave a comment below. I read all comments and respond to them.
Find me on Facebook.
Find me on Twitter.
Leave a short review on iTunes.
Call the Listener Feedback Line and leave a voice message for me to play on The Catholic Foodie podcast: 985-635-4974.