September 28, 2013
Louisiana Kitchen and Culture Magazine at Emeril's Homebase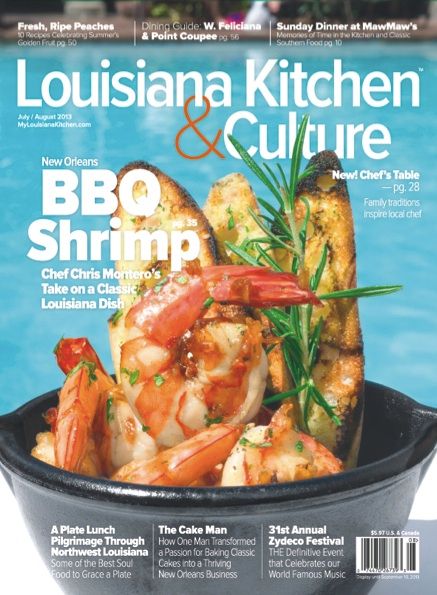 Louisiana Kitchen & Culture Magazine
Sure, there's Bon Appetit, Saveur, Food & Wine and a million others. But none of them impress me as much as Louisiana Kitchen & Culture Magazine. Maybe it's because I'm from Baton Rouge and grew up in south Louisiana… Or maybe it's because Louisiana Kitchen & Culture Magazine just does such an amazing job at presenting our Louisiana food and culture to the world.
Either way I win.
This past Monday, my co-host David Dawson and I had the pleasure of pre-recording the Around The Table radio show in the test kitchen of Emeril's Homebase. Susan Ford, the publisher of Louisiana Kitchen & Culture Magazine, organized it all. This photo shoot was for the upcoming holiday issue of the magazine, which spans Thanksgiving and Christmas. The recipes in this issue alone will top 70. That is simply amazing.
Think about that for a moment.
Food magazine. Photo shoot… There must be food, right?
Yes, indeed, there was!
These were the items off of Emeril's menu that were slated to be shot that day:
Orange, Walnut and Goat Cheese Salad
Turkey Roulade with Wild Mushroom Stuffing
Pumpkin Custard Pie with Whipped Cream
Orangecello
One of the items – Emeril's Smothered Shrimp and Andouille over Creamy Stone-Ground Grits – was already shot back in July.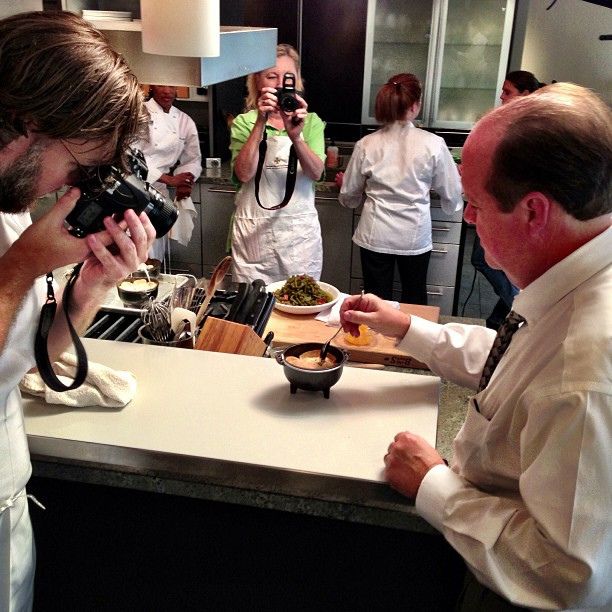 In addition to Emeril's main menu, Louisiana Kitchen & Culture Magazine is also going to feature several recipes for holiday leftovers in the holiday issue. So Susan prepared four "leftover" dishes to be photographed that day:
Turkey and Andouille Pot Pie
Ham & Potato Casserole
Turkey Tetrazzini Gratin
Miss Francis' Green Beans with Tasso
Listen to the show below to hear about all these delicious holiday menu options, and get a sneak peek behind the scenes of a food magazine photo shoot! You can also download the MP3 version and listen at your convenience. Just right-click this link and save it to your computer: Louisiana Kitchen & Culture Magazine at Emeril's Homebase.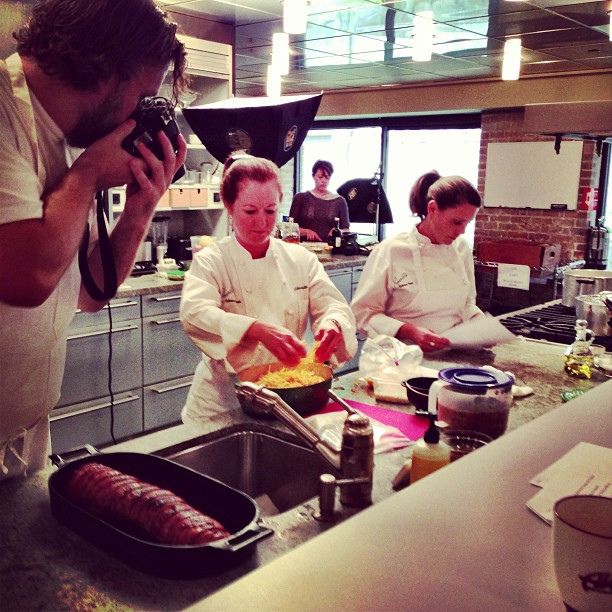 Emeril's Homebase: Holiday Issue Photo Shoot
Besides food and magazine talk, we also had the opportunity to talk with Antonia Keller and Camille Breland about the good work of the Emeril Lagasse Foundation. Emeril established the foundation in 2002 to support children's educational programs that inspire and mentor young people through the culinary arts, nutrition, healthy eating, and important life skills. To date, the foundation has donated more than $5.5 million to community organizations in New Orleans, Las Vegas and on the Gulf Coast. Some of the local beneficiaries include St. Michael's Special School, Cafe Reconcile, and NOCCA (New Orleans Center for the Creative Arts).
In May, Emeril Lagasse was honored as the Humanitarian of the Year by the James Beard Foundation.
The main annual fundraiser for the foundation is coming up in November. It's a 2-night event.
On Friday, November 8, the Emeril Lagasse Foundation will host Boudin, Bourbon & Beer at The Foundry in downtown New Orleans. This event is co-chaired by Emeril Lagasse, Mario Batali, and Donald Link. It will feature:
Specialty brews by Abita Beer
Bourbon by Buffalo Trace & Spirits by Sazerac Brands
Artisanal sausages by 40 of the country's best chefs
Featured winemaker Jim Clendensen, Au Bon Climat Winery
Additional wines by Justin Vineyards and Landmark Vineyards
Water by Fiji
Music by Lost Bayou Ramblers, Holy Ghost Tent Revival and Packway Handle Band
Nat Sherman Cigar Tasting, 610 Stomper Appearance, Silent Auction and more…
For more information on the event, go to BoudinBourbonAndBeer.com.
On Saturday, November 9, the Emeril Lagasse Foundation will host Carnivale du Vin. This event is definitely upscale with tickets selling at $1000.00 a piece. Tables sell at $10,000.00 each. It's pricey, but the money goes to a good cause.
Carnivale du Vin will feature:
Cuisine served by guest chefs Chef John Besh, Chef Cat Cora, Chef Rick Moonen and Chef Aaron Sanchez
Chefs assisted by hospitality students and culinary interns – Foundation Beneficiaries
2013 Event Bacchus Chuck Wagner, Caymus Vineyards, along with his Wagner Family of Wine family members Charlie Wagner II, Joseph Wagner and Jenny Wagner
Champagne Louis Roederer
Silent Auction
Musical Entertainment by Locos Por Juana
Four Course dinner by Chef Emeril Lagasse and his Chefs de Cuisine nationwide
Paired with wine from Vintners: Cakebread Cellars, Pride Mountain Vineyards, Roederer Estate, Williams Selyem
A "Top Ten U.S. Charity Wine Auction," as ranked by Wine Spectator magazine
Featuring once-in-a-lifetime wine, food and lifestyle experiences
Sammy Hagar & The Wabos
For more information on Carnivale du Vin, go to CarnivaleDuVin.com.
Many Thanks to So Many People
It was a fun show and a great afternoon. Many thanks to Susan Ford for the invitation. It was such a pleasure to meet David Gallent and to have him join us on the show to discuss food photography. It was also a joy to have Antonia Keller, Camille Breland, Stacey Meyer, and Charlotte Martory join us on the show. So much fun!
---
Join me in the Holy Land in February 2014!
DEADLINE TO REGISTER IS OCTOBER 25, 2013!
Register between now and October 1st and receive $50.00 off, plus get a free copy of Jeff's collection of Middle Eastern recipes!
Contact Information
Susan Prendergrast
(800) 842-4842
catholicfoodie.com/holyland
Join us as we PRAY and BREAK BREAD together in Israel
Experience food preparation and cooking demonstrations led by "Catholic Foodie" Jeff Young and the "Chefs For Peace."
We will not only WALK WHERE JESUS WALKED, and PRAY WHERE JESUS PRAYED, but EAT WHAT JESUS ATE!
Price of $3,795.00 includes airfare from Atlanta, Philadelphia, or Newark.
3 nights in Nazareth and 5 nights in Jerusalem
Highlights include:
Celebrating Mass at Mount Carmel, the Church of the Nativity, the Mount of the Beatitudes, the Basilica of Agony in the Garden of Gethsemane, and the Church of the Holy Sepulchre
Renewing Marriage Vows in Cana and Baptismal Vows at the River Jordan
Visiting the Churches of the Annunciation, Visitation, and Assumption
Sailing on the Sea of Galilee and Swimming in the Dead Sea
Touring a Franciscan Winery in Bethlehem and a Brewery in Taybeh
Praying the Stations of the Cross on the Via Dolorosa, and visiting the "Wailing Wall," the "Upper Room," the Palace of Caiaphas, the Pools of Bethesda, the Mount of Olives , and Dormition Abbey
And finally a Farewell Supper at Emmaus
Details and registration form are at /holyland