November 8, 2013
Loyola Press Launches New Food and Faith Series in Time for Thanksgiving!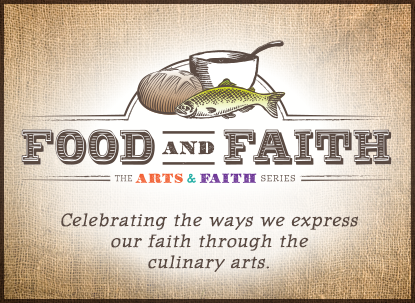 Loyola Press is unveiling a new series that celebrates the many ways Catholics express their faith through the culinary arts. The collection of stories, called Food and Faith, explores how we feed our spirituality at the intersection of food and faith, just in time for Thanksgiving.
Starting on Nov. 11, learn about a Food Network priest who cooks to bring families together, a small-business owner who adds sizzle to his parish's 40-year-old fish fry, a food blogger who pours her faith into her Lebanese cooking, a father who reflects on the fruits of eating with his family, and many more. The series captures the personal and public ways faith is explored, expressed, shared, and celebrated in our families, parishes, and culture.
Whether you're a chef de cuisine or can barely make toast, Food and Faith shows there's always a place at God's table.
Visit www.arts-and-faith.com for a taste of the series!
Loyola Press on the Around the Table Food Show
Just last week Rosemary Lane from Loyola Press joined us on the Around the Table Food Show to give us a taste of the of the new Food and Faith series.
Listen to the Around the Table Food Show by clicking on the "play" button below. Or to download the MP3 version and listen at your convenience, just right-click this link and save it to your computer: Loyola Press Launches New Food and Faith Series in Time for Thanksgiving.
embed
Travel with Me to Israel… There Are Just a Few Spots Left!
Experience food preparation and cooking demonstrations led by "Catholic Foodie" Jeff Young and the "Chefs For Peace."
We will not only WALK WHERE JESUS WALKED, and PRAY WHERE JESUS PRAYED, but EAT WHAT JESUS ATE!
Price of $3,795.00 includes airfare from Atlanta, Philadelphia, or Newark.
3 nights in Nazareth and 5 nights in Jerusalem
Highlights include:
Celebrating Mass at Mount Carmel, the Church of the Nativity, the Mount of the Beatitudes, the Basilica of Agony in the Garden of Gethsemane, and the Church of the Holy Sepulchre
Renewing Marriage Vows in Cana and Baptismal Vows at the River Jordan
Visiting the Churches of the Annunciation, Visitation, and Assumption
Sailing on the Sea of Galilee and Swimming in the Dead Sea
Touring a Franciscan Winery in Bethlehem and a Brewery in Taybeh
Praying the Stations of the Cross on the Via Dolorosa, and visiting the "Wailing Wall," the "Upper Room," the Palace of Caiaphas, the Pools of Bethesda, the Mount of Olives , and Dormition Abbey
And finally a Farewell Supper at Emmaus
There are just a few spots left!
Contact Information
Susan Prendergrast
(800) 842-4842