November 10, 2014
Loyola Press Launches New Food and Faith Series!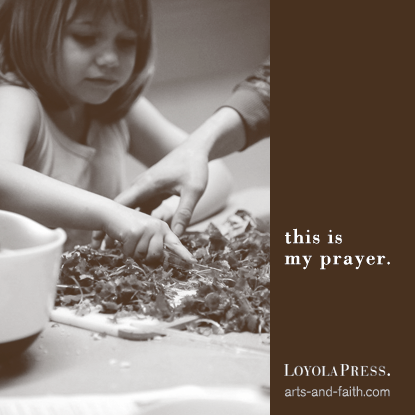 Loyola Press's new series, Food and Faith, explores how Catholics feed their faith through the culinary arts. In the lead-up to Thanksgiving, discover fascinating stories about a food and faith pilgrimage to Jerusalem and Tuscany, a 91-year-old "Queen of Creole Cuisine" who pours faith into her cooking, a full-service restaurant for the hungry run by Franciscans, and a prayerful exercise in mindful eating.
As you peruse the collection, you'll discover the inspiring (and surprising) ways food can nourish our relationship with God. So take a seat and share how you express your faith through food!
STORIES OF CATHOLIC CULINARY INSPIRATION TO BOOST YOUR FAITH:
More Stories Coming Soon!
Keep a lookout on LoyolaPress.com as we approach Thanksgiving. More faith-building foodie stories will be served up soon! And tell a friend too. We could all use a bit of Catholic culinary inspiration as we enter the holiday (and holy day!) season!