January 27, 2022
Macro-Friendly Sesame Chicken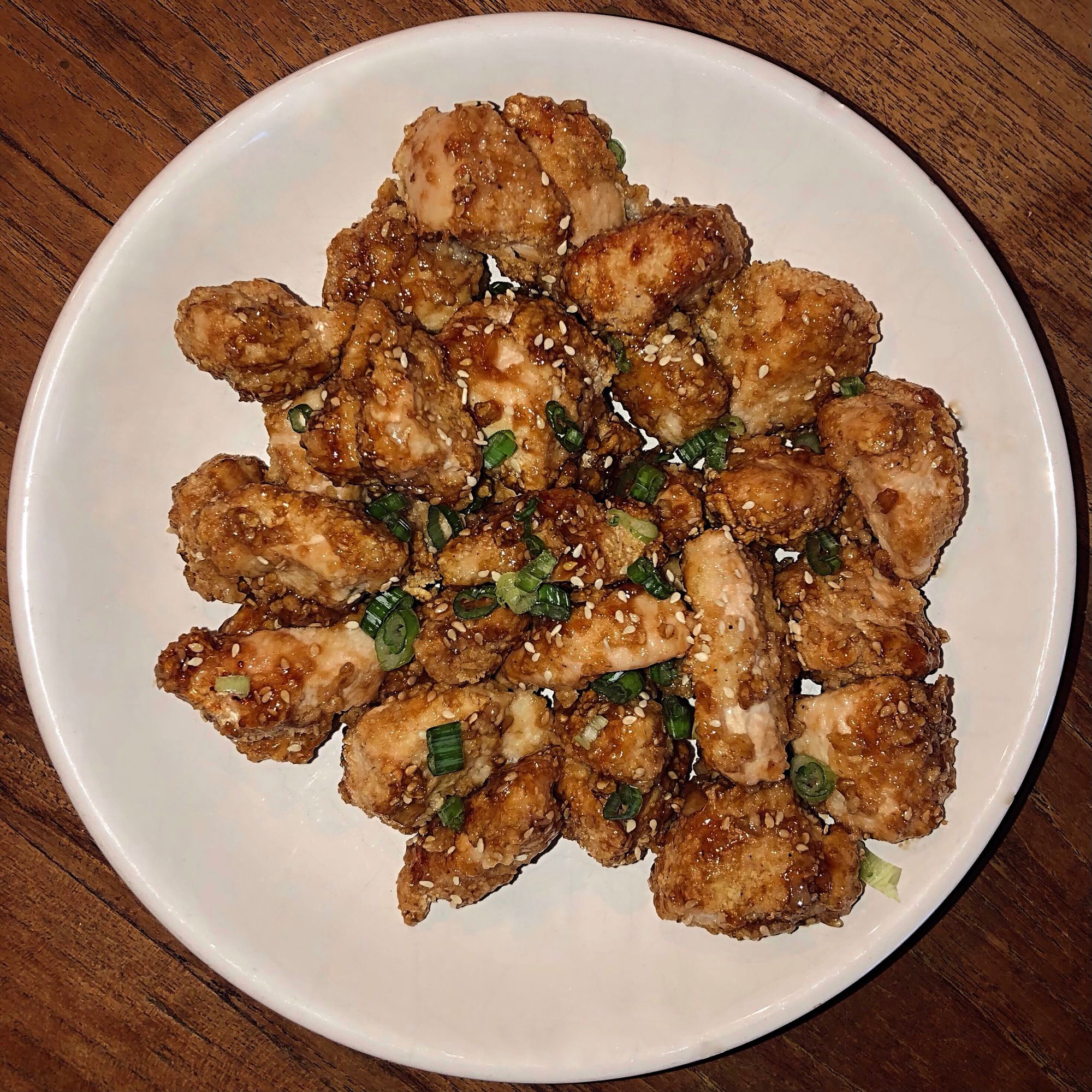 There are so many healthier options than fried/sugar-laden sesame chicken, so the next time you're craving some Chinese takeout, whip it up yourself!
My Sesame Chicken is oven baked and sugar-free (and might I add- it is quite delicious). This is a family favorite already!
INGREDIENTS
For the Chicken:
1.5lb chicken breast, cut into 1-inch cubes
60g corn starch
60g oat flour
Salt and pepper
100g egg white
Cooking spray
For the Sauce:
1 tsp light olive oil
1 clove garlic, minced
2T monkfruit
1 tsp cornstarch
2T soy or tamari
2T rice vinegar
1T sesame oil
1 tsp sesame seeds
Top with Green onions & sesame seeds
INSTRUCTIONS
Preheat oven to 420 F (I put it on convection)
Put egg whites in a wide brimmed bowl, and mix cornstarch, oat flour, salt & pepper on a separate plate
Spray a broiler pan with cooking spray to avoid sticking
Coat each piece of chicken in egg whites and then the dry mixture before putting it on the pan
Cook for 20-25 minutes, flipping and respraying pan as needed
While the chicken is baking, heat a nonstick pan over medium heat
In a small bowl, mix the soy, rice vinegar, monkfruit, sesame oil, and 1 tsp of cornstarch
Sauté the garlic the pan with the olive oil until fragrant. Add the sauce and mix until thickened. Lower heat and add 1 tsp of sesame seeds
Add the cooked chicken to the sauce and mix until the chicken is coated. Garnish with green onions and more sesame seeds. Enjoy!
(4 servings)
363 Calories per serving
33C/11F/39P
Recipe by Annabelle Young.