January 18, 2014
Making Pita Bread from Scratch [#Video #Recipe]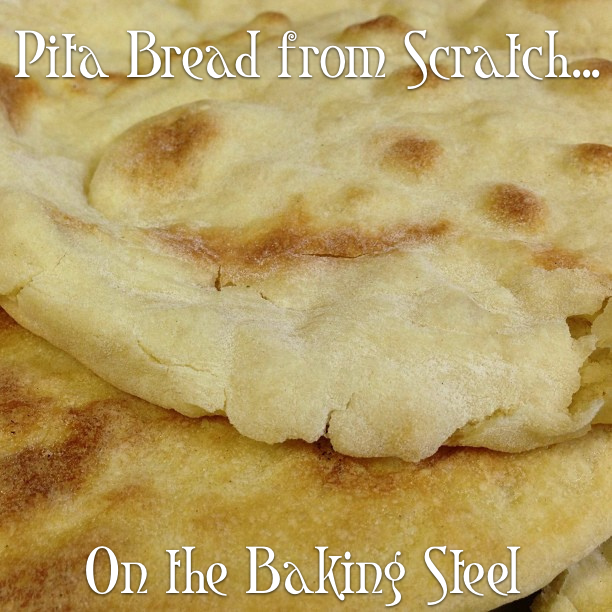 A Quick #Video on How to Make Pita Bread from Scratch on a Baking Steel
Back in June, I wrote and article on the cultural history of the flatbread known as Pita, and I included a recipe for making it from scratch. It's easier than you might imagine. Especially if you are making it on a Baking Steel.
In that article I noted that, "What we know in the United States as Pita is known by other names across the Middle East. As a matter of fact, Pita is a Greek name. It is also known in the States as Arabic Bread or Syrian Bread. The name for this bread in Arabic is Khubz." I find that fascinating.
What I find even more fascinating is the reverence shown to bread by the peoples of the Middle East. In the article, I quoted the following from author Claudia Roden:
"The religious and superstitious feeling attached to bread is stronger in some countries than in others. To some it is, more than any other food, a direct gift from God. An invocation to God is murmured before kneading the dough, another before placing it in the oven. A hungry man will kiss a piece of bread given to him as alms. A piece of bread found lying on the ground is immediately picked up, kissed, and respectfully placed on a wall or table. At a gastronomic conference in Istanbul, I will always remember the look of horror on the Turks' faces when one of the foreign contributors placed a piece of bread under the leg of a wobbly table to steady it. They all swooped to retrieve it.

"Bread is eaten with every meal and with every type of food. It is used instead of a fork – people break off a piece and double it over to enclose and pick up a morsel – or to dip in a sauce or cream salad, held delicately between the thumb and the first two fingers. In the street, pocket bread is cut in half and the pocket is filled with hot foods and salads. The bread is also toasted and broken into pieces and used as croutons or as a base for various dishes, such asfatta, fattoush, and in soups and stews. Some people, my father among them, claim that they cannot truly savor a sauce, or anything in fact, without a piece of bread."
Shortly after publishing that article and recipe at CatholicFoodie.com, the good folks who developed the Baking Steel got in touch with me to interview me about making pita, and they reprinted my recipe along with the interview.
I admit that I don't make pita very often. I usually break down and buy it when I am in the mood for hummus, which does happen very often. 😉
Since it really is a fairly simple process, I decided to make a batch a couple of weeks ago, and I shot this video to show you just how easy it is.
Let me know what you think!
And keep me in your prayers, too, please. In just over two weeks, I will be on my way to Israel for the first ever Food Meets Faith Pilgrimage to the Holy Land. I'm sure I will sample lots of hummus and pita while in Israel. Please keep me – and all the folks traveling with me – in your prayers.
Thanks!
Bon appetit!