August 19, 2016
Meatless Friday at CatholicMom.com and Summer Bulgur Salad Recipe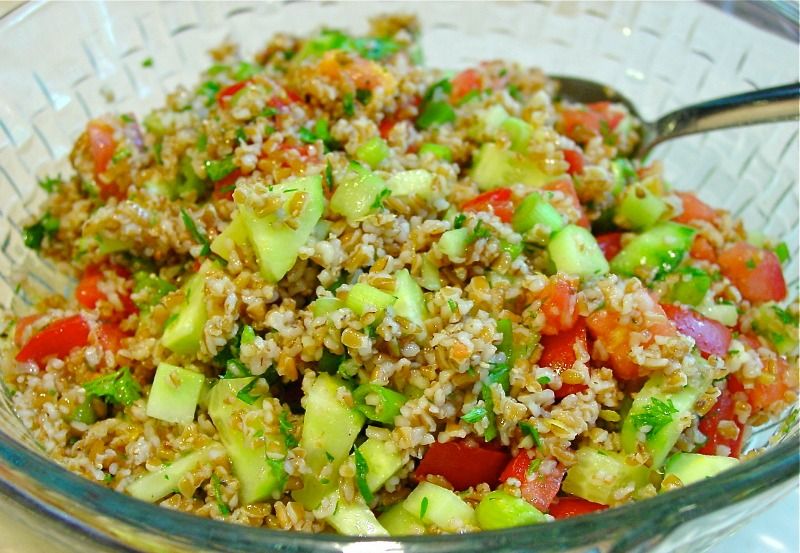 Barbara Stein shares her recipe for Summer Bulgur Salad today at CatholicMom.com as part of its Meatless Friday Series. Barbara's recipe for Summer Bulgur Salad jumped out at me this morning. Not only is the photo popping with color that tempts me to make this mouthwatering recipe right now, but the recipe also seems to be Middle Eastern inspired, which endears it to my heart.
Here's what Barbara has to say about her Summer Bulgur Salad recipe:
This is the kind of food that I could eat all summer long, every single day. Simple food, simple and healthy ingredients. I love bulgur, and it's high in fiber and low in fat. It cooks quickly and adds a nutty flavor and great texture to this sunny salad bright with lemon, parsley and mint, tomato and cucumber. I could make a meal out of this salad, but for dinner it goes great with grilled fish or shrimp; just keep your fish simple because this salad packs a lot of flavor. Sliced watermelon makes a great simple side or dessert.
More about Barbara
Barbara Stein is a Catholic wife of 29 years and mother to four children, and a new daughter-in-law, living in central Ohio. A homeschooler of 12 years, with just one little eighth-grader left at home, she enjoys spending her days praying, cooking, knitting, sewing, quilting, making rosaries, and reading. Barbara loves our Church and living the liturgical year, celebrating the lives of great saints, and cooking for their feast days and holy days. Visit her blogs prayingforgrace.blogspot.com and blessusolord.blogspot.com.
Read the rest and get the recipe at CatholicMom.com😕http://catholicmom.com/2016/08/19/meatless-friday-summer-bulgur-salad/
***Recipe, photo and quote courtesy of Barbara Stein and CatholicMom.com***