May 9, 2013
Mediterranean Meat Pies for the Blessed Virgin of Pompeii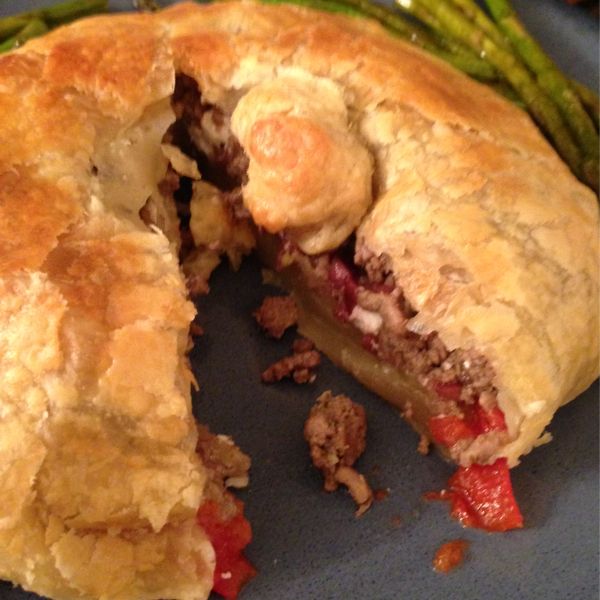 A guest post by Ross McKnight
Yesterday was the Feast Day of The Blessed Virgin of Pompeii. Meat pies have nothing to do with Pompeii, but very much to do with Natchitoches (pr. NAK-ə-DISH), Louisiana. Meat pies are undoubtedly a distinct Louisiana tradition, and those made in Natchitoches are famous for the flavor achieved from a centuries-old evolution of the recipe, which usually includes a mixture of beef, pork, onions, bell pepper, and cayenne – with some variations – to achieve the fried delight of a delectable meat pie.
However, in honor of Our Lady of Pompeii, and with a nod to the Italian contribution to Louisiana culture, we have indulged in this tasty modification – a transmutation if not a transfiguration.
Mediterranean Meat Pies
Ingredients
1 lb. Ground Chuck or Round
3 large cloves Garlic, minced (or to taste)
1 Hydroponic Tomato, diced (for the tomato purist)
6-7 Kalamata Olives, diced
3 oz. Goat Feta
Tuscan Seasoning to taste (constituents below)
Salt to taste
2 sheets Puff Pastry
1 Egg
1 tbsp. Water
1 tbsp. Butter
Directions
If using frozen puff pastry, remove from freezer prior to preparation.
Cook the ground meat on medium-high until thoroughly brown, adding garlic, seasoning, and salt. When done, drain the pan of excess liquids, and reserve meat.
Preheat oven to 400º F.
Roll out puff pastry on a lightly floured pastry board. Spoon ground beef onto the center of pastry, making a neat mound about 4 inches in diameter. Place diced pieces of tomato around edges of the mound, and crumble the goat feta and the Kalamata olives on top.
After making an egg wash by whisking together the egg and water thoroughly, fold up the edges of the pastry to create a round pie. Make sure that the edges have sealed together, and flip the pie.
If you want, now is the time to decorate with excess pastry dough. Once the pies have been transferred to a well-greased baking pan, place in the oven for 25 minutes. When done, let sit for 20 minutes before plunging into steamy, scrumptious depths.
These are wonderful with roasted asparagus: toss in olive oil, balsamic vinegar, and salt, and throw them in the oven (400º F) in a glass pan for 15-20 minutes. Yum.
Tuscan Seasoning (McCormick): black pepper, marjoram, rosemary, thyme, basil, red pepper, onion garlic, sun-dried tomato, red bell pepper, sunflower oil, salt.
Thank you Ross McKnight for submitting this recipe to CatholicFoodie.com!