December 13, 2012
Mexican Lentil Soup for Our Lady of Guadalupe
Mexican Lentil Soup to Celebrate Our Lady of Guadalupe
Yesterday, December 12, was the feast day of Our Lady of Guadalupe, Patroness of the Americas. But she is more than just the Patroness of the Americas. Our Lady of Guadalupe holds a special place in my heart.
You see, I spent two years living in Mexico. Tijuana, Mexico, to be exact.
I left home at 18 to enter formation with the Missionaries of Charity Fathers, the congregation of priests co-founded by Blessed Mother Teresa of Calcutta. That was not to be my vocation, but I spent two wonderful years there with the MC Fathers living among the beautiful people of Mexico.
And in those two short years, Our Lady of Guadalupe captured my heart. When I arrived in Mexico, I already had a strong devotion to Our Lady. I prayed the rosary every day, and in many concrete ways I depended on Our Lady in my daily life. As a matter of fact, in 1985, at the age of 15, I consecrated my life to Our Lady, according to the method of St. Louis de Montfort.
But I am from the United States, you see, and I was not accustomed to seeing real, heartfelt devotion to Our Lady the way I saw it in Mexico. La Guadalupana was everywhere. You would see her image not only churches and homes, but in restaurants and doctors offices, in cantinas and in all kinds of businesses. She really is everywhere. Even when the Catholic Church was suppressed in Mexico… Even in more recent years when hundreds of prostelytizing non-Catholic churches have flooded Mexico to make converts… One thing persists. One thing cannot be eradicated. There is still one thing that cannot be vanquished from the Catholic heart of the Mexican people: their very real and very deep love for Our Lady of Guadalupe.
I tasted that love and devotion to Our Lady during those two years in Mexico, and it has changed me for life. December 12 now has a very special, very personal meaning for me. My love for Our Lady is something that I share daily with my wife and kids. They, too, love Our Lady, and they love to celebrate the feast day of Our Lady of Guadalupe.
This year we had the privilege of celebrating this great feast day twice. Ain't God good?
In the evening of Saturday, December 8, the Solemnity of the Immaculate Conception, St. Joseph Abbey & Seminary College held a special celebration for Our Lady of Guadalupe. It was a big to-do. It started with a play in the theater (Bennett Hall) depicting the story of Our Lady appearing to St. Juan Diego in Mexico in 1531. Her desire was for a "temple" or church to be built there in her honor. She wanted a place there in Mexico so that she could hear the cries of her children and to tend to their hurts. As a result of the construction of what is now called the Basilica of Our Lady of Guadalupe, human sacrifice ceased in Mexico and over a million Aztecs each year for 10 years converted to Catholicism.
Following the play, we had a procession with a life-sized image of the tilma of Juan Diego. Traditional hymns and the rosary accompanied the procession. The celebration culminated with a Mass in honor of Our Lady of Guadalupe. Both the procession and the Mass were presided over by Bishop Luis R. Zamara, Auxiliary Bishop of the Archdiocese of Atlanta.
The evening flowed between English and Spanish and it was a flood of memories for me. We presented Our Lady with roses during the Mass and, after Mass, we serenaded her with the traditional Guadalupana hymns: Las Mañanitas, Mi Virgen Ranchera, Buenos Días Paloma Blanca, and La Guadalupana.
It was awesome! I haven't experienced that kind of celebration in years!
I still have very fond memories of the elaborate celebrations we used to have in Mexico on December 12. One year I allowed a friend (a young Mexican husband and father who had danced the traditional dances in Guadalupe) to talk me into wearing the traditional indian garb and playing the drums for our celebration. Now, I'm not really musically-inclined. I mean, I can sing. And I can play the radio. But that's really the only musical instrument I can play. 😉 But he talked me into it. And he worked with me for weeks so that I would get it just right. It was so much fun!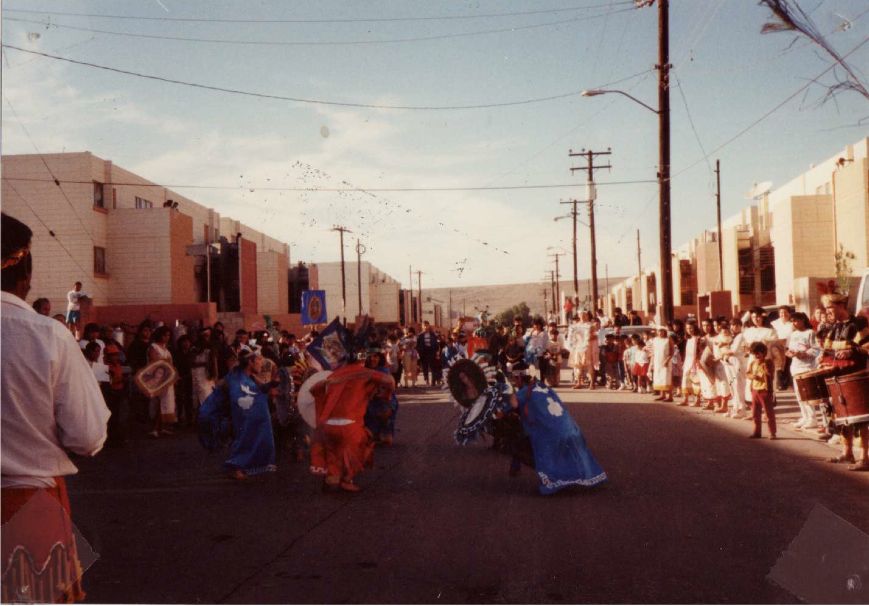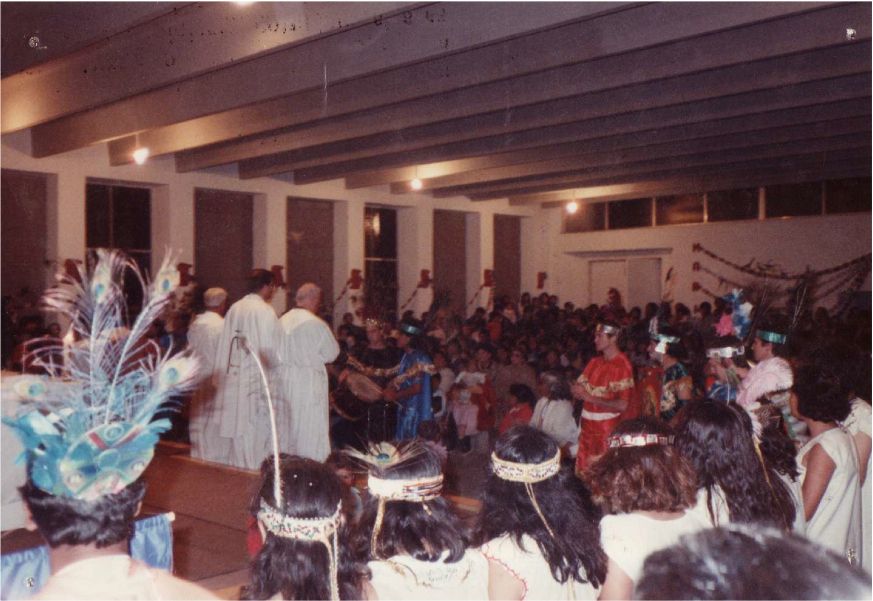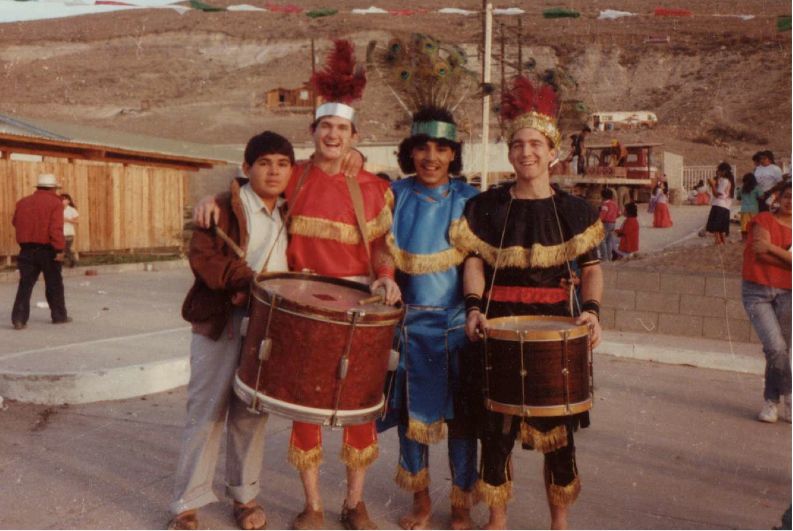 Back to the Abbey's Celebration
So after the play, the procession, the Mass, and the serenading, we had a Mexican feast!
Mass ended around 11:30 PM. A local Mexican restaurant, El Portal, catered the reception. It was so much fun. The love of Our Lady is truly amazing!
So, after that super-celebration, how would we celebrate the actual feast day of December 12, which was in the middle of the week? Life is busy during the week, so we just had to do the best we could.
And here is where Char, my wife, really shines. She loves to entertain. She loves to cook. And she is really good at both… Entertaining and cooking!
With a busy family schedule of homeschooling, tutoring, decorating for Christmas, gymnastics practice and even a church parish event in the evening, she managed to throw together a truly marvelous dish… something we had never had before. She just made it up.
It's a "Sweep the Kitchen" Kind of Soup
She wanted to keep to a Mexican theme for the feast of Our Lady of Guadalupe.
"There's no wrong way to make a soup like this," she said when someone asked for the recipe on Facebook.
"I used French green lentils, rinsed and drained. I then went through my pantry and fridge and grabbed anything I either needed to clean out, thought could make this dish 'Mexican,' or both. Including tequila!"
INGREDIENTS
1 lb dried French green lentils
8 cups of water (could also use chicken stock)
1 tablespoon cumin
1 tablespoon chili powder
1/2 teaspoon crushed red pepper flakes
1 rounded tablespoon of coconut oil
1/2 a large yellow onion, chopped
2 cloves of garlic, minced
The remains of a jar of salsa (about 1/8 cup)
1/4 cup of tomato sauce
Kosher salt, to taste
Cayenne, to taste
Granulated garlic, to taste
A handful of fresh parsley, chopped
1 ounce white tequila
Pickled jalapeños from a jar (for garnish)
Green onions, chopped (for garnish)
Sour cream or crème fraîche. (for garnish)
DIRECTIONS
Rinse and drain the lentils.
Add water (you might need to add more as the lentils cook) and bring lentils to a boil.
Lower heat to low or medium-low and add the remaining ingredients (except for the garnishes).
Cook, stirring occasionally, until the lentils are tender (about 30 to 45 minutes). Add more water or stock if the soup is too thick.
"That's about it, but there are many other combinations that could have worked…carrots, cilantro, fresh tomato… And various toppings… avocado, etc… We garnished with jalapeños, green onions, and an organic sour cream similar to crème fraîche." – Char Young
Enjoy!
You can download CF148 here, or press Play below to listen now: