October 28, 2009
Monster Finger Cookies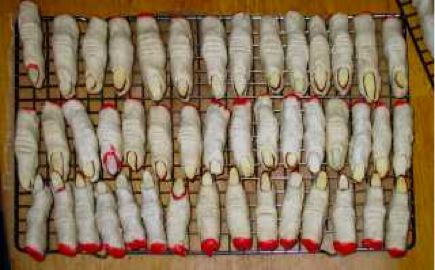 This recipe is submitted by Mike Lindner.
These cookies are a perfect scary treat for Halloween. They were the hit of our party this year.
Ingredients
4 oz. (1 stick) Butter (softened)
8 oz. (1 package) Cream Cheese (softened)
3/4 C. Confectioners Sugar
1 t. Vanilla Extract
1 t. Cinnamon
2 C. Flour
Sliced Almonds
Directions
Beat butter and cream cheese.
Beat in Sugar, vanilla, and cinnamon until smooth.
Add flour and mix to combine.
Roll 1 T. of dough into a finger shape. Use a sliced almond for a fingernail and a knife to make indents for the knuckles.
Bake at 325 degrees for 20 minutes or until just slightly brown.
Icing
1/2 C. Confectioners Sugar
1 t. Milk
1/4 t. Red Food Coloring
Directions
Mix ingredients with a spoon.
Add more milk or sugar to get consistency right.
Dip "cut" end of each "finger".
The icing can also glue back on any "fingernails" that come off, or be used for other bloody effects.
NOTE: If you want to add a bit of extra SCARE to this recipe, form the fingers around pretzel sticks. That will give the fingers a decidedly "boney" feel to them. 😉